Here's When It's Safe to Use the Bathroom During 'Avengers: Endgame'
If you're concerned about making it through the three-hour epic end to the saga, here's your 'Avengers: Endgame' bathroom break guide.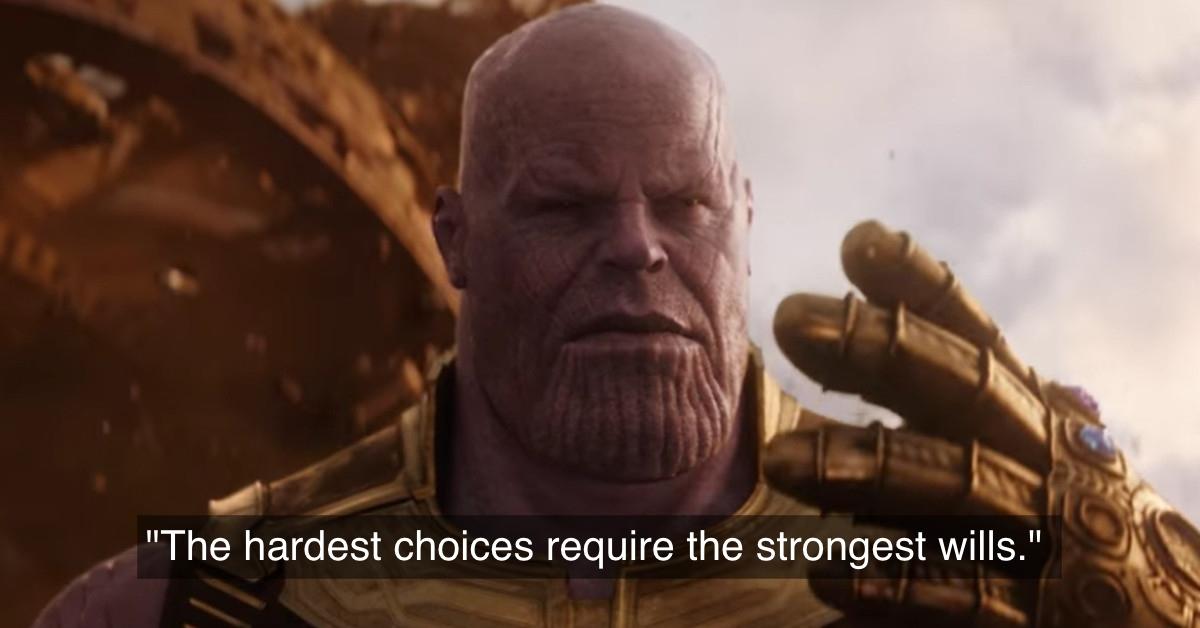 Ever since Marvel Studios let it be known that Avengers: Endgame would clock in at over three hours (like less than a minute over but still), fans of the MCU have been stressing about what they're going to do when and if nature calls during the screening.
Article continues below advertisement
It doesn't help that a small drink at the movies is roughly 10 gallons. Plus, extreme stress brought on by excitement or anxiety will cause the bladder to constrict, and we guarantee this film is going to bring on both emotions in spades. Finally, the pursuit of a guide to help time bathroom breaks is especially hard when you're trying to avoid spoilers. How will you know what moments are OK to miss without some hint that could reveal a critical detail?
Article continues below advertisement
Richard Roeper here makes a point, but hey, some people have overactive bladders, man. Well, not to worry, we've scoured social media to bring you a spoiler-free guide offering the best times to skip to the loo.
So, here's when to take your Avengers: Endgame bathroom breaks...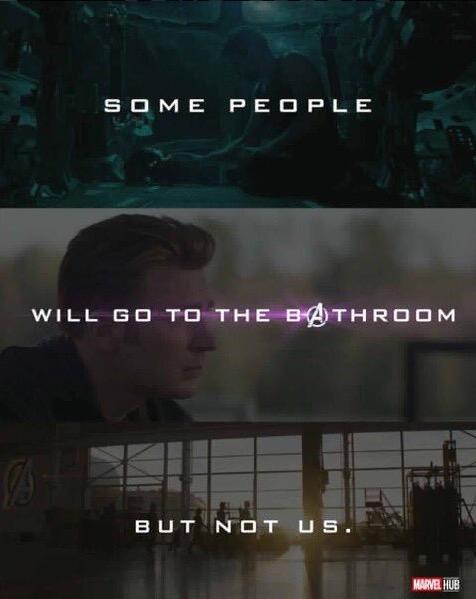 Article continues below advertisement
According to more helpful Twitter users who've seen the film, there are a couple times in the first half of the film where you can make a quick escape, but after that you're out of luck. Jen Ellis, aka @jellispants suggests the following:
1) when the San Francisco title card displays
3) when the NJ title card comes up
Nothing after that and they all occur in the first half
Article continues below advertisement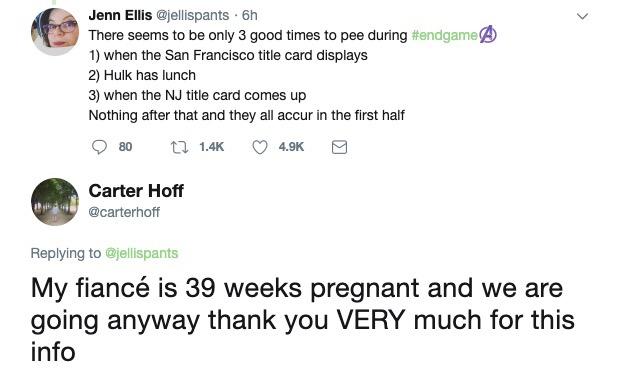 Seriously, doing the Lord's work there, Jenn. Unfortunately, the scenes she alludes to are pretty early on. The SF title card occurs 30 minutes in, and unless you're pregnant or have a medical condition, I'm not sure I know what to do with your unprepared ass if this is you.
The Hulk lunch scene is apparently funny but not integral to the plot and it happens a little more than an hour after the start of the film.
Article continues below advertisement
Polygon offers an even more detailed guide ranking eight viable moments from best to worst. And really, it's only seven moments, since the number-two option is "The Paul Rudd Method" — i.e. his suggestion during his Jimmy Kimmel Live appearance that the best solution is to just use your popcorn bucket
Article continues below advertisement
However, like most outlets, they too warn there's no really good moment past the halfway point of the film. Your last stop is a scene set in space that apparently goes on forever and isn't too important.
Most fans agree the real solution is either deprivation or preparation. In other words, limit your intake of liquids or seek support in the incontinence care aisle of your local drugstore.
Article continues below advertisement
So good luck out there and hey, I hear there are some super-absorbent adult diapers on the market these days.