If you can't wait for Avengers: Endgame to come out in theaters this Friday, April 26, you're in good company. Like, people are so excited for the movie to drop that scalpers are selling off opening night tickets for $10,000.
This much-anticipated film wraps up the past 22 Avengers movies and promises to be, well, completely epic — and that's the understatement of the century. Will Thor, Black Widow, Captain America and Bruce Banner manage to kill the evil demigod Thanos, who decimated the planet at the universe?
We've assembled a bunch of memes about Avengers: Endgame that are extremely relatable for any fans of the Marvel Comic Universe. Keep scrolling and send these over to your other Stan Lee adoring friends!
1. When you're just doing your homework so you can show up prepared, but the rest of the world doesn't get it.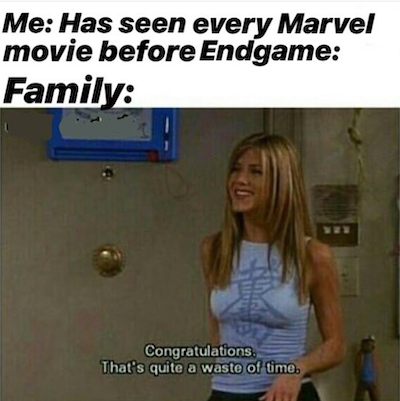 Did I ask you how many times you read The Neapolitan Novels, after all, Mom? Nope, I don't think so (even though they're epically long and I saw them on your nightstand more than just a couple of times around).
2. Because if you can't handle me at my 'Endgame' obsession phase, we're going to have to have a talk.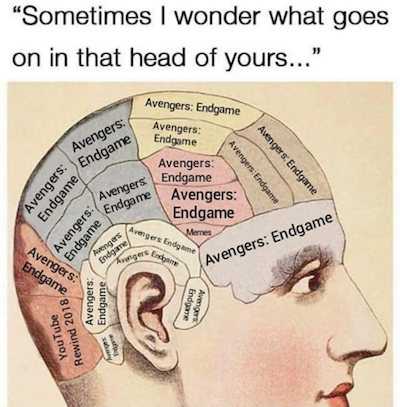 3. Even if you don't quite have the money to join the real die-hards on opening night.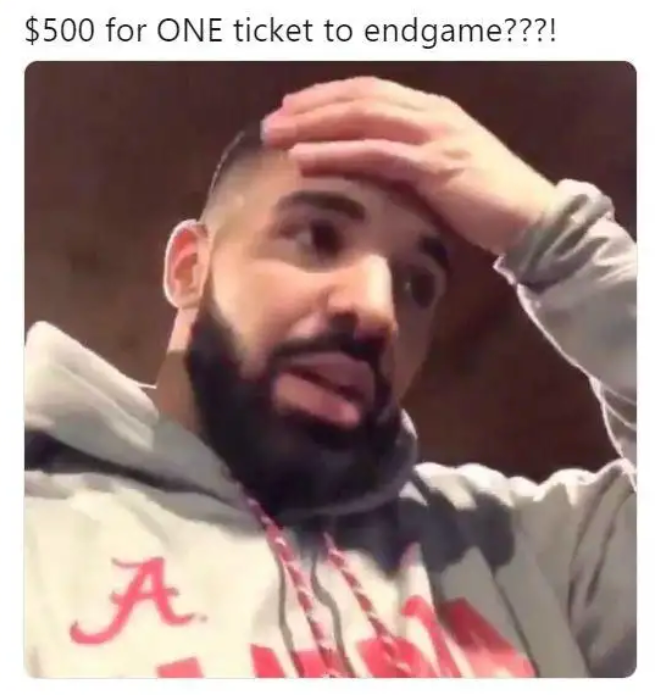 4. If you are going this weekend though, we need to establish some ground rules.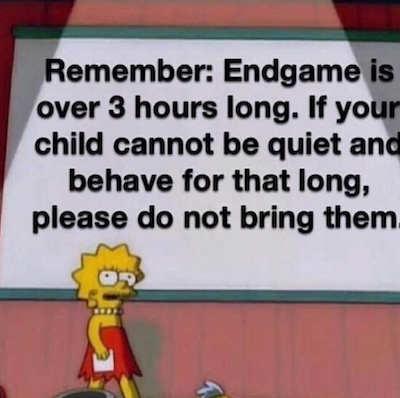 Technically, the movie is only 57 seconds over 3 hours, but the point still stands. Sorry, parents, but like, let's be real right now.
5. Because 'Endgame' is a bit more important than, well, most things in life, if we're being honest.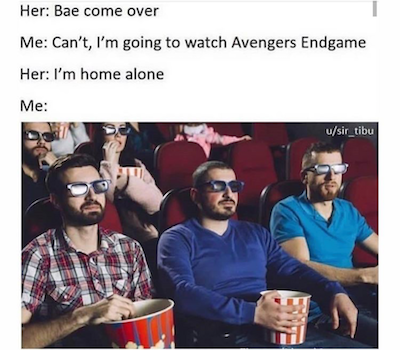 This might be the only time in recent memory (OK, at least since the last Avengers came out) that you were not even slightly tempted to go to her place, even after she made it clear sex was on the table.
6. Oh, and if you are one of the lucky (and rich) people who make it out this weekend, keep the plot points to yourself.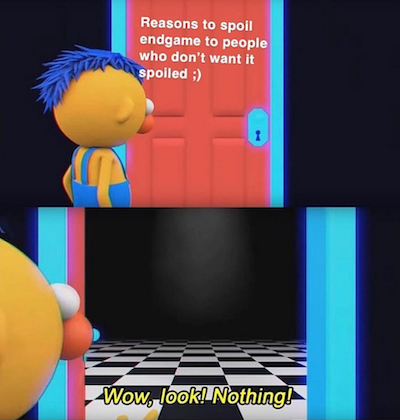 7. This is the one movie we're really, truly begging you not to spoil for the rest of us.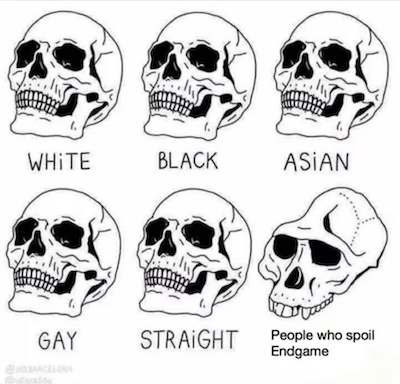 Anyone want to start a petition to ban people who watched it this weekend from tweeting about Endgame until the rest of us have seen it?
8. Stan Lee *will* know and he *will* find you.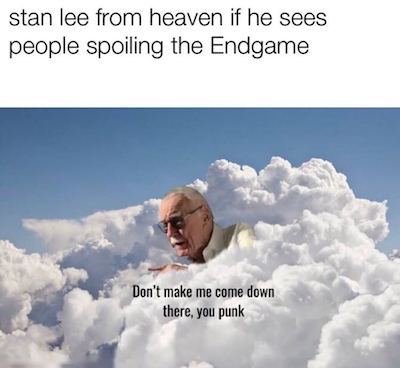 You know what else Stan Lee will be doing? Maybe or maybe not appearing in Endgame! (Just kidding, we know the answer, we just don't want to SPOIL it for you here).
9. Let's agree that fan theories are allowed, though, because this one is an immediate fave.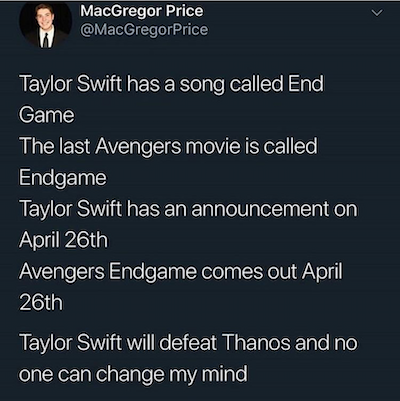 No really, change our minds.
10. Though, we concede, sometimes even theories can get a bit too much.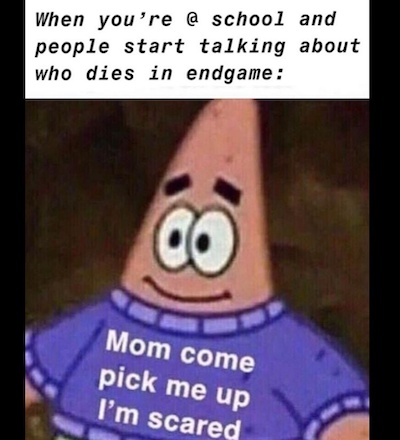 11. But we can't resist the temptation to compare Ant-man to Eminem.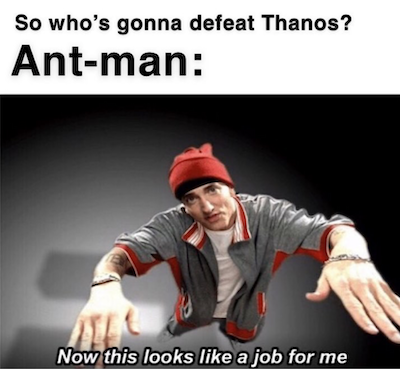 12. Or to Eric Andre, to be honest.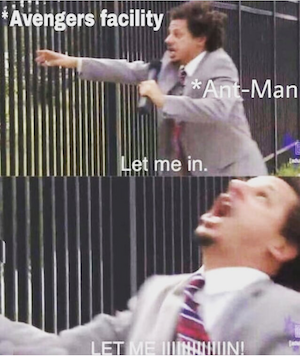 13. And we're definitely not going to pass up on the chance to meme Peter Parker into one of the characters from 'Cars'.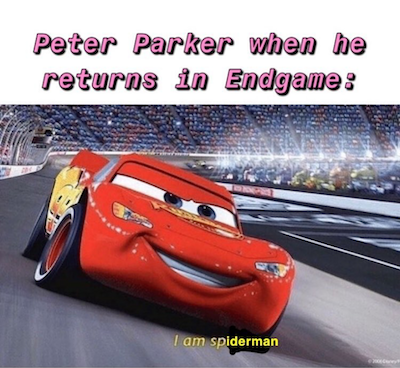 14. But wait, can we talk about Thor's weapons for a sec?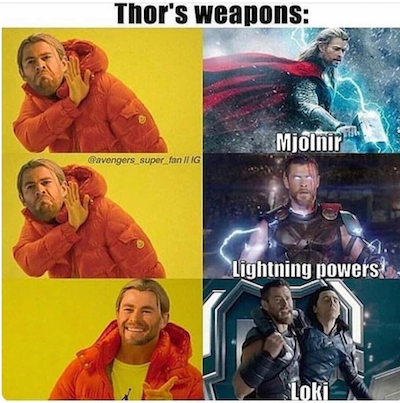 15. This is the only distracted boyfriend meme we'll ever need.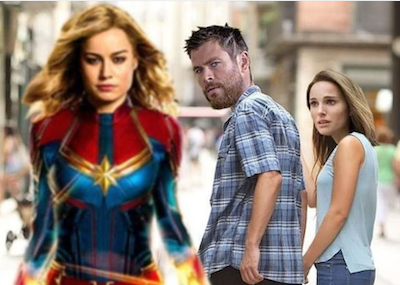 Jane Foster is absolutely amazing, but she can't fly through space without a spacesuit, so....
16. Well, this would certainly be one hell of a twist.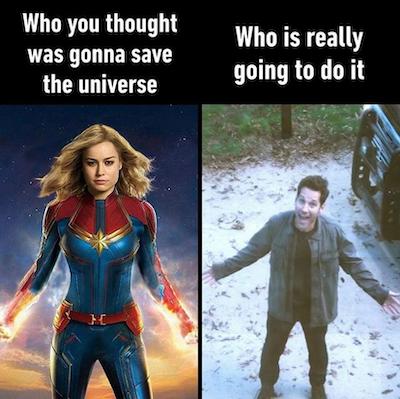 Happy opening weekend and happy viewing!
Avengers: Endgame is out in theaters this Friday, April 26.