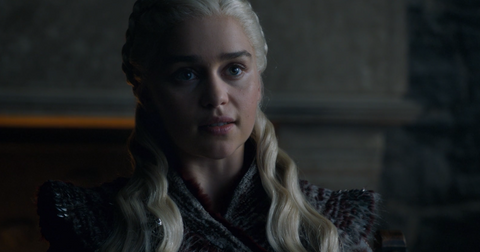 These Memes Perfectly Recap 'Game of Thrones' Season 8, Episode 2
By Gina Vaynshteyn
Warning! The night is dark and full of spoilers, so if you haven't watched the recent episode of Game of Thrones, read at your own risk.
Episode 2 of Game of Thrones, Season 8, hit HBO tonight, and there was a lot of...talking. And in between the talking and continuously awkward Bran stares, there were a few pivotal moments. First off, Daenerys, who tries to smooth things over with Sansa, makes it pretty clear that Winterfell will still have to bow down to her when she takes the Iron Throne. In fact, Dany doesn't have many good moments in this episode. When she's not pissing Sansa off, or yelling at Tyrion, she's really angry that Jon Snow is actually Aegon Targaryen and has more claim to the Iron Throne than she does.
While everyone is getting hammered, Arya decides to lose her virginity to Gendry and back in the castle, Jaime knights Brienne, but only after Tormund tells everyone he's super strong because he drank a giant's breastmilk. If there's a competition for best love triangle, Brienne, Tormund, and Jaime's should win.
That's about it! But these memes recap the episode best.