Is 'Barbie' More Popular Than 'Oppenheimer' Where You Live? This US Map Will Tell You
This map of the US pits 'Barbie' against 'Oppenheimer' as it tracks which film is trending in which state. The results may surprise you.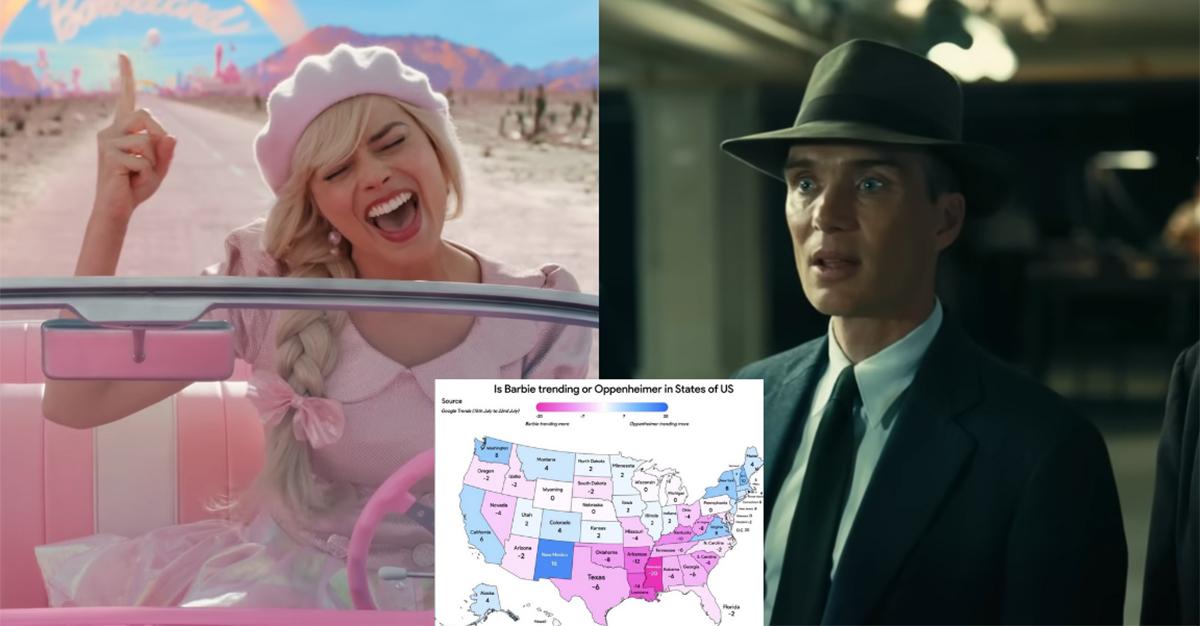 The weekend of July 21, 2023 saw the theatrical release of two diametrically opposed high-profile films in a highly anticipated clash of cinematic titans. In one corner, there's Barbie, a bubbly yet thought-provoking drama centered around the popular Mattel fashion doll and her existential crisis. In the other, you have Oppenheimer, a biographical thriller by Christopher Nolan that recounts the creation of the atomic bomb.
Article continues below advertisement
The simultaneous release of these films, however accidental, generated its own culture in which millions of prospective moviegoers opted to watch both Barbie and Oppenheimer on the same weekend in one big "Barbenheimer" extravaganza. The success of both films has even made headlines as one of the biggest box office phenomena of the summer of 2023.
But between both films, which one is actually more popular than the other? This Barbie vs. Oppenheimer map of the US paints a solid picture.
Article continues below advertisement
This 'Barbie' vs. 'Oppenheimer' map breaks down which film is more popular throughout the United States.
For all intents and purposes, these two films are in no more competition with each other than any other two films released in theaters on the same weekend. But with all eyes on both Barbie and Oppenheimer, two films on near opposite ends of the pop culture spectrum, they've been the talk of the town for several weeks leading up to their shared release weekend. With thinkpieces and memes cropping up left and right, both films have been trending like crazy.
This map breaks down exactly how wild the "conflict" gets. Originally posted on a subreddit dedicated to the Blank Check podcast, the map is entitled "Is Barbie trending or Oppenheimer in states of US?"
As the title suggests, the film breaks down which film is trending more in a given state on a sliding scale. Pink signifies that Barbie is trending more whereas blue signifies that Oppenheimer is more popular. The results are interesting.
Article continues below advertisement
For the most part, Barbie seems to be trending more in the southern United States like Kentucky, Arkansas, and Texas. Mississippi is particularly noteworthy as Barbie appears to be the most talked about film in the Magnolia State. The biggest outlier in the south is New Mexico, where the trending topic is almost overwhelmingly Oppenheimer.
Article continues below advertisement
Then throughout the northern United States, most areas are leaning more toward Oppenheimer, with Washington DC showing the most popularity for the biopic.
Other states like Pennsylvania, Michigan, and Nebraska seem to be perfectly balanced, with neither film reported to be beating out the other.
Incidentally, both films saw some major box office success, but one proved to be far more popular in its opening weekend.
In a stunning upset, Barbie ultimately won out the weekend with a staggering $155 million. Oppenheimer also had a respectable opening with about $80 million, though it made a little over half of what Barbie was able to rake in.
But even though there was a clear winner between both films, Barbenheimer made history in both the box office and the cultural zeitgeist of film in 2023.