Barnes and Noble's Alleged New Policy Is Receiving Major Backlash
Barnes and Noble just made it harder for authors to get their book sold in stores. See why people are outraged over the bookseller's decision.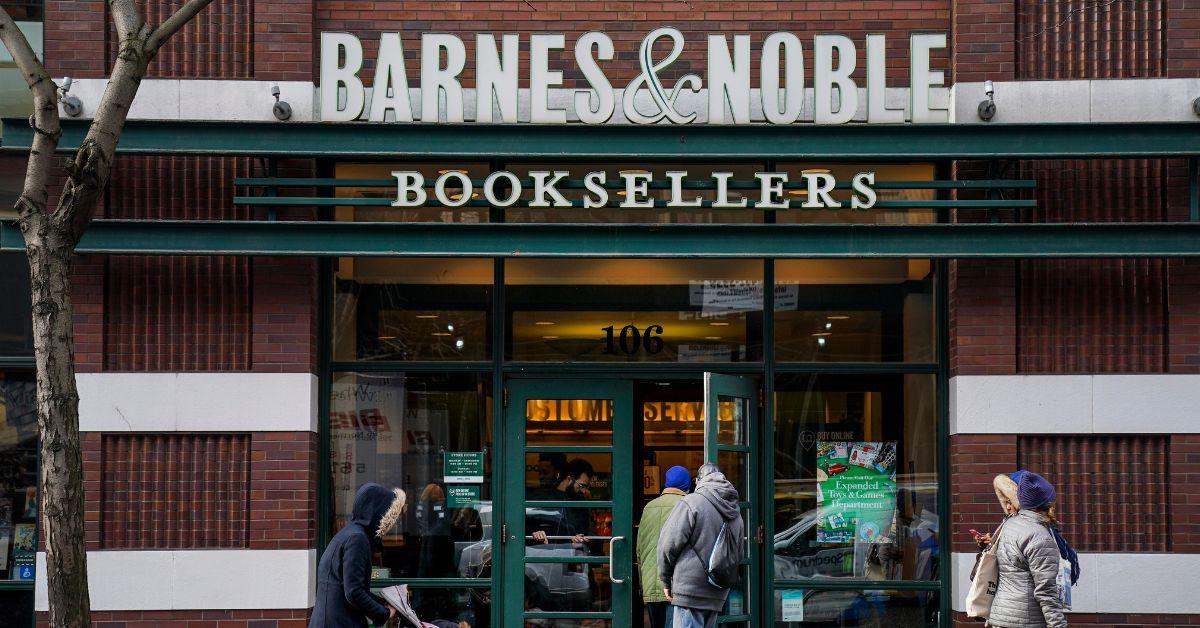 If you've been on Twitter recently, you may have seen some disapproving remarks regarding Barnes and Noble. Although it hasn't been officially confirmed by the bookseller itself, various sources including authors, agents, and industry experts have been spreading the word about a new policy the company has enacted.
Per their chatter, it's being said that Barnes and Noble will only be stocking hardcovers with proven sales records. In other words, getting your book on shelves just became somewhat of a popularity contest. Keep reading as we unpack this policy and see how customers are reacting to it.
Article continues below advertisement
Barnes and Noble's new policy specifically affects marginalized authors and novel debuts.
Author Gabi Burton laid out what she had heard about Barnes and Noble's new policy on Twitter. Compiling information from other authors (including bestsellers), agents, editors, and booksellers, she wrote: "#BarnesAndNoble is refusing to stock most authors on shelves."
She explained how this new policy change would specifically affect marginalized and first-time authors, as well as authors of middle-grade books (books intended for readers eight to 12 years old).
Article continues below advertisement
And already, Barnes and Nobles has begun sending out rejection notices to scores of authors.
For example, Britney S Lewis's debut novel, The Undead Truth of Us, was turned away due to the fact that there was no way she could prove it would sell.
She tweeted: "I don't know if I've cried more. This directly affects me. It will/has impacted sales. Because my book isn't 'the' book of the season, it means u won't find it in *that* store and grab it off the shelf. My Black voice isn't worthy enough. I've waited 10yrs for a slap in the face."
Article continues below advertisement
Furthermore, author Lindsay Currie shared the news that her upcoming middle-grade book was rejected from B and N despite the fact that she has previously had high sales success in stores.
Article continues below advertisement
Not to mention, author Kelly Yang, whose award-winning Front Desk series is currently sold in Barnes and Nobles, was told that her latest installment in the series would not be carried.
Article continues below advertisement
While it's a devastating blow for authors everywhere, Twitter user @StorySorcery explains how withholding support for debut authors can ultimately jeopardize their future.
"Even if a debut doesn't hit the bestseller list, a debut author's sales impact future book deals and advance sizes. Good sales can give debut authors, especially midlist and marginalized ones, leverage at the bargaining table," she wrote.
Some folks are already tweeting #BoycottBarnesandNoble.
In an attempt to spread the word about this unjust new policy, folks are tweeting #BoycottBarnesandNoble and encouraging people to shop locally, order directly from author's websites, and read across a wide range of authors and titles.
Article continues below advertisement
As of this writing, Barnes and Noble has yet to comment on these claims regarding its new strategy, but given the number of authors who have opened up about their book rejections, there seems to be a lot of truth to it.