What's the Deal With the 'BattleBots' Riptide Controversy? Here's What We Know
On the 'BattleBots' show, the Riptide team has weathered some serious accusations from viewers and officials alike. What happened behind the scenes?
On the BattleBots show, the Riptide team has weathered some serious accusations from viewers and officials alike. A few months ago, Redditors took to a fan page to express their grievances about the embattled team, and they didn't hold back.
Article continues below advertisement
From stolen designs to problematic treatment towards their fellow competitors, the Riptide team definitely wouldn't be dubbed the most popular among their peers.
Find out more about the Riptide team controversy below.
What did the Riptide team do? Controversy, explained.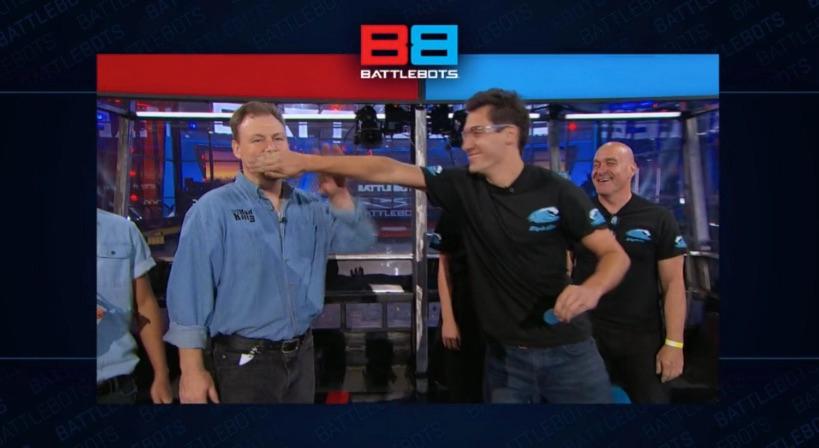 Riptide, a heavyweight robot from Team Break32, debuted in the BattleBots World Championship VI and made its return for World Championship VII. The robot was predominantly built by Ethan Kurtz with the guidance of Greg Gibson, who built the Yeti. Greg wasn't an official member of the Riptide team, so he couldn't take credit alongside Ethan.
Beyond accusations that the team didn't really build their model, it seems as though Riptide's competitors simply don't like them.
Article continues below advertisement
But it isn't without good reason, according to Redditors. Other teams primarily don't like the Riptide team because of Ethan's shady father, Stan Kurtz, who is said to have funded the team with a snake oil venture marketed as a "cure for autism." He touts the conspiracy theories that mired Jenny McCarthy in controversy: the belief that vaccines cause autism.
Stan has frequently peddled misinformation. For example, Stan said, "You don't hear stories from parents saying, 'One week before my child had their vaccines, they ended up with autism.' What you do hear is, 'I took my child to the doctor, they got vaccinated and they weren't the same shortly after that.'"
Article continues below advertisement
Not only that, but Ethan himself has routinely disrespected Professor Martin Mason of Team Bad Kitty, well known for their heavy-weight champ, the Mad Catter. Martin has been in robot wrestling for years and in a post-match interview, Ethan disrespected him with a hand gesture.
Can the Riptide team redeem themselves? Only time will tell.
Viewers have been seeing an improvement in Ethan's behavior towards others, but he still has a long way to go.
Ethan's Achilles heel is his arrogance, which more often than not, rubs people the wrong way. If he learned a little humility and treated his peers with the respect that they deserve, he wouldn't be getting as much hate as he has been. It's tough to straddle that line between arrogance and confidence, and Ethan is only human.
It's safe to say Team Riptide has a lot of growing up to do. We'll have to wait and see if they manage to redeem themselves and rebuild their reputation. It's a lot easier to damage a reputation that rebuild one.