We've Got Gadgets and Gizmos Aplenty in the New 'BattleBots: Champions' Spinoff!
It's getting hot in here, so let's smash some tiny robots together in a battle to the destroyed! How does 'BattleBots: Champions' work? Let's get into it.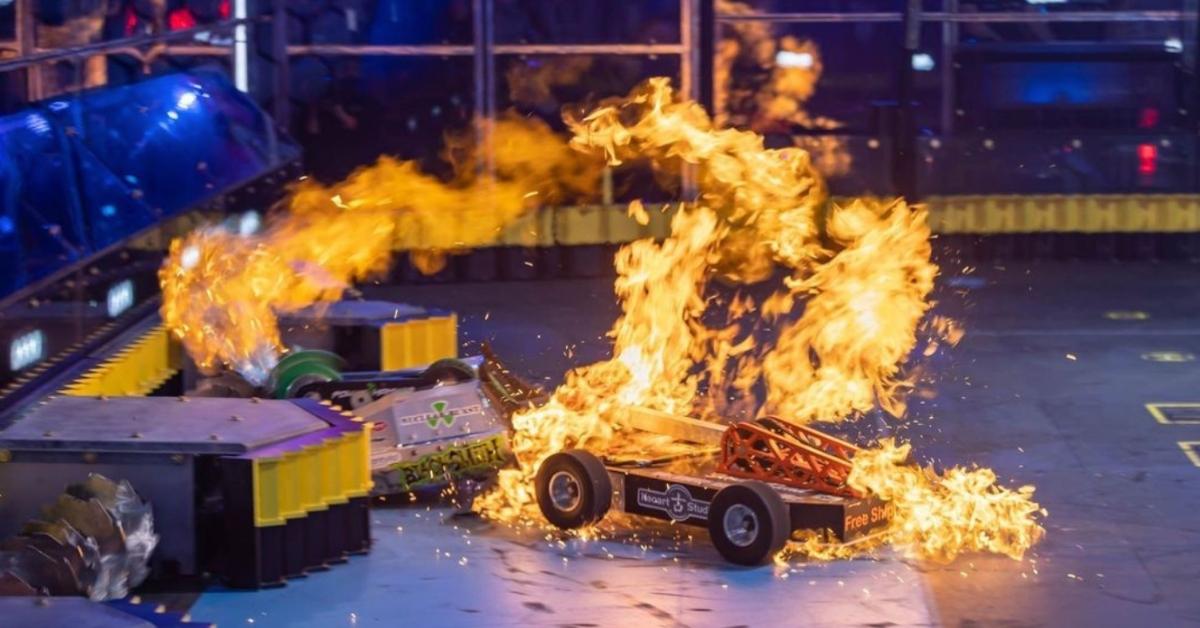 Dr. Dealgood (Edwin Hodgeman), the magistrate of Bartertown in Mad Max Beyond Thunderdome, had this to say about the inner workings of the skirmishes that fueled the city: "Get to the weapons. Use them any way you can. I know you won't break the rules. There aren't any."
Nearly 40 years later, BattleBots feels eerily similar to the fighting in the Thunderdome that was characterized by two people entering and one person leaving.
Article continues below advertisement
The 11th season of BattleBots ended on April 7, 2022, and while we're waiting for a Season 12 confirmation, a spin-off has risen from the robotic ashes to satiate our lust for nuts and bolts. BattleBots: Champions is sure to be bigger, better, and more brutal than any previous iteration of the show. So, how does BattleBots: Champions work? Here's what we know.
Article continues below advertisement
How does 'BattleBots: Champions' work?
We've got ourselves a classic bracket tournament, with a twist. Each week in BattleBots: Champions, eight BattleBots will come to battery blows in Las Vegas with the tournament winner taking on a previous BattleBots champion. If that champion loses, the winner will join a field of Champions (all Giant Nut winners) for the ultimate test in the final episode — a winner-takes-all contest for a brand new BattleBots trophy: The Golden Bolt!
Don't forget to hydrate, warm up, and stretch before each episode of the six-part series, because they're two hours in length. Hey, it can take a minute to annihilate your machine opponent.
If you're in need of more BattleBots (and who isn't), previous seasons are currently streaming on Discovery Plus. In fact, if you decide to place a friendly BattleBots: Champions bet with some pals, it might be a good idea to check out the fighters in the old seasons.
Article continues below advertisement
Who's competing in 'Battlebots: Champions'?
Kicking off this mechanized tournament is Triple Crown, Madcatter, Claw Viper, Defender, Duck!, Hypershock, Smeeeeeeeee, and Valkyrie. The first champion to fight this winner is Battlebots: Bounty Hunter champ Gigabyte. This will be a solid matchup because Gigabyte has been in the game since Discovery Season 3. Let's just say this fella has been around the bot block.
Article continues below advertisement
Gigabyte's design is that of a full-body spinner, which is a classic BattleBots look. The self-righting bar on top of Gigabyte works to keep the bot from tipping over and also helps the designers know which direction Gigabyte is facing. Hello, can we get one of those? Hopefully Gigabyte will be facing in the direction of a win!
The first round has been met with mixed reactions from BattleBots fans. Beneath the bracket announcement posted on Instagram, folks were commenting with predictions and a full range of emotions. "Gonna be Hypershock vs Mad Catter in the grand final," posted @nick.snyder. Conversely, @goum_frudla_2112 said, "Bro stop handing Valkyrie easy fights."
Look, there are no easy fights in this robotic Thunderdome. But we know one thing for sure: Eight bots will enter (OK, technically nine) and one bot will leave.