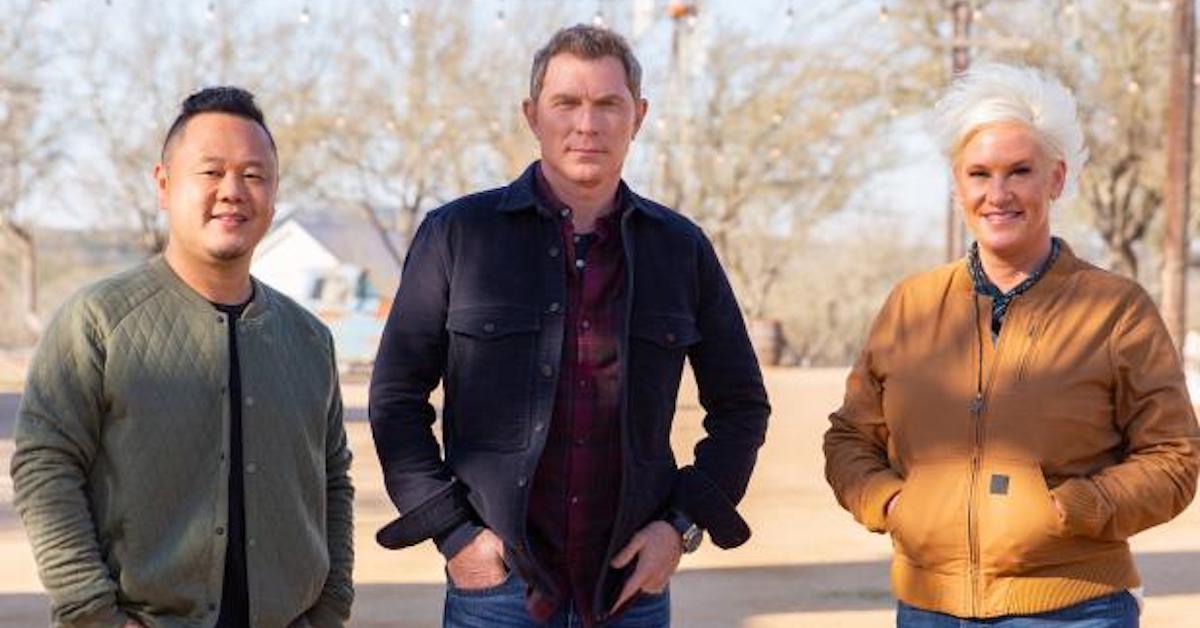 Who Are the Judges on 'BBQ Brawl' and What Is Season 3 About?
Although there are tons of food-centered shows for foodies to obsess over, BBQ Brawl is certainly one of the most interesting ones. Since it has gained so much popularity among reality TV lovers, it's currently on Season 3. The show focuses on barbecue masters who consider themselves to be totally "elite" in their craft.
Article continues below advertisement
Before choosing teams, the celebrity chefs have to go head to head against one another in a major backyard barbecue challenge to decide who gets to make the first decision on teammates. The show is about deciphering who's the most talented when it comes to creating barbecue masterpieces. Here's what we know about the judges in Season 3.
Article continues below advertisement
Who are the judges in Season 3 of 'BBQ Brawl'?
The famous faces from the celebrity chef community who are included in Season 3 of BBQ Brawl are Bobby Flay, Anne Burrell, and Jet Tila. Bobby is obviously the most famous name on the show thanks to his career as a reality TV personality, celebrity chef, author, and restaurateur. According to Bobby's official website, he says, "I'm not afraid to fail as long as I make every effort to succeed."
Bobby also explains on his website that he feels lucky to be where he is in life utilizing some of the freshest ingredients ever and being able to wake up thinking about food every day. Anne is also a reality TV personality, author, and American chef. To top it off, she's also a former instructor at the Institute of Culinary Education.
Article continues below advertisement
That means Anne has successfully taught students how to thrive in the kitchen the same way she has been able to over the years. The other reality TV cooking shows she's involved with on Food Network are Secrets of a Restaurant Chef and Worst Cooks in America. Just like Bobby and Anne, Jet is also a restaurateur, author, and celebrity chef.
Article continues below advertisement
Jet's career goes a little farther since he's also a restaurant developer. In other words, he's into developing restaurants from the ground up. Currently, Jet has over 402,000 followers on Instagram who are inspired by the many recipes he has mastered over the years. Jet constantly uploads videos and pictures of his delicious creations for his followers to salivate over.
Article continues below advertisement
What is Season 3 of 'BBQ Brawl' about? Here are some details.
Each episode of BBQ Brawl is going to be filled with some exciting twists and turns. As each episode premieres on Food Network, there are going to be a lot of surprises around every corner. Before the first episode of Season 3 landed on TV, Anne posted a note of eagerness on Instagram.
Anne said, "I am SOOOOOOOOO excited to announce my participation in the new season of #BBQBrawl with the legendary @BobbyFlay and @JetTila." Now that the first few episodes are out, it's easy to understand why she was so excited to get started in the first place. BBQ Brawl puts an interesting spin on what it means to be a top chef.
New episodes of BBQ Brawl premiere on Mondays at 9 p.m. EST on Food Network.