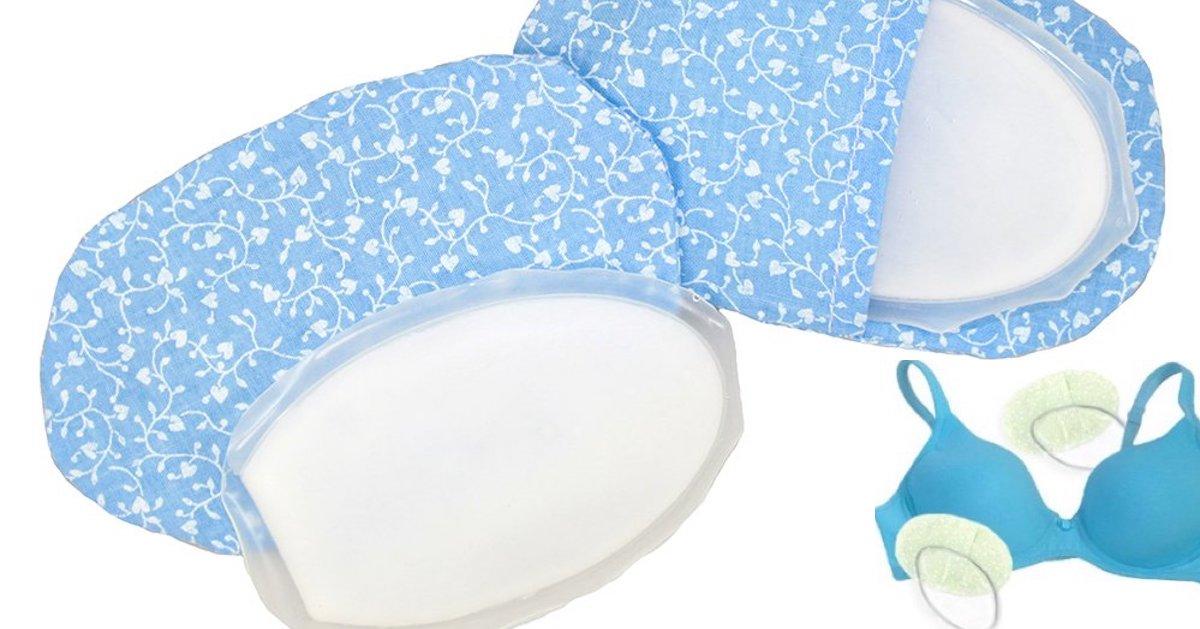 Freezable Bra Inserts and Other Things to Help You Beat the Heat This Summer
The planet is getting hotter and hotter. The days are becoming sweatier and sweatier. And you need to stay cool so you can fight for comprehensive climate change policies. These products will help you do that.
No more wetting a towel, holding it in front of your window-unit air conditioner, and then putting it on your head, which is a thing I 100 percent do. These products are designed to keep you cool when it's just too dang hot, and they'll do it without making you look like an idiot (well, most of them, anyway).
Article continues below advertisement
Freezable Bra Inserts
Say goodbye to boob sweat with these Bra Coolers from Polar Products. All you have to do is stick them in the freezer, fridge, or ice water until they freeze solid. But they won't get unbearably cold. They only get down to 58 degrees Fahrenheit and give you and your chest cooling relief for up to two hours.
They come in two sizes: one for A, B, or C cups, and another one for D+ people. You get two cooling packs that each come with a cotton cover for maximum comfort. In 2019, we can no longer deny that the effects of climate change will be catastrophic for life on Earth unless we do something drastic. But we can deny our boobs getting sweaty. And we should.
Article continues below advertisement
Kool Max Kit
If tackling your underboob sweat just isn't enough cooling power for you, consider the Kool Max Kit, also from Polar Products. It has everything: a torso wrap, neck wrap, two wrist wraps, two ankle wraps, and an extra set of Kool Max Packs for each product. With this kit, every single one of your extremities will be cool as a cucumber.
Article continues below advertisement
Of course, now I'm picturing a person comprised entirely of cucumbers: cucumber body, cucumber arms, cucumber legs. And of course, that's making me hungry. And also kind of thirsty? Cucumbers have a lot of water in them. Anyway, this Kool Max Kit comes in two colors: khaki (pictured) or basic black, because it will keep you nice and cool, but it can also be #fashion.
Article continues below advertisement
Mission Gaiter
If the whole kit is a little much for you, try the Mission Gaiter. All you have to do is soak it in water, wring out the excess, and "snap three times," (I'm assuming that's snap the cloth and not your fingers), and it will cool to 30 degrees below your body temperature, keeping you comfortable for up to two hours. And you can wear it multiple different ways because as we are learning, you have to stay cool and stay #fashion all at the same time.
Article continues below advertisement
WoneNice Portable Air Conditioner
If there's one thing I love to do in the summer, it's condition the air to be much cooler than it is naturally before it blows in my face. Air conditioning is one of summer's great joys. And this little guy, the WoneNice Portable Air Conditioner, lets you bring your air-conditioning ability out into the world. It runs on batteries or USB power. All you have to do is soak the little sponge that goes inside, stick it in, and you get cool, moist air blowing at your face in no time.
Article continues below advertisement
Solaration Fan Baseball Hat
OK, this one is mostly a gag gift, but if you have a dad who spends a lot of time outside during the summer, this might be the perfect gift for him. It's a solar powered fan in the brim of a baseball cap. Perfect if it's hot out and you're heading to the golf course or to watch the Mets lose or something.
Article continues below advertisement
SGODA Dog Cooling Vest
Let's not forget about our pets! Dogs run hotter than humans, so chances are, if you're sweating, they're really sweating. Your furry four-legged family member needs to be able to cool down right with you. While you're shoving cooling pads in your bra, wet this mesh vest, wring it out, and put it on your pup for several hours of cooling relief.
Article continues below advertisement
Stay cool this summer, folks. These gadgets and gizmos will help you get there. But stay hot on your representatives and senators to do something big about climate change because I don't think our boobs can handle producing much more sweat than they already do.