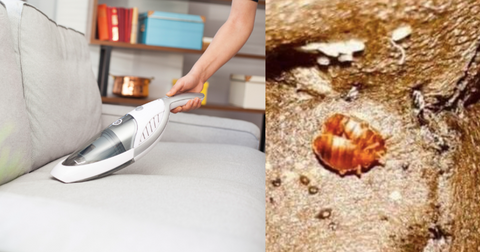 Single Mom Tried to Scam the Person Who Sold Her a Couch With Fake Bed Bug Pictures
By Robin Zlotnick

Updated
Buying and selling things online is always a risk. Usually, it's the buyer that has to be cautious to make sure the seller isn't screwing them over by trying to sell them something faulty and is being honest about what they're offering. But every once in a while, it's the seller that has to beware.
One person recently learned this lesson the hard way when they tried to sell their old couch on Facebook Marketplace. The woman who bought their sofa tried to claim that it was infested with bed bugs — a serious issue — in order to scam them into giving her money. Needless to say, the woman's ill-conceived scheme didn't work.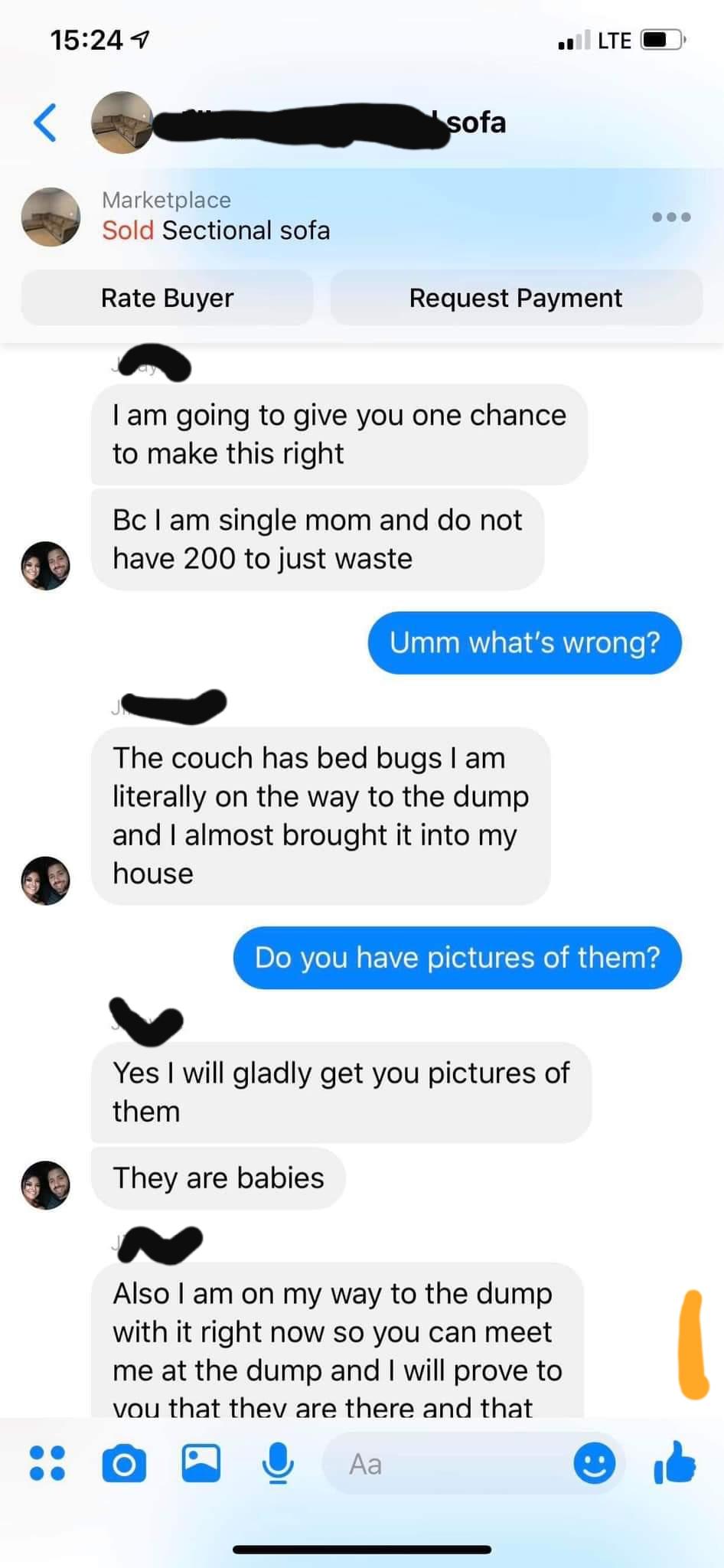 "I am going to give you one chance to make this right," the woman claimed after she left with the couch she'd just paid $200 for. She claimed she was a single mom and that the couch she had just purchased was riddled with bed bugs. 
Obviously, this concerned the person who sold her the couch. If there were bed bugs in the couch, that probably meant that there were bed bugs in other places in their home, and that's no joke. So they did what any reasonable person would do. They asked her to take pictures.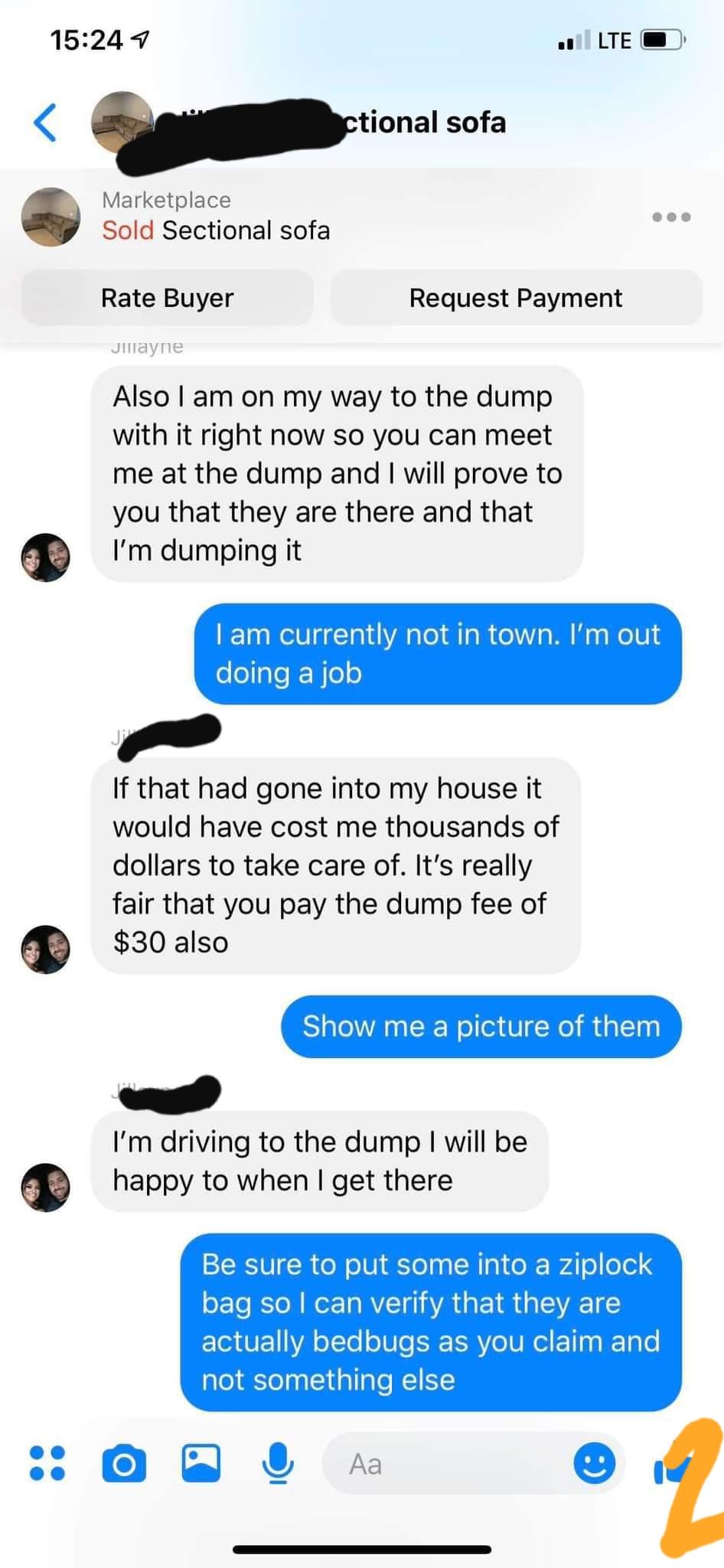 But instead of taking pictures of the bed bugs and providing proof, she offered to take pictures of the fact that the couch is being left at the dumpster...which doesn't prove anything. All it proves is that she paid $200 for a piece of furniture that she decided to then take straight to the trash. 
The seller remained nice and level-headed throughout this whole crazy reaction and asked the woman to put some of the bugs in a plastic Ziploc bag so they can be sure that's what she claims to have seen. Seems reasonable to me.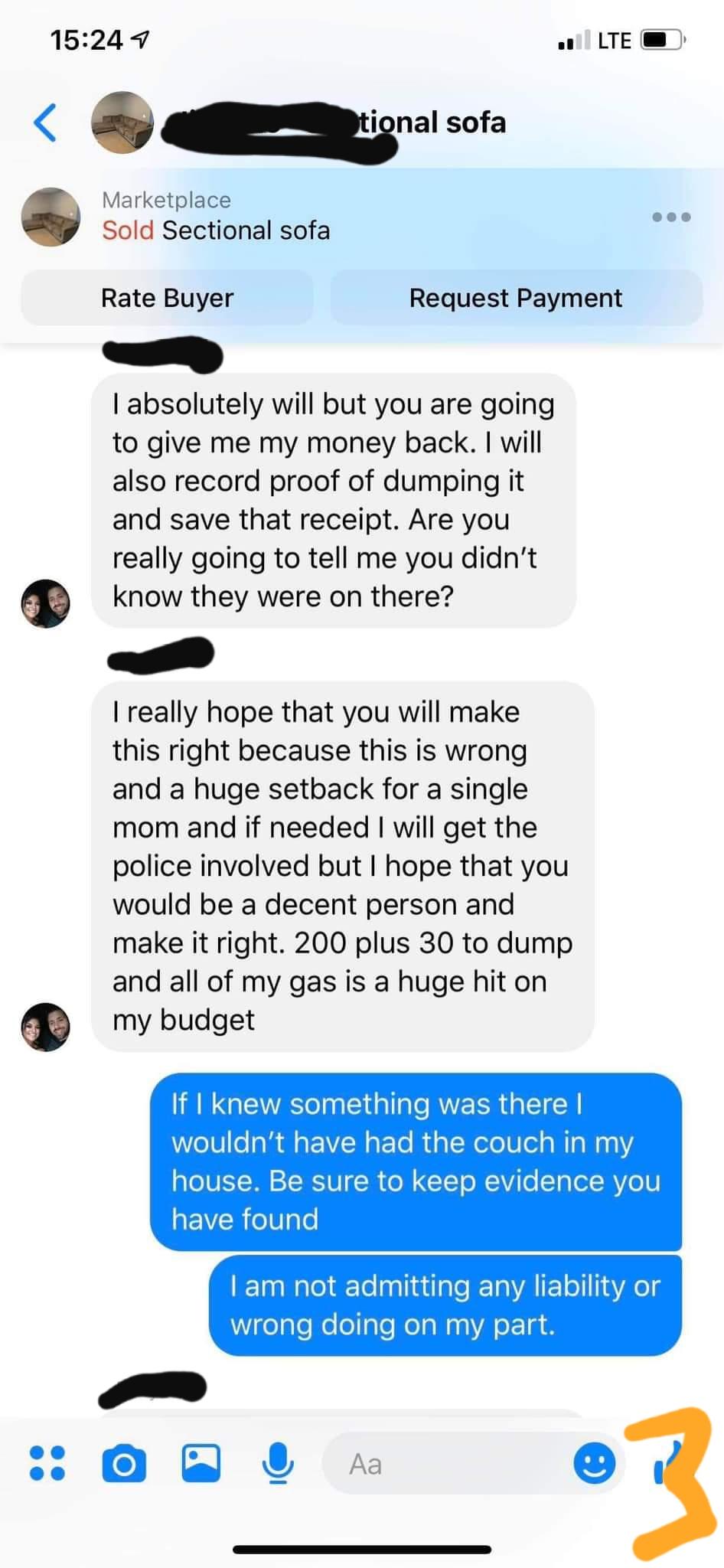 This whole thing feels really fishy at this point, and also so much effort to make an extra $30 plus the cost of gas. And threatening to get the police involved? She really sounds out-of-touch. But it just keeps getting better. (And by better, I mean worse.)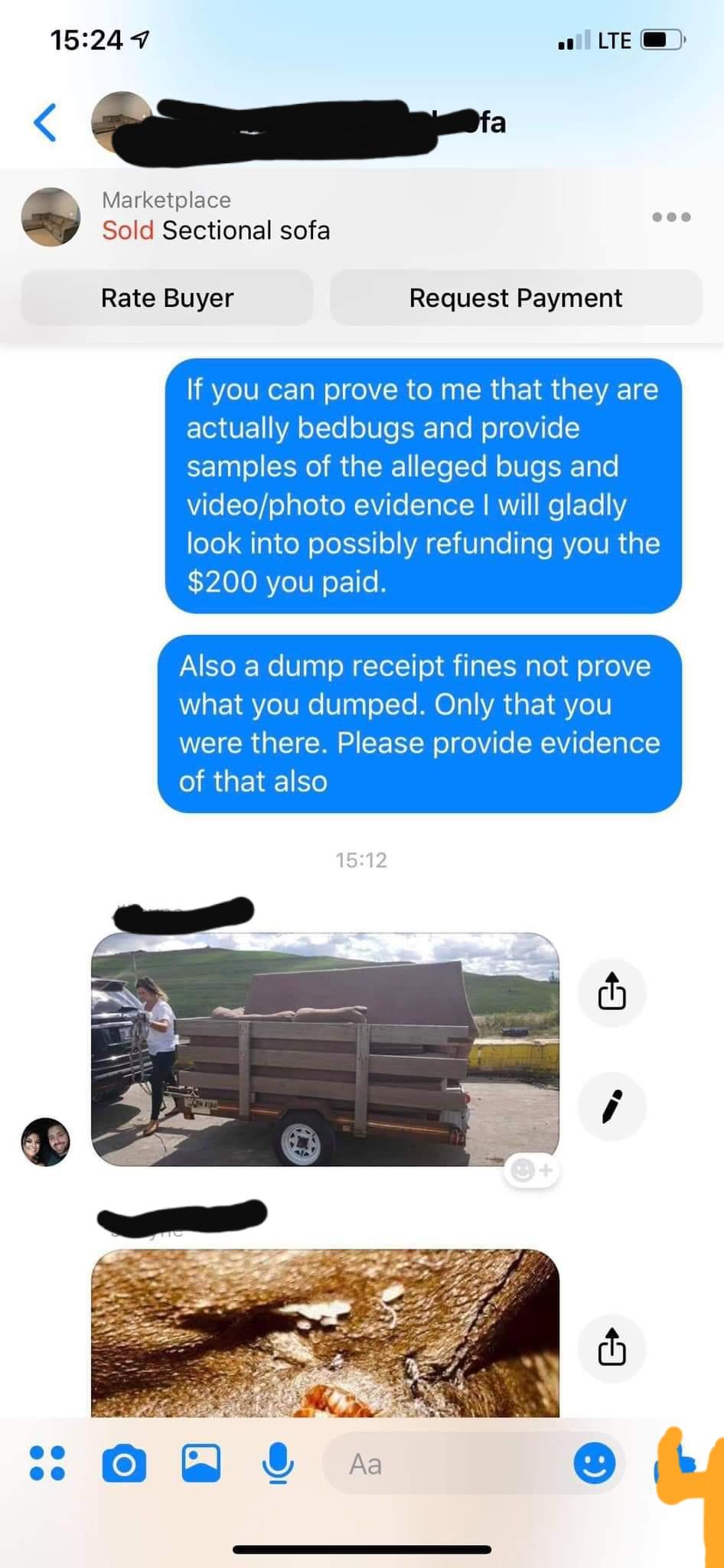 This poor person just wanted to get rid of their old couch, and now they're dealing with a crazy person. They are really remaining very calm and collected throughout this whole ordeal. 
They're right that the dump receipt doesn't prove what she dumped, and the fact that she dumped the couch also doesn't prove that there were bed bugs in it. So the picture of the couch in the car trailer is simply not enough. We need to see evidence of actual bed bugs!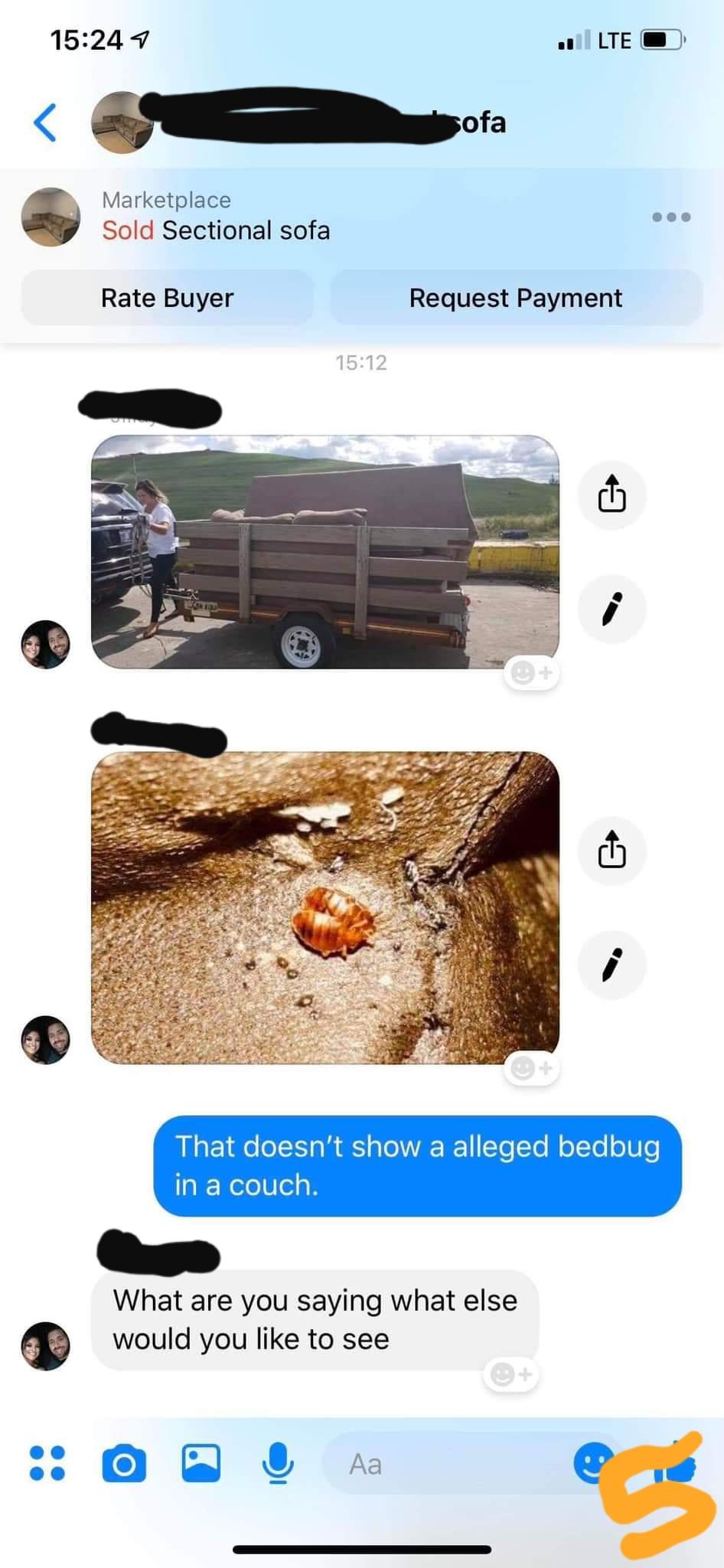 And so this is the picture she sent. It's very clearly not a bed bug in a couch. Those bed bugs are like, in a wall or something. 
The person who sold her the couch was not going to fall for this, so they did what any good detective or host of Catfish would do. They reverse-image searched the picture.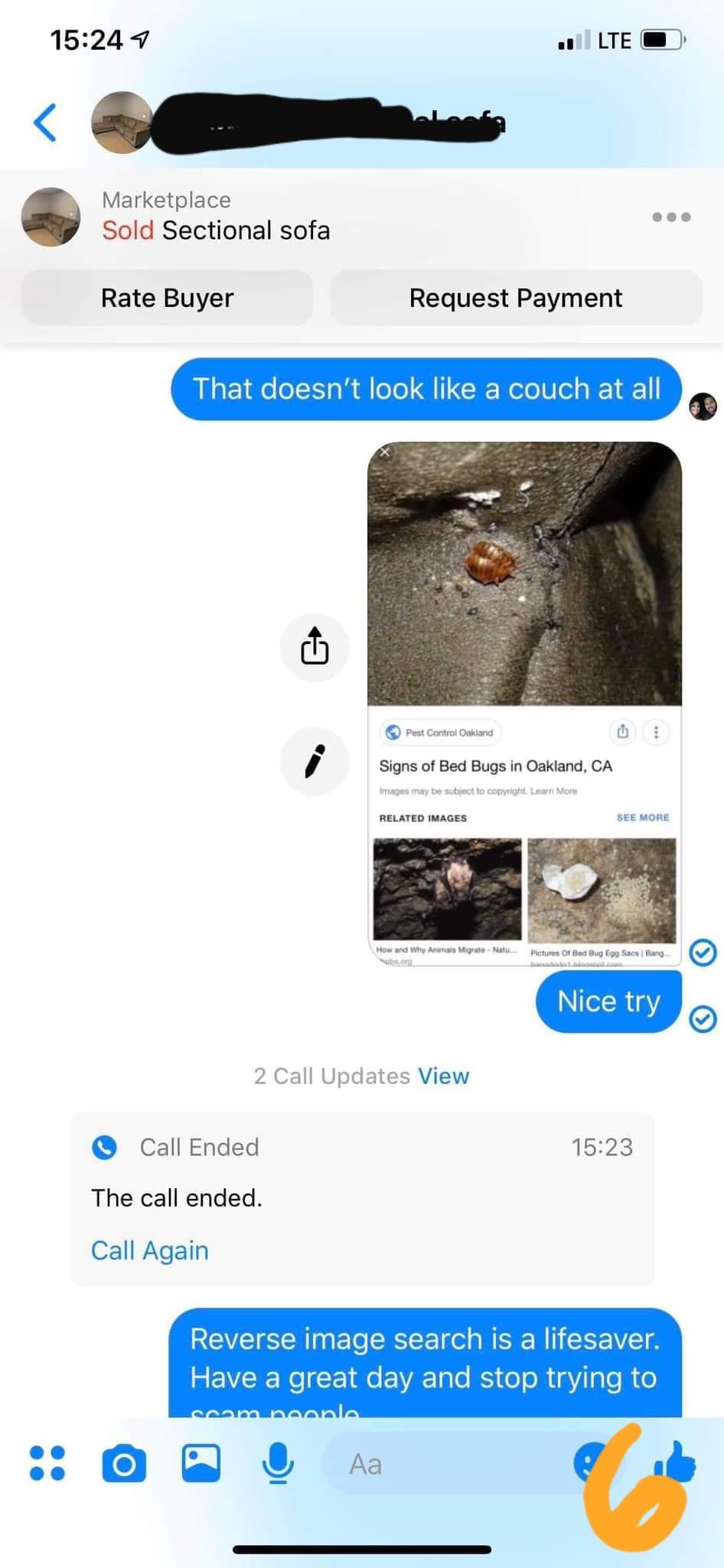 And that was enough to spook the scammer away. It was too easy to out this woman for lying about bed bugs. She was really bad at scamming! 
Obviously, the lesson here is that there are a lot of weirdos out there who will do things like pay $200 for a couch and then try to lie in order to make an extra $30. Don't fall for their shenanigans.