Some Keepsakes Just Aren't Worth It in 'Elden Ring'
When crafting your character at the start of 'Elden Ring,' you'll be able to choose from one of nine keepsakes. But which is the best?

When you start Elden Ring, you can spend hours detailing your character, picking their appearance and their class. There are also nine different gifts you can choose to start the game with, or if you're one of those masochistic players who only plays FromSoftware games because of how hard they are, you can of course choose to skip the starting gift. That said, if the developers didn't intend something like this to be used in the game, they wouldn't include it, so don't be silly and just bypass it.
Here's a breakdown of each of the keepsakes available to you in Elden Ring and which ones are good to choose.
Article continues below advertisement
A breakdown of each of the starting gifts in 'Elden Ring.'
The Crimson Amber Medallion is great for those worried about taking damage in the first few moments of the game, as it gives your HP a small boost.
The Golden Seed will allow you to upgrade the number of charges your Sacred Flask can hold — meaning you'll have more opportunities to replenish your health before visiting a Site of Grace (and resetting all of the enemies you killed).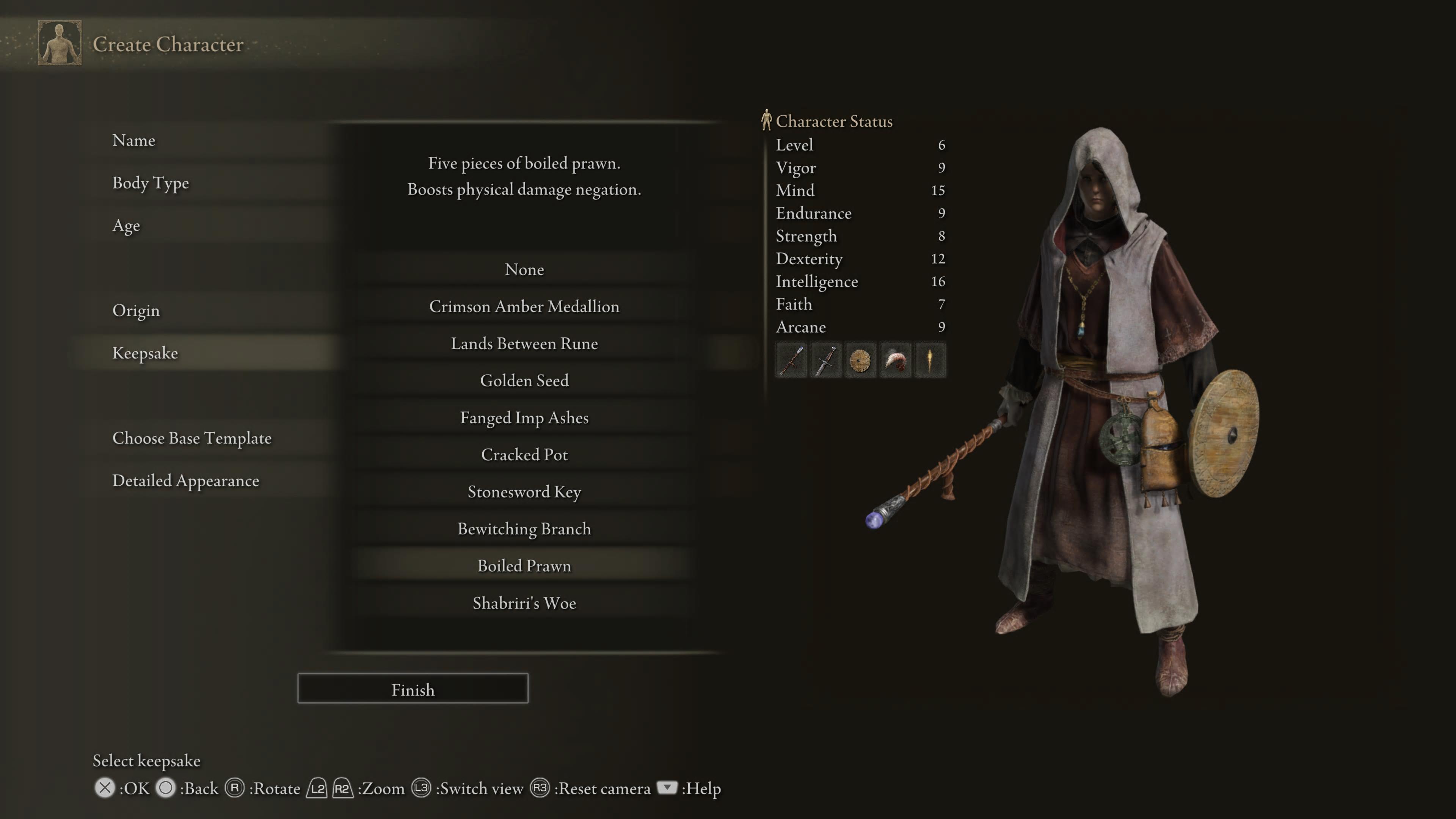 Article continues below advertisement
The Land Between Rune is just a rune, which is later used to upgrade your character's abilities. Runes will be in abundance around the map so you can easily skip this one.
We have an entire guide on how to use ashes in the game, but the Fanged Imp Ashes won't be particularly useful in your first few hours of the game. These ashes will summon the spirit of an NPC to help you in battle, though you can't use it until you get the Spirit Calling Bell.
The Cracked Pot is a reusable item that will store certain crafted items. While you'll be able to get these later in the game, having one on hand when you start wouldn't hurt either.
The Stonesword Key is extremely useful in that it'll help you unlock rewards and other treasures throughout the game. There's also a location pretty early on in the game that requires a Stonesword Key, and if you don't get this at the start, you won't be able to unlock it.
Article continues below advertisement
The Bewitching Branch will allow you to bewitch certain enemies, convincing them to fight for you during battle. This can be extremely useful if used correctly.
Don't even bother with Boiled Prawn. It's another consumable item that will boost your physical damage negation for a certain period of time.
Shabriri's Woe is for the hardcore masochists. This makes every enemy in the game harder. If this is your first FromSoftware game, don't pick this. Please.
Which starting keepsake is best in 'Elden Ring'?
If you're a complete beginner, then you'd probably want to grab the Golden Seed, the Stonesword Key, or the Cracked Pot. These items will be super helpful as you begin your journey and will help you in the long run, especially as you get used to the gameplay mechanics.
That being said, if there's a different keepsake that you feel particularly inclined to have, you should choose it! Elden Ring is truly a game that's whatever you make of it.
Elden Ring is now available on PlayStation, Xbox, and PC.