These Beyoncé-Inspired Renaissance World Tour Outfits Are Totally Giving 'Alien Superstar'
A good outfit for the Renaissance World Tour is hard to find ... or is it? Here's all the inspo you need to pull up like the 'Alien Superstar' you are.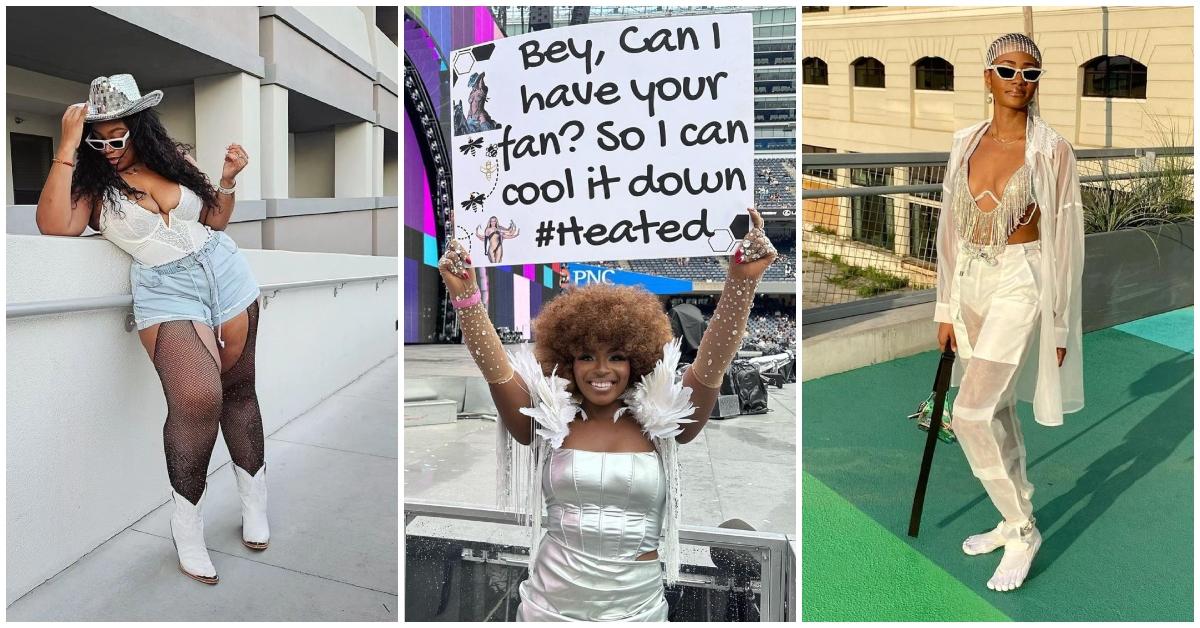 The gworls were out Summer of 2023, and it was truly a time to be alive. Beyoncé kicked off her highly-anticipated Renaissance World Tour in May at the Friends Arena in Stockholm, Sweden. Since then, she's made stops from Marseille to Miami.
Article continues below advertisement
With the international tour coming to an end in October, we'll only have memories to remind us of the time that was had. But one thing we'll never forget is the iconic outfits that were worn by concert-goers.
Serving up afrofuturistic vibes of all shapes and sizes, the BeyHive showed up and showed out, OK? Needless to say, we love to see it. Without further ado, I'd like to pay homage to the queens who came out and did it for the culture.
Need inspo? Here are 7 of the best Renaissance World Tour outfits so far!
Beyoncé has us out here dressed like we're headed to Comic-Con as the '"Alien Superstars" that we were born to be. From accessories and makeup to clothes and hair, the BeyHive invested a lot of thought into their looks.
Like Leigh Marie, for example, who beat her face to the gawds for the concert. She gave me the deets on how she achieved her Renaissance-inspired look. She copped her glasses for a steal and went big on her eye makeup.
"My glasses are from SHEIN — it's all for the show because you can't see out of them — but they were only $2 and my makeup look just came out of my head," she told me. "I have a lot of FX glitters from JLARUE Cosmetics so I try to use them when I can!"
If you're still stuck on what to wear to the once-in-a-lifetime event — you're not alone. Whether you're a baddie on a budget or you're prepared to splurge, we've got you covered. Read on for some of the best Renaissance World Tour outfits so far!
@kashmirviii
Fashion Maven and graphic designer Kashmir VIII didn't come to play with y'all. Although her hair accessories are certainly a show-stopper, it's that bubble skirt that has me in a chokehold.
@truepyt
You can never ever go wrong with a jumpsuit — that is unless you have to go to the restroom. That said, @truepyt makes us wanna risk it all for this aluminum one-piece.
Article continues below advertisement
@nalathegod
We stan a rhinestone cowgirl and @NalatheGod ate this look right on up. She paired white cowboy boots with fishnet stockings covered in bling, jean shorts, and a white teddy. It's her disco ball cowboy hat that really stole the show, though.
Article continues below advertisement
@uniquejazzmin
Looking like she stepped straight off the stage, @uniquejazzmin gave what needed to be given. Her look included but was not limited to feathers, and silver, and bling, oh, my!
Article continues below advertisement
@wealthofashley
I spoke to @wealthofashley, who gave us exclusive details on where to find her fit. She copped her silver and black bodycon one-piece from the Black-owned retail store Glam City Boutique.
Article continues below advertisement
@therealsandy_
I say we keep it simple for the win, Alex. @Therealsandy_'s fit for the concert consisted of a pair of customized blinged-out Converse, a tube top from Fashion Nova, shorts from Amazon, and an itty bitty Balenciaga bag.