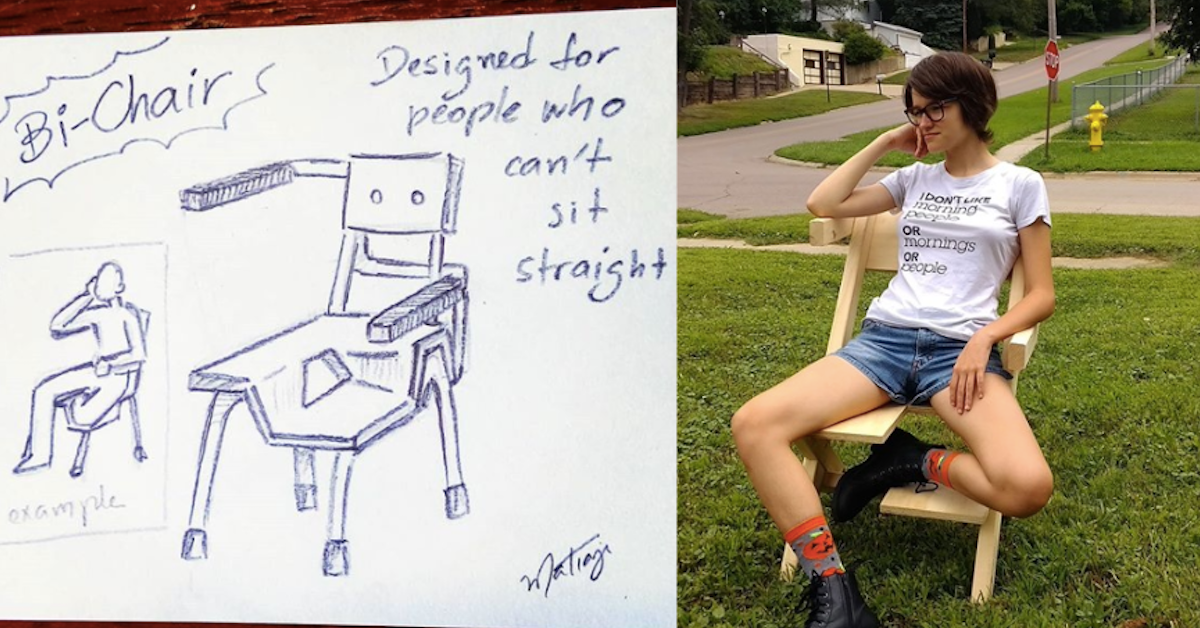 Awesome Dad Actually Built the 'Bi-Chair' for His Bisexual Daughter
Apparently, it's a well-known fact that bisexual people can't sit properly. Sitting up with your back flush to the chair back and both feet on the ground? That's a sitting position for straight people. It's so "true" that bisexual people don't know how to sit properly that it became a meme.
Article continues below advertisement
And then an artist and designer took that meme and designed a chair specifically for bi people. And then a dude with a bisexual kid thought that design was so perfect and funny that he actually built it. And that's how the "Bi-Chair" became a reality.
Article continues below advertisement
The notion that bi people never sit normally in chairs may sound like a strangely specific stereotype, but it was actually spread by bi people themselves. Apparently, it's a thing. Sitting with one leg up on the chair, slouched down so you're almost falling off, or spread eagle and hunched over your legs is now a distinctive trait of bi culture.
Article continues below advertisement
It was with this hilarity in mind that Brazilian artist Má Matiazi doodled off a design for the "Bi-Chair," which is "designed for people who can't sit straight." Má posted her simple, funny design to her Instagram page on July 26.
Article continues below advertisement
The design truly seems perfect for people who can't bring themselves to sit upright with their feet on the floor. And I'm not the only one who thought so. Israel Walker is a Starbucks barista and former member of the Air Force who learned about "bisexual sitting" from his bi, nonbinary daughter. They all thought it was super funny and rooted in truth.
So, he did what any true ally and father would do: He reached out to Má to ask if he could attempt to actually build the "Bi-Chair," recreating her design. She said yes, and so he did it! He actually brought the Bi-Chair to life, and not going to lie, it is glorious.
Article continues below advertisement
Israel posted his handiwork to Facebook in a post that went completely viral. People are loving it. "THIS IS SO PURE," one commenter wrote. "Yo, you need to patent this ASAP," another business-minded commenter wrote. "It's perfect." I mean, just look at it! This person isn't wrong.
Article continues below advertisement
Speaking with Daily Dot, Israel admitted that his design is slightly different from Má's. It's a little bit rougher and has shorter, unfinished arms. He added a cutout for the knee rest as opposed to a two-tiered sloping piece of material. Still, it's clearly Má's innovation come to life, and, as Walker's daughter demonstrates in the pictures he posted, the chair totally works as intended.
Article continues below advertisement
I mean, come on! He totally nailed it! She looks so natural sitting like that in this chair made just for her. What a dad. What an architect. If the bi community has anything to say about this, it's only a matter of time before these chairs are available in stores everywhere.
So many people in the comments want to see these Bi-Chairs mass-produced. I know I do. God knows bi people have put up with enough crap over the years, what with these dumb, four-legged, one-tiered chairs. It's just not fair.