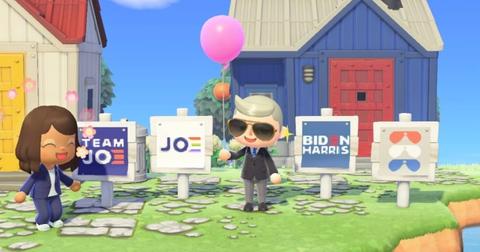 Joe Biden's Team Added Campaign Signs to 'Animal Crossing: New Horizons'
By Katie Garrity

Updated
At the beginning of the COVID-19 pandemic, Nintendo's release of Animal Crossing: New Horizons became a bright beacon of hope for a lot of people who were staying safe by staying home. Released in March 2020, Animal Crossing: New Horizons allowed the player to assume the role of a customizable character who moves to a deserted island after purchasing a package from Tom Nook, a tanuki character who has appeared in every version of the Animal Crossing series.
Animal Crossing: New Horizons takes place in real-time, so the player can explore the island in random fashion, gathering items for their village, catching insects and fish, and developing the island into a community of animals. The popular game just came out with some new updates for the fall and one of them is really taking the internet by storm. Animal Crossing: New Horizons users will now be able to add Joe Biden campaign yard signs to their villages!
Joe Biden's presidential campaign released four styles of signs.
If Animal Crossing fans needed another reason to love the game, now Joe Biden is getting in on the fun. Joe Biden's presidential campaign released four styles of signs for users to choose from: the official Biden-Harris logo, the "Team Joe" logo, the "Joe" Pride logo, and an image of three aviator sunglasses shaded in red, white, and blue. Joe is known for wearing aviator sunglasses.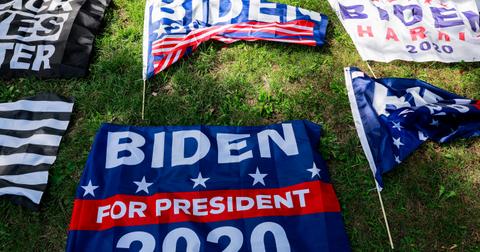 In a photo shared by The Verge, Joe Biden's avatar, wearing aviators and holding a pink balloon, is featured alongside an avatar version of Kamala Harris. Both are standing alongside the campaign signs. These signs are a new and innovative way for Joe's campaign to try and grab the attention of young voters.
"As we enter the final campaign stretch towards November, this is one way we are finding new creative and innovative ways to meet voters where they are and bring our supporters together," Christian Tom, director of digital partnerships for the Biden campaign, said in a statement to The Verge.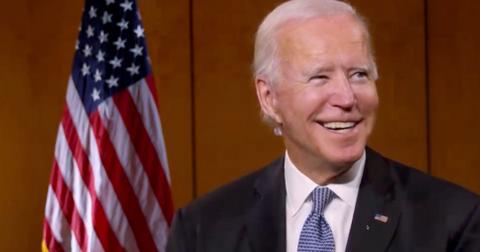 "This is just the start of how we plan to engage players ahead of November as we're already looking forward to rolling out more digital swag, voter education tools, and organizing efforts on Animal Crossing and other platforms," Tom continued.
'Animal Crossing' users can access the signs by scanning QR codes.
Players can access these signs by scanning QR codes through the Nintendo Switch Online app. From there, you can add these signs to your village to show your support for the Democratic nominee for president. Joe Biden's campaign has seen this addition as an opportunity to bring people together on the game that may have not known they share similar views.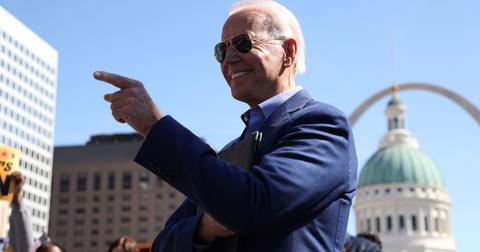 "Animal Crossing is a dynamic, diverse, and powerful platform that brings communities together from across the world," Christian Tom, director of digital partnerships for the Biden campaign, said in a statement to The Hill. "It is an exciting new opportunity for our campaign to engage and connect Biden-Harris supporters as they build and decorate their islands."
The internet has mixed feelings about the Biden campaign signs in 'Animal Crossing.'
While some are excited and appreciative of the Biden campaign's attempt to try something different and engaging with a possibly untapped sector of the internet, others think this is a lame attempt to get votes.
One Twitter user wrote, "That is ridiculously adorable. Look at their little faces!!!! I'm not a video game person so I had no clue this sort of thing was happening - it's cute and a good idea."
While another responded with quite the opposite sentiment and tweeted, "Of all the things Biden could have offered voters, this was the best he could come up with."