Here's How to Do the Bill Clinton Album Challenge on Instagram
Here's how to put your favorite music in the photo for the Bill Clinton Album Challenge. You don't have to be a Photoshop master either!
Chances are good that at some point during the 45 times today you scrolled through Instagram, you've seen a few of your friends sharing a photo of Bill Clinton sitting criss-cross-applesauce on the floor with headphones on, holding their favorite album.
Article continues below advertisement
While it's certainly possible everyone went out and got really good at Photoshop, it's most likely they're using Bill Clinton Swag, an app that allows you to customize the photo with any album art you like and post your own "Bill Clinton Album Challenge" meme. Here's how to play:
Here's how to play the Bill Clinton album challenge:
There is a whole Instagram account dedicated to Bill Clinton holding your favorite album, appropriately named @bill_holding_your_fav_albums/. The account's bio also has a link to Bill Clinton Swag where, with a couple clicks, you can generate a custom image with whatever album artwork you like.
Article continues below advertisement
You just click on each blank spot of the template where a record album is, then use the search function to find the artwork you like. You can choose five different albums or you could just use the same one five times, which plenty of people have done to comedic effect.
Once you've got the albums you like, click the "Generate Swag" button. A downloadable image without a "preview" watermark will appear, and you can simply right-click and select "Save Image As" to download it.
Article continues below advertisement
Fair warning, though: demand on the site has been pretty high since the rise in popularity of this meme. You may need to try a few times to generate.
I've been on a Fiona Apple kick the past few days, so I made this one as an example.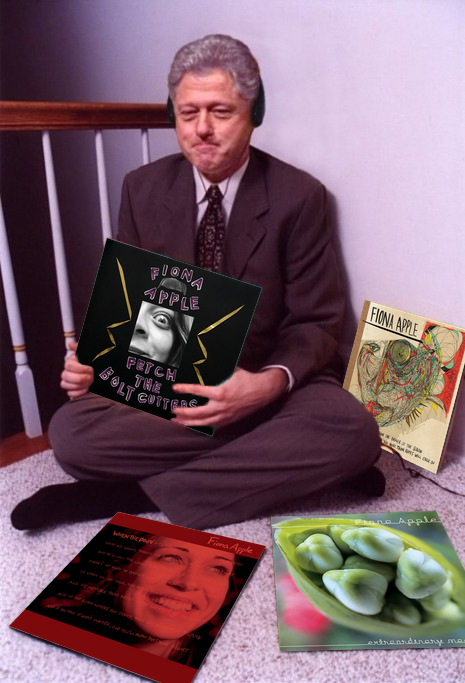 Article continues below advertisement
If you really love your creation, you can even get it printed on a T-shirt. While some people are putting their favorite albums in the image, some are just trying to pick records it's hilarious to imagine the 42nd president of the United States listening to.
It's probably not a coincidence the Bill Clinton album meme trended on 4/20.
Bill Clinton certainly isn't the only president in history to have smoked marijuana nor is he the only one to admit to it, but he is the only one to claim he didn't inhale. It's such an iconic quote, the 4/20 memes basically write themselves. After all, whether or not Bill ever got high, it's hard to look at this photo of a guy in his 40s listening to records on the floor and not imagine he's baked out of his mind.
Article continues below advertisement
Some people make the inference even more obvious by doing some photoshop work outside of the Bill Clinton Swag Generator to give the former president a doob.
Article continues below advertisement
The possibilities are truly endless. Always wanted to see a Rhodes scholar enjoying the masterpiece that is The Spice Girls' self-titled debut with Aqua of "Barbie Girl" fame and The Vengaboys on deck? We got you.
Article continues below advertisement
And some people went nostalgic, not showcasing their favorites now but rather the music that moved them back in the day, you know, when you had to buy a physical copy of a record and people were more prone to actually listen to a full-length album and not just singles.
Anyway, that's how it's done — no graphic design degree required.