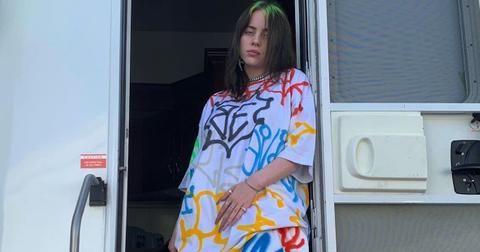 Billie Eilish Does Not Seem to Have Any Real Tattoos... Yet
By Reese Watson

Feb. 15 2021, Updated 3:27 p.m. ET
So, you think you're a hardcore Billie Eilish fan? Let's see if you know about her tattoos.
Before we jump into the juicy details, though, let's do a quick recap for everyone who's been living under a rock for the last few years.
Article continues below advertisement
Billie is a singer-songwriter who first came to fame with her Soundcloud upload "Ocean Eyes" at the age of 14. After releasing her first studio album last year, it became the best-performing album of 2019. She has also earned Grammys, MTV Music Awards, and American Music Awards all before the age of 18.
Ok, now that you're caught up...
Billie Eilish's "tattoos" are a mystery to her fans.
Billie's existent or non-existent tattoos have been a hot topic for some time now. We've seen several pictures of her sporting various neck tattoos, but said tattoos disappear the next time she graces the public. Where did they go? Were they temporary? Why is she keeping us in suspense?
Ok, let's take a breath and start with what we do know.
Article continues below advertisement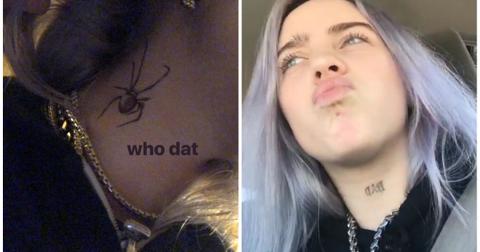 Billie's tattoos are most likely temporary.
The first thing we know is that Billie has been seen with multiple tattoos. Several Instagram photos showed her sporting a spider tattoo and later, a tattoo of the word "Bad." Not only did we see them, but we saw them in the same place, and they mysteriously disappeared not long afterward.
The only explanation is these tattoos were simply temporary, so we have no concrete proof that Billie has any ink so far.
Article continues below advertisement
There are probably some tattoos in Billie's future.
Fact number two: Billie has neither confirmed nor denied the existence of any tattoos. She did, however, say last winter that tattoos were on the way, but this statement was because she was still 17 at the time and wasn't legally allowed to get a tattoo without parental consent, which leads us to assume that she was actually without ink until at least December 18, 2019 — her 18th birthday.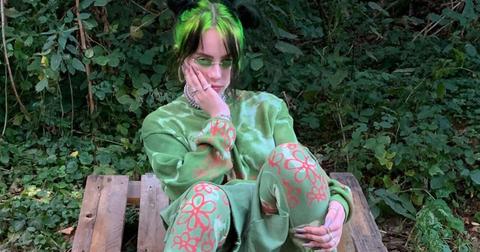 Article continues below advertisement
Which brings us to the third fact: Billie has only been 18 for a few months, so it's quite possible that she hasn't had a chance to ink up between all the publicity, recordings, etc.
Not only that, but it would stand to reason that — once Billie does get ink — she will be more than happy to show us. After all, how many people do you know who got a tattoo and wanted to hide it?
Yeah, that JonBoy tattoo is not real, either.
We know some of you are out there are screaming, "She's already got a tattoo!", and we know you're referring to the 2019 Instagram post by jonboytattoo that shows a signature tattoo on the arch of her foot, but stop for just a minute and take a look at the caption:
Article continues below advertisement
@billieeilish get a Jonboytattoo
He said, "get" a tattoo, not "got" a tattoo. He's trying to make suggestions — just like the rest of us — for what Billie should get.
So here we are still stuck without an answer.
From what we've seen so far, though, it would appear that Billie has yet to take the plunge and go under the needle. It could be her age, a tight schedule, or just difficultly choosing her perfect first tattoo.
Either way, it looks like all we can do is sit by and keep trolling the internet until the day we can walk into our local tattoo parlor and say, "I want one just like Billie."