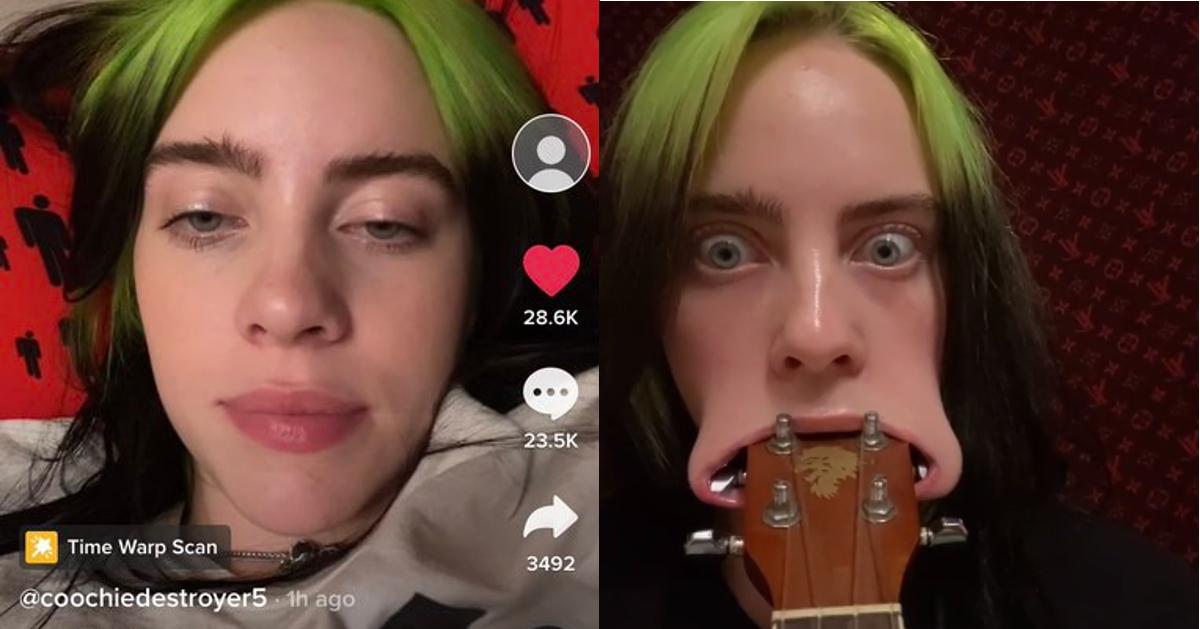 Billie Eilish Changed Her TikTok Username to Something More "Appropriate"
Billie Eilish joined TikTok with a ridiculous username, then quickly changed it to something a little more "normal."
You know a social media platform is legit when bona fide celebrities responsible for generating millions and millions of dollars with their specific brand of talent are jumping on to deliver content to their fans. TikTok is officially the "it" platform for audience engagement and staying relevant: Will Smith, Cardi B, Gordan Ramsay, Katy Perry, and now, Billie Eilish, are sharing videos on TikTok. Billie's first username, however, had nothing to do with her actual name.
Article continues below advertisement
Billie's first TikTok username was "@coochiedestroyer5," interestingly enough.
If you google that particular name and click on the top TikTok result, it'll take you to an account with only a few hundred followers and no posts as it doesn't belong to Billie anymore. If you click on the actual TikTok video results underneath it, it'll take you to her actual, new TikTok username, which is simply, and more appropriately, "@billieeilish."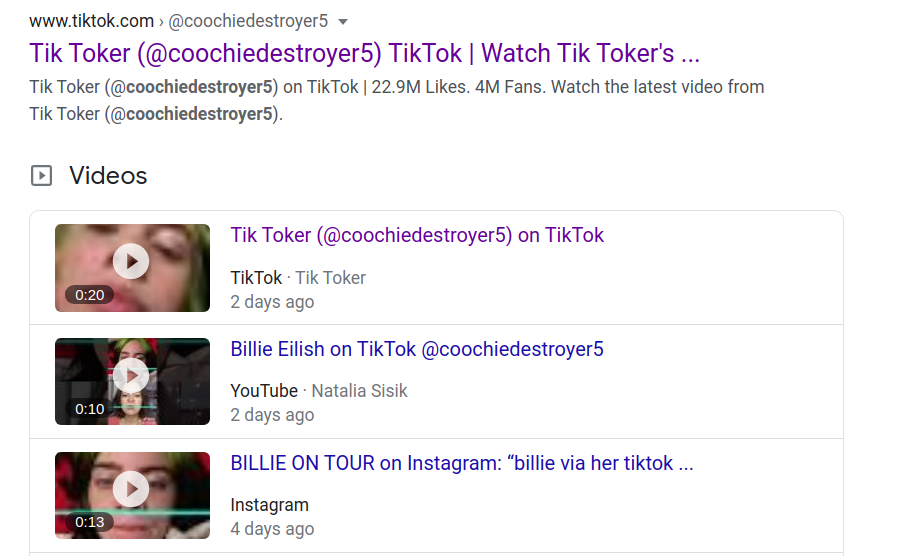 Article continues below advertisement
For anyone who's incredulous that someone with as much name recognition as Billie wouldn't use her own name as her TikTok username, just look at the data beneath the @coochiedestroy5 username: 4 million follows and 22.9 million likes. That was definitely Billie's name before she jumped ship to something that's more easily searchable.
Fans of the artist were convinced that they had discovered Billie's "secret" TikTok account because she hadn't promoted it on Instagram or any of her other social media accounts, and it wasn't verified at first. You know, probably because of the AOL-throwback screen name she originally used.
Article continues below advertisement
Article continues below advertisement
Her first couple of videos showed her messing around with the Time Warp filter on TikTok with some disastrous results, and then she went to try and see if she could fit an entire ukelele head in her mouth again, like she once did as a kid.
She was able to, and found the whole thing hilarious.
Article continues below advertisement
DJ Akademiks received some heat for agreeing with Billie Eilish's "professional liars" comment.
The DJ/Media personality tweeted that "even Billie Eilish knows rappers are professional liars like I've been saying for years."
The teenage musical juggernaut was on the receiving end of some critiques after calling out rappers for "lying" in their lyrics.
"Just because the story isn't real doesn't mean it can't be important. There's a difference between lying in a song and writing a story. There are tons of songs where people are just lying."
Article continues below advertisement
She then followed up with giving an example of some less-than-genuine rap lyrics: "There's a lot of that in rap right now, from people that I know who rap. It's like, 'I got my AK-47, and I'm f---ing,' and I'm like, what? You don't have a gun. 'And all my b----es,' I'm like, which b----es? That's posturing, and that's not what I'm doing."
Article continues below advertisement
Although there were a ton of people who construed that as a criticism of the rap genre as a whole, with some individuals going so far as to call Billie racist and/or saying she should keep her opinions of hip-hop to herself because she's white.
Akademiks agreed with Billie's comment, which didn't sit well with a lot of his followers.
Article continues below advertisement
Article continues below advertisement
There were some who agreed, however, that her quote was taken out of context, and she was illustrating specific hip-hop artists who "lie" about their assumed personas in music, but not to tell a story. As Business Insider puts it: "It's important to note that Eilish — who publicly admires and draws inspiration from many rappers, including Drake, Denzel Curry, J.I.D, Isaiah Rashad, and Vince Staples — never said she was criticizing rap as a whole, nor did she imply that hip-hop is the only genre where similar 'posturing' occurs."