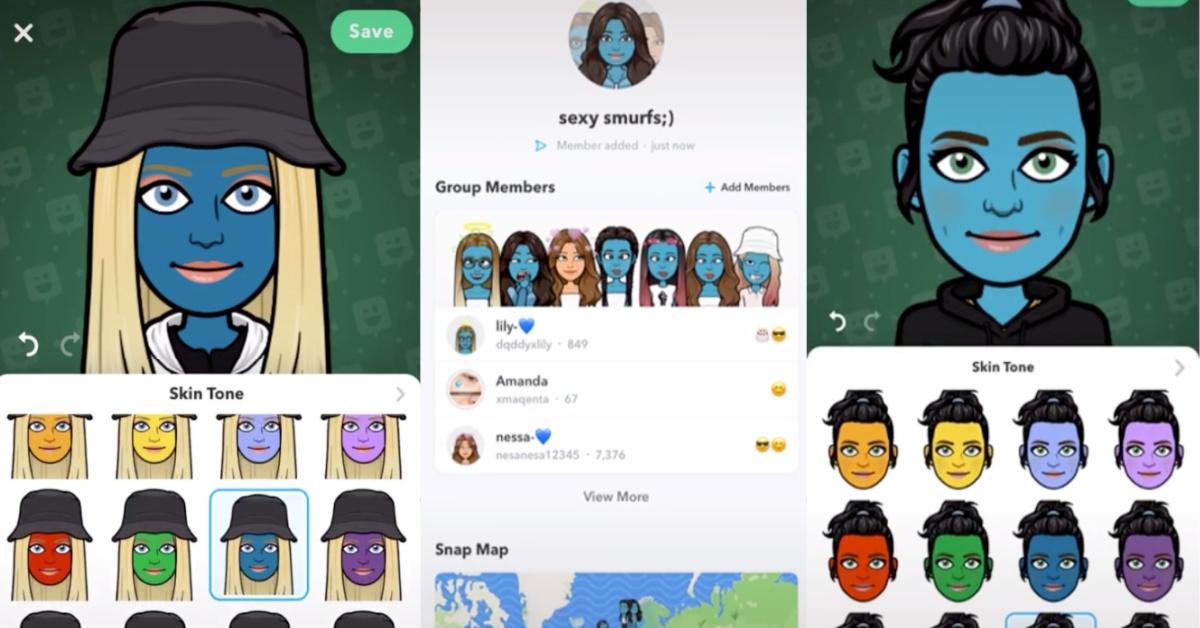 Purple vs. Blue: There's a Bitmoji Battle of the Sexes Happening on Snapchat
Well, folks, it appears as though the Bitmoji battles are now at full-force. We'll be honest: We did not anticipate that Bitmojis would be such a big deal in 2020, but here we are. When Snapchat first acquired Bitmoji back in 2016, it went relatively unnoticed. Sure, most people customized their own Bitmoji to look (vaguely) like them, but now Bitmoji appearance is suddenly super important to some Snapchat users.
Article continues below advertisement
It started when a bunch of guys started changing their Bitmojis to have purple skin. Not content to let the "purple gang" take over the app, other people staked their claims on additional, unnatural skin colors. Now, you might be seeing blue Bitmojis in addition to all of the purple ones. Here's what blue Bitmojis mean.

Article continues below advertisement
What is the meaning of blue Bitmojis?
As you're probably already aware, you can customize your Bitmoji in a number of ways in order to truly express yourself (or just make it look funny). It only takes a matter of seconds to change your Bitmoji's hairstyle, eye color, or outfit. There are even face masks for your Bitmoji nowadays. And, of course, you can change your Bitmoji's skin color.
The current trend of changing your Bitmoji's skin color all started when TikTok users @shlgboys uploaded a video encouraging guys to change their Bitmoji to have purple skin, then join their "Purple Bois" Snapchat group. For some reason, their video seriously took off (it has more than 4 million views at this point), and so did the purple Bitmoji trend.
Article continues below advertisement
Not content to let the guys have their purple Bitmoji fun, some young women who use Snapchat decided to take matters into their own hands and start their own trend. That's when the blue Bitmojis started popping up. From what we can tell, there's now a full-on guys vs. girls battle of the Bitmojis on Snapchat (although the so-called "purple gang" is clearly winning so far).
Article continues below advertisement
The response to the blue Bitmoji trend has been mixed, just as the response to the purple Bitmoji trend was. Several people tried to start their own Bitmoji-skin-color trend in response to the Purple Bois. Some called for green skin and others for red, though it looks like eventually, people settled on blue.
While there have been plenty of participants in the blue Bitmoji trend, there are also people who think any girls who change their Bitmojis to blue are just trying to ruin the boys' fun. As with pretty much any trend, there are always going to be people who denounce it (and those who participate in it) as "lame" or "pathetic."
Article continues below advertisement
Ultimately, the color of your Bitmoji's skin doesn't really matter, although we certainly can't fault anyone for simply trying to be part of a group. As long as no one is getting hurt, we really couldn't care less about what people's Bitmojis look like, and we're guessing we're not alone in feeling that way. If you're annoyed by all of the purple or blue Bitmojis, just hold tight. The trend will inevitably get old and things will most likely go back to normal at some point.