This TikToker Traded a Bobby Pin for a House in Only a Year and a Half
How did this TikToker trade a bobby pin for a house? User Demi of the Trade Me Project has been taking her followers along on the journey.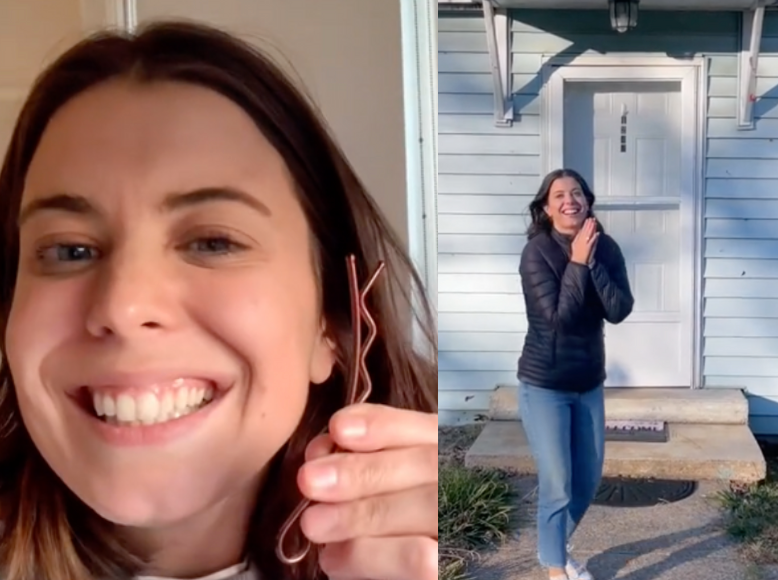 It seems like anything is possible on TikTok, and everyday, someone is proving that to be true. Even when it seems like we've seen it all, there's always a new surprise waiting. This is what happened for millions of followers when, after a little over a year, a user reached her goal of trading a bobby pin for a house. This is how she did it.
Article continues below advertisement
Here's how a bobby pin was traded for a house on TikTok.
In Dec. 2021, TikTok user Demi Skipper made the ultimate trade. She was able to get her own house after trading its previous owner for a trailer. But this was just the last in a series of trades that she used to secure her own home. In a video she posted on Dec. 12, she said that it all started out a year and a half ago in May 2020, according to The Guardian.
Article continues below advertisement
On Demi's account called Trade Me Project, viewers were able to follow along on her journey to ultimately trade a bobby pin for a house. She started off with just the bobby pin, but eventually traded that for a pair of earrings. Those got traded for glasses, which led to a set of margarita glass. From there, she got a vacuum, a snowboard, an Apple TV, a MacBook, a camera with lenses, and a few pairs of high-end sneakers.
Eventually, Demi was able to trade a pair of the sneakers for brand new iPhone 11 Max, which she late traded for a minivan. Yes, you read that right. This trade was particularly emotional for her because a family had driven it from Minnesota to San Francisco, a 29 hour drive, to participate.
Article continues below advertisement
Unfortunately, the van broke down soon after she got it. She told The Guardian that she had to trade down for a few lesser items before she got back up to a Mini Cooper. From there, Demi also had issues trading a diamond necklace. But eventually, she got back on track with her following trades being a couple of cars, a cabin, and three tractors.
Article continues below advertisement
With all these trades being chronicled on TikTok, Demi was able to make it to five million followers and get attention from people around the world. Of course, she also got recognition from a few major brands wanting exposure for helping her out. She was able to trade those tractors for a Chipotle Celebrity Card, which was offered to her by the fast-food chain. It gives the owner free food for one year.
Where is Demi's new house?
According to People, Demi traded the Chipotle card for a trailer with a Tesla powerwall, solar panels, and a full-sized fridge. From there, she got her house. "This feels so surreal," she said in a TikTok where she goes to her new home for the first time. The small, powder blue home is located in Nashville with no mortgage or fees to worry about.
Article continues below advertisement
Surprisingly, Demi isn't the first person to successfully do this. When speaking with The Guardian, she even mentions someone in London who's doing the same thing right now. She was inspired to start her own trading journey by Kyle MacDonald, or the Red Paperclip Guy. After 14 swaps, he got a house for his paperclip in 2006.