Woman Overhears a Bride's Bridesmaids' "Dark Sided" Rant About Her "Ugly" Wedding
Weddings are supposed to be filled with the people who love and care about you the most. One woman ensured a bride knew her wedding wasn't one of them.
When it comes to weddings, most brides-to-be only want their closest loved ones by their side on their big day. Typically, the people the bride chooses to be her bridesmaids are some of her very best friends and are excited to celebrate their friend's decision. But, unfortunately, sometimes the bridesmaids don't have the bride's best interests in mind — and may not even like the bride at all.
Article continues below advertisement
On TikTok, influencer Kelsey Kotzur did what needed to be done and used her massive following to call out a few unsavory bridesmaids who decided to publicly slam their "friend's" wedding for everyone in their brunch location to hear.
Keep reading for the full scoop!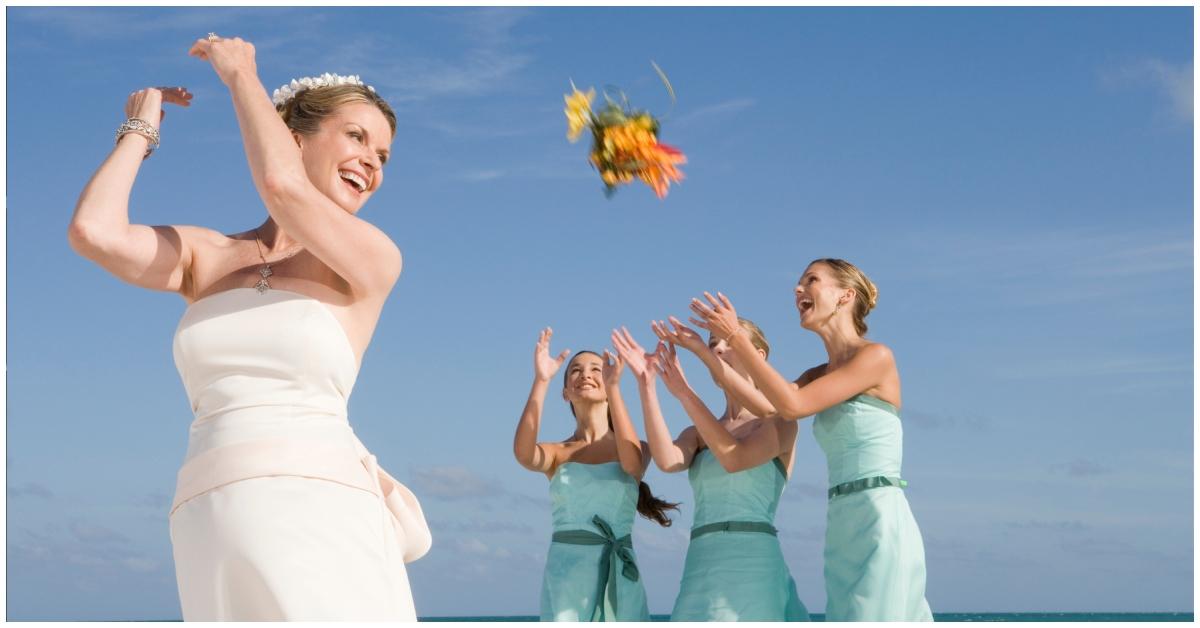 Article continues below advertisement
An influencer seeks "justice" for a bride who should reconsider her definition of a "friend."
If you're familiar with Kelsey Kotzur on TikTok and Instagram, you'll know that the Brooklyn-based influencer has no qualms about exposing the truth about people's bad behavior on her platforms. In September 2023, the "queen of keeping it real" posted a video of her reacting to three of the fakest bridesmaids I've ever heard of.
Kelsey explained that she was at a brunch at a restaurant in London when she overheard a conversation between three friends debriefing their experience as their other friend's bridesmaids. The bridesmaids clearly weren't impressed by the bride's wedding and decided to drag her profusely.
Article continues below advertisement
According to Kelsey, what began as "tame gossip" became a full-blown "sinister" rant about how much they despise the bride and, apparently, everything she finds pretty. The friends complained about feeling "ugly" that day and said, "The bride was supposed to look beautiful, but she didn't."
Article continues below advertisement
The bridesmaids also complained that their hair didn't fit their usual aesthetic that day and that their bouquets were "so ugly," with one bridesmaid suggesting "she could have gone into the backyard of any house, to any forest, plucked out some flowers, and made a prettier bouquet."
As if the "friends'" betrayal couldn't get any worse, Kelsey said they also were offended by the bride's choice to make HER DAY all about her and bashed her for not spending her money correctly in their eyes. One pal even said the bride's "rose toast" could've been a "champagne toast" had she spent her money correctly.
Article continues below advertisement
Unfortunately, many brides-to-be could relate to having disingenuous bridesmaids.
Kelsey ended her TikTok by sharing how "dark-sided" the entire conversation was. The influencer then described the friends and gave the recently wedded bride a heads-up.
"If you just got married, and your color scheme was like blush, and you have two blonde friends with short bobs, and you have a brunette friend, don't be friends with them anymore," Kelsey said in her video.
Article continues below advertisement
Sadly, many brides or brides-to-be could relate to Kelsey's video. Many said they kept their bridal parties small to avoid "hater vibes" from friends who behaved much like the bride in question's bridal party. Others pointed out that the bride should've known beforehand that "these are not friends."
Article continues below advertisement
In addition to the conversations happening on Kelsey's TikTok, they continued on X, formerly known as Twitter, as well. After a user shared Kelsey's video, multiple commenters agreed that the bridesmaids weren't the bride's friends. However, some called out Kelsey for transmitting and amplifying the bridesmaids' fakery by posting about it on TikTok.
Article continues below advertisement
"Imma be real, this is none of our business," one user wrote on X. "They kept it cute at the wedding and vented to each other in private at a post-wedding debrief. They all sound like haters, but the bride probably is, too, and that's why they are friends. Nosy Nelly funny for sharing, though."
While I agree it wasn't really any of our business, sometimes you just have to call a thing a thing. And the "thing" here is, the bride needs new friends stat and should at least subscribe to Kelsey's endeavors as a thank you if she hasn't already.