"Bridezilla" Cuts Bridesmaid out of Wedding for Having Thinning Hair from Cancer
She thought her other bridesmaids would understand that she was having second thoughts about including her friend in her wedding because her hair was thinning and it didn't fit with her "vision."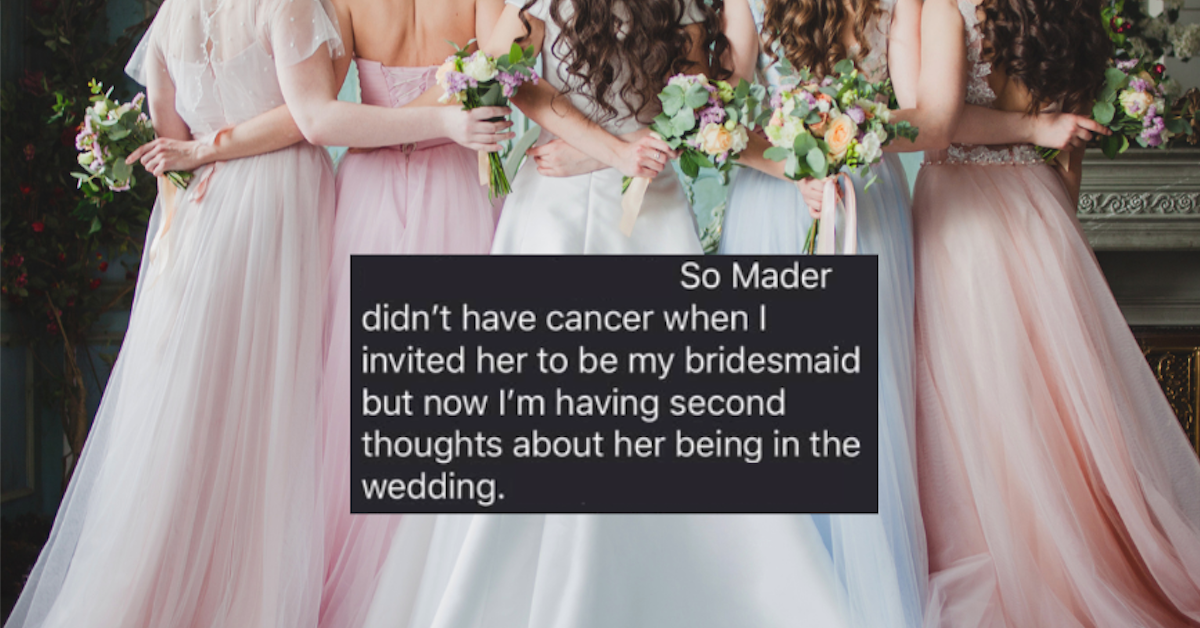 Bridezilla stories just keep getting lower and lower and lower. Weddings do something to people's brains. I don't know what it is, but a bride's "vision" of her own wedding can sometimes take precedence over her relationships, her friends, her... basic morality. It's definitely evident in this text exchange, which went viral because the bride decided to express to her bridesmaids (except for one) that she was thinking about cutting the excluded woman out of her bridal party for a vicious reason.
Article continues below advertisement
Her friend had cancer and was losing her hair, and the bride thought that didn't quite fit with her image of what her wedding was supposed to look like. For real. It's a wonder she thought she would get away with texting her other bridesmaids about it. But she did!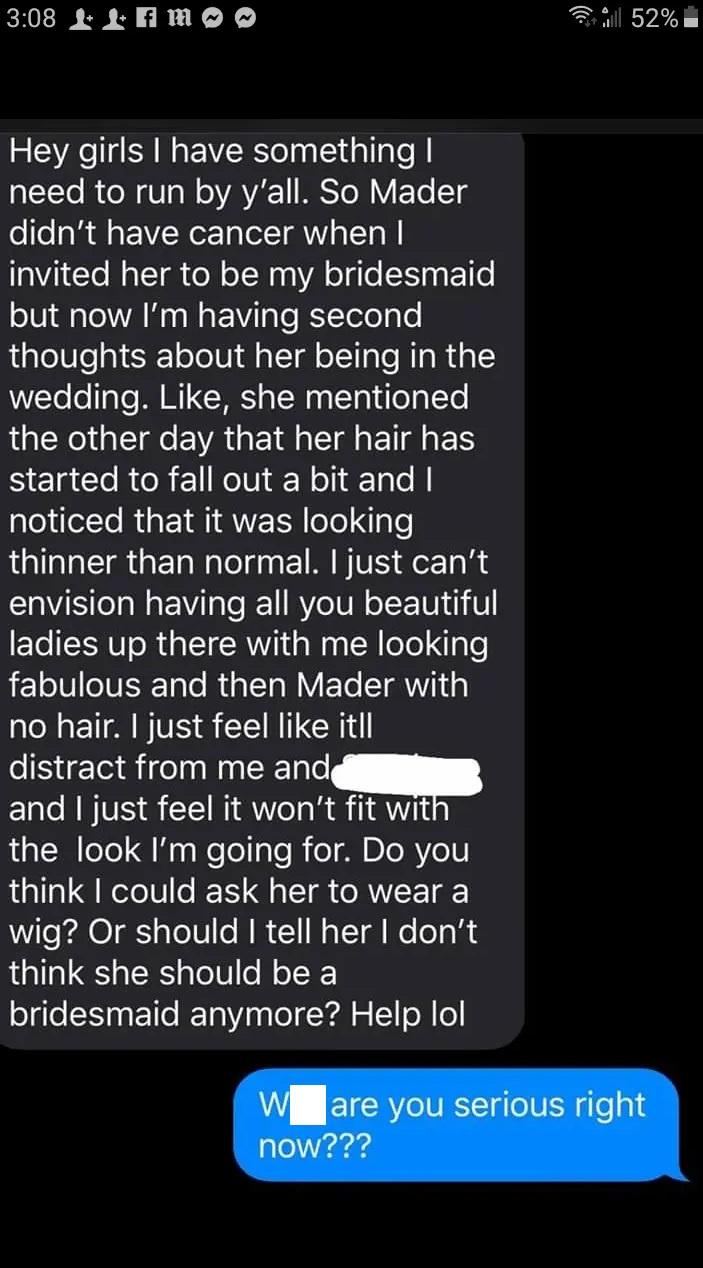 Article continues below advertisement
This is straight-up cruel. Imagine typing out the sentence, "I just can't envision having all you beautiful ladies up there with me looking fabulous and then Mader with no hair," and being OK with yourself. How do you not re-read what you just wrote, delete it immediately, and then go look in the mirror for three hours and try to find the human behind the monster you've become?
She is clearly terrible. Weddings bring out the worst in people. And I am so glad at least one other bridesmaid in the conversation was just as appalled as you and me at the suggestion she was making. Obviously, this text (or at least the context of it) was shared with Mader, who confronted the bride right away.
Article continues below advertisement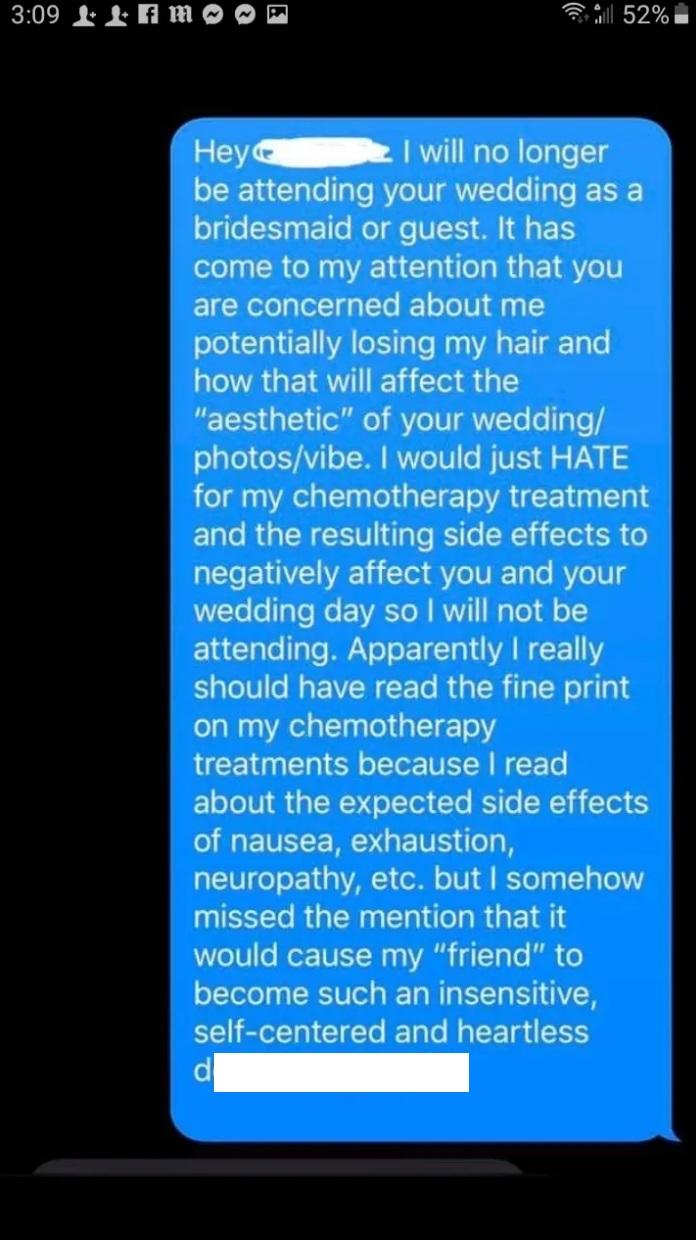 I kind of love this woman. She was not going to take any crap from her supposed friend, and she called her out without mercy. I'm not sure how close their friendship was before this incident, but it seems like she had no problem cutting it off completely in an instant, and I applaud that.
Article continues below advertisement
But maybe now this bride will understand that what she was considering was totally wrong, and she'd apologize, come back groveling at her friend's feet, plead wedding brain, and ask for forgiveness. Right? Wrong.
Article continues below advertisement
"I just wasn't expecting you to get cancer..." No one expects to get cancer! She's saying this like, "Oops! Bad timing!" But it's not a face tattoo. It's cancer. People who are diagnosed with cancer not only have to deal with the actual pain and treatments, but they also have to deal with people not understanding how to relate to them.
This was probably looking forward to attending her friend's wedding, focusing on something else, having a nice time. Now she can't do that because her friend is concerned about what her wedding pictures will look like.
Article continues below advertisement
But somehow, I don't think that's going to happen. Even after being reamed by her (former) friend, she was still cheerily saying she hoped she would come to the wedding as a guest. She just didn't get it. Her friend had an incredibly sarcastic response, which was completely warranted, if I do say so myself.
Article continues below advertisement
I love this so much. Such creative insults! And the fact that she ends by calling her a "soggy Pop-Tart" is the most devastating insult of all. Her text is almost so clever that I don't know if this bridezilla is going to get just how savage it is.
One can only hope that years in the future, this bride will look back on her wedding photos that do not include her former friend and remember just how badly she screwed up her friendship. But like, I really hope that's what happens.