Brooke Shields Leans on Husband and Daughters as She Recovers From Femur Injury
Actress, supermodel, and Princeton grad Brooke Shields worried fans when she revealed back in February 2021 that she had broken her femur while working out at a gym.
Since the news of her injury broke, the Blue Lagoon star has been photographed strolling New York City's West Village, walking around with the help of both her cane and her husband of 20 years.
Article continues below advertisement
But onlookers are curious: Who exactly is Brooke Shields' husband? Do the couple have any kids? Keep scrolling for everything you need to know about the Freeway star and her family.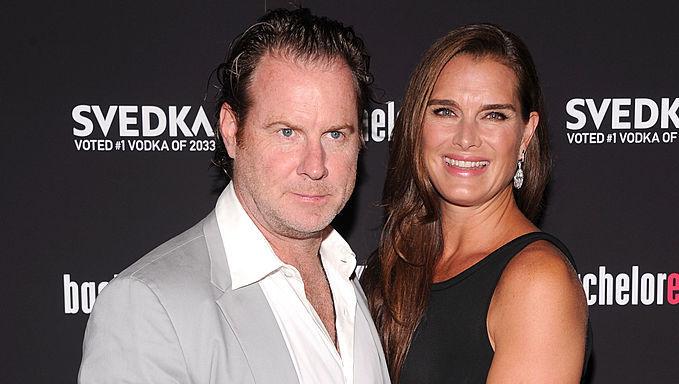 Article continues below advertisement
Who is Brooke Shields' husband?
Brooke and her husband, Chris Henchy, have been together for more than 20 years. The Hollywood couple met on the set of a TV show in 1999, the same year Brooke divorced her first husband of two years, tennis star Andre Agassi.
Brooke and Chris married in 2001 and welcome their first daughter, Rowan, in 2003. A second daughter, Grier, followed in 2006. Brooke recently shared a rare family photo to her Instagram in late November with a caption that read, "Thankful for them."
Brooke and Chris have recently been pictured out and about in NYC, in photos where the Pretty Baby actress can be seen leaning both on him and on a walking cane, while she regains the strength to walk on her own.
Chris is a screenwriter and producer who got his start in the entertainment industry writing jokes for MTV's The Larry Sanders Show. He went on to work on hit shows including Spin City, Entourage, and Eastbound & Down, and is also credited with co-creating the popular website Funny or Die.
Article continues below advertisement
Brooke Shields' kids have helped her stay strong throughout the recovery process.
Ready to speak out about her accident, Brooke revealed to Good Morning America in May that she had been showing a member of her gym how to use a balance board when she "flew up in the air with such force, and ... landed so heavy and so hard and with such musculature and such velocity and such height" that the star was initially concerned she had become paralyzed.
Article continues below advertisement
"I don't think I've ever been more afraid, because I was helpless," she explained. But her daughters, who are now 18 and 15, motivated the actress to stay strong. "I had to stay calm for them," she said. "My kids actually asked me if I thought I was going to die."
The terrifying accident has left the Suddenly Susan actress with a bit of a new lease on life.
She continued, "If I can turn it into anything positive, or I can teach my girls, yeah, stuff is going to happen in your life, and how you respond is going to define you, and adversity will reveal you."
"It won't make you as much as it will reveal you because you see who you are," Brooke added. "You see what you're made up of."
According to Rare, the recurring Law & Order: SVU guest star has spent most of the COVID-19 pandemic quarantined at home in New York City with Rowan, Grier, and Chris.
We wish Brooke a speedy recovery!