Twitter Is Freaking out Because BTS Is Officially Getting a Reality Show
Is BTS getting a reality show? The beloved K-pop band is apparently getting their own TV show, and fans of the group are understandably hyped.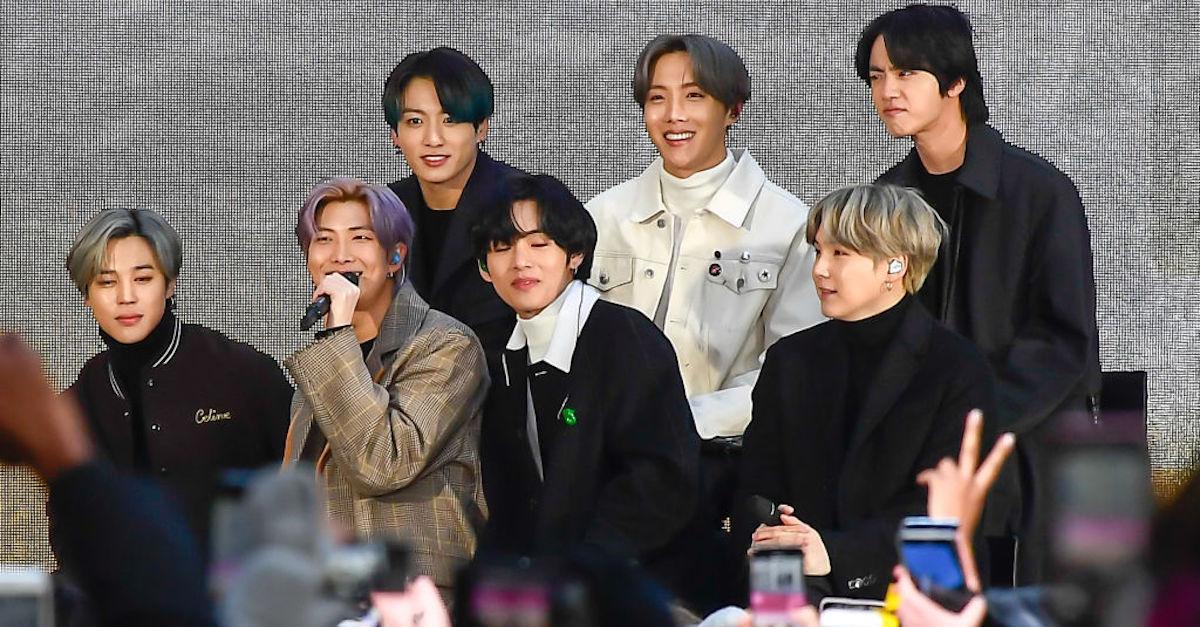 Fans of K-pop group BTS are constantly scouring the internet to get their hands on any additional footage of the band they possibly can, however, they can finally rest because BTS is apparently getting their own reality show. Yes, you heard that correctly, and it sounds like it's going to be seriously incredible.
Article continues below advertisement
What is the premise of BTS's new upcoming reality series, and where can we watch it? Here's what we know regarding the exciting new TV program that follows the insanely popular K-pop band.
Article continues below advertisement
What is the premise of BTS's reality series? Here's the rundown on 'In the SOOP BTS Ver.'
Although one might think BTS's reality series would be about what it's like to be one of the most popular musical groups in the world, their new series titled In the SOOP BTS Ver is actually focused on the band enjoying themselves in nature. According to Soompi, "soop" means "forest" in Korean, as the show will take place in the woods, showing the bandmates enjoying themselves on their own schedules and doing things on their own that are "somewhere in between everyday life and leisure."
BTS will be hosting the series on their own, with little communication with production staff, and each episode will be 60 minutes long. It will officially premiere on Aug. 19, and will air on Wednesdays at 11 p.m. KST on JTBC. International fans will be able to stream the show online via BTS's Weverse community starting Aug. 20 at midnight KST, which includes extended 80-minute versions, including behind-the-scenes clips. Weverse Shop pre-sales begin on Aug. 4 at 11 a.m. KST.
Article continues below advertisement
Obviously, the BTS community has taken to Twitter with utmost enthusiasm.
As you probably imagined, BTS fans are ecstatic that their favorite K-pop band is blessing them with additional footage of V, Jungkook, Jimin, J-Hope, Suga, Jin, and RM doing what they love off-stage. The responses have been incredibly positive and excited, and even non-fans can appreciate their joyfulness.
Article continues below advertisement
Twitter user @lNNERTETE said, "a whole reality show showing bts' daily lives. writing and producing music. painting. playing video games. working out. playing instruments. eating together. letting us see their creative processes. they really trust us so much and want us to be apart of their everyday."
Likewise, @ETRNALGOO said, "bts are literally showering us with content... all the lives, selcas, festa, bangbangcon, comeback, etc and now we're getting a bts reality show... they said we ain't letting army starve for one minute," and @VANTEMETAL virtually shouted, "GUYS BTS IS HAVING A NEW REALITY SHOW," with a GIF of people celebrating.
Needless to say, ARMYs are hyped right now, and we're so happy for them.
Article continues below advertisement
Article continues below advertisement
BTS is truly doing the most for ARMYs across the globe by simply recording themselves enjoying nature and the regular ways of life while their tour is postponed for the foreseeable future. We sadly have to wait until the end of August to watch, but we're already seriously psyched for In the SOOP BTS Ver anyway.