Texans Are Ticked off By the Way a Mom Mispronounces Buc-ee's in a Viral TikTok
A mother posted a TikTok of her family visiting the Texas road stop staple Buc-ee's for the first time. Why are Texans ticked off by the TikTok?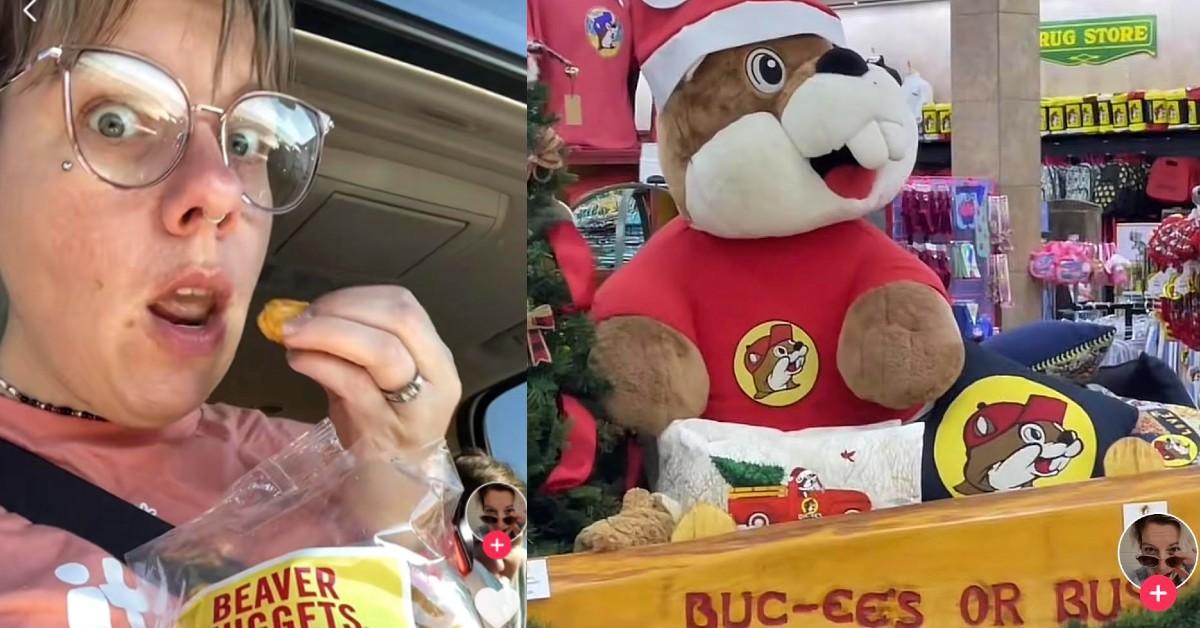 There are many things that Texans are quite proud of: the incredible grocery store chain that is H-E-B, the fact that there are just as many barbecue spots in the state as there are Starbucks, breakfast tacos, margaritas that are big enough to swim in, and the quintessential road-trip pit stop oasis that is Buc-ee's. A trip to Buc-ee's isn't just a bathroom stop, but rather a full-blown experience from start to finish.
Article continues below advertisement
Before you even make it to the famous Buc-ee's sparkling clean restrooms, you'll be bombarded with regular and seasonal merchandise featuring the cheerful Buc-ee's mascot, Bucky the beaver. There's also a full-out brisket sandwich station, snacks as far as the eyes can see, home goods, a coffee-customization site, handmade Buc-ee's fudge and candied nuts, and so much more. Even the Buc-ee's outdoor billboards are iconic.
Article continues below advertisement
To sum things up, Buc-ee's is a Texas staple and a symbol of Texas pride. So naturally, when a mother posted a now-viral TikTok of her first trip to Buc-ee's with her kids, things escalated faster than driving in the left lane on a Texas highway.
How an out-of-state mom accidentally messed with Texas.
TikTok user @crazy.life.of.ash, whose real name is Ashley Muller, posted what was seemingly an innocent clip of her taking her kids to Buc-ee's for the first time. What ticked Texans off was the way Ashley pronounced Buc-ee's as "bu-sees."
Article continues below advertisement
For those who may not know and who may also want to avoid getting roasted by Texans on TikTok, Buc-ee's is pronounced exactly the way it's spelled: "Buck-ees."
Article continues below advertisement
The accidental Buc-ee's disrespect continued in the now-infamous TikTok clip, with Ashley calling Bucky the beaver a gopher. One hilarious moment involves Ashley discovering a bag of Buc-ee's beaver nuggets, which are basically caramel coated corn nugget puffs. "Oh! Beaver nuggets... Why do they have those in the gopher land?" Ashley asks.
I'm just here for the comments!
The comments section on Ashley's video offers a mixture of genuinely enraged Texans and users from other states who proudly note that even they know how to pronounce Buc-ee's properly. One TikTok user joked that Ashley had "just triggered all of Texas." Another user wrote quite seriously that Ashley didn't deserve the beaver nuggets if she couldn't get pronounce the name Buc-ee's correctly. Some apologized to Ashley for the hate she was getting, adding that she is welcome in Texas.
Article continues below advertisement
Other users picked up on the fact that Ashley was actually just joking around in her TikTok video. Ashley posted two follow-up TikToks with the exact same footage as the first viral TikTok, one in which she mispronounces Buc-ee's again as "Butch-ees" and calls Bucky the beaver a groundhog, and the other in which she says the name correctly, adding, "Yes Texas, I know it's called Buc-ee's, I was kidding."
Article continues below advertisement
Bucky the beaver wouldn't approve of bullies.
While Ashley's original Buc-ee's TikTok made some viewers cringe, it was all meant in good fun. Nobody ever deserves to be bullied online for making harmless, silly content, and Ashley understandably called out TikTok users who said mean things about her kids.
Buc-ee's is and always has been a fun road-trip stop open 24/7 for everyone who needs to fuel up their vehicles, stomachs, and hearts, so let's keep the bullying out of Buc-ee's. The only saltiness welcome in Texas belongs on the rim of a margarita glass.