WWE Star Bushwhacker Butch Miller Passed Away at 78 Years Old
What was Bushwhacker Butch Miller's cause of death? The WWE Hall of Famer Bushwacker Butch, who was born Robert Miller, passed away at 78 years old.
While the world celebrates the joy of wrestling with WrestleMania, it's also now mourning the loss of one of WWE's greatest wrestlers, Bushwhacker Butch Miller, who died on April 2 at age 78.
The New Zealand pro wrestler was one half of the Bushwhackers wrestling duo and was inducted into the WWE Hall of Fame in 2015. Now instead of celebrating the Bushwhackers, we're remembering Butch's legacy.
Article continues below advertisement
Originally born Robert Miller, Bushwhacker Butch rose to fame alongside his wrestling partner, Bushwhacker Luke, in the 1970s.
Luke announced Butch's death on April 3. Butch had been hospitalized in the ICU on March 31, after he arrived in Los Angeles for WrestleMania. Here's what we know so far.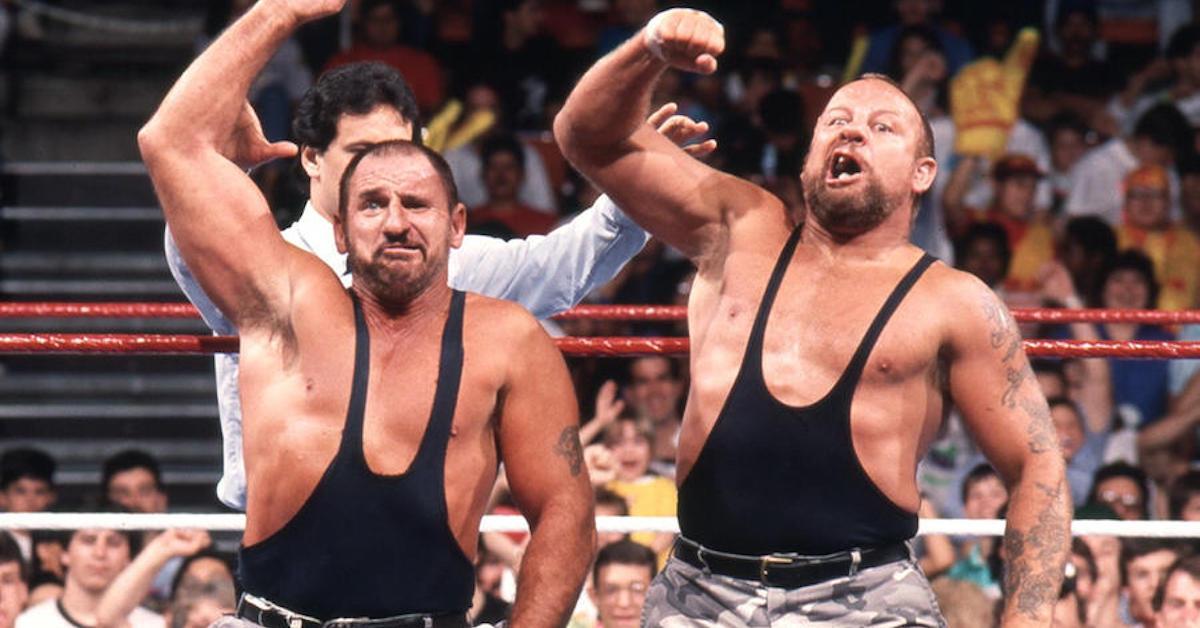 Article continues below advertisement
Bushwacker Butch Miller's cause of death was related to a "situation with medication."
On Wednesday, March 29, the Bushwhackers flew into Los Angeles from New Zealand to celebrate WrestleMania.
"He flew in from New Zealand on Wednesday," Bushwhacker Luke said in an interview (via TMZ). "[He] was all good. Friday morning, he was incognito."
Luke explained that Butch's hospitalization in the ICU on Friday, March 31, was caused by "a situation with medication," although not much more is known beyond that.
Pro wrestler Frankie Kazarian, also at WrestleMania, tweeted, "I ran into Luke at the hotel early on Thursday and chatted for a few. At one point later, I saw him requesting help as there was an emergency as I was leaving."
Article continues below advertisement
In 2001, Butch retired after 30 years because of a neck injury. During the hospitalization for his neck injury, he came down with a case of sepsis but ultimately overcame both the initial injury and the sepsis. It hasn't yet been shared if Butch's neck injury and sepsis had any relation to his cause of death.
Article continues below advertisement
Several friends, family, and fellow wrestlers paid tribute to Bushwhacker Butch Miller.
Luke shared the news via an emotional Instagram post, in which he wrote:
"Late last night, I lost my friend, brother, and tag team partner of over 50 years with the passing of Bob 'Butch' Miller … From the early-1970s when we were young mates wrestling for John da Silva in New Zealand, my first impression of Bob 'The Chest' Miller (as he was called in those days) was that he was a first-class redneck, and what bloody redneck he was! But he was also an all-around good guy and a great friend."
His post continued: "We did it all, we saw it all, and we accomplished it all together. This past weekend in Los Angeles, Bob flew in from New Zealand to join me for Wrestlemania weekend and the related festivities, neither of us knowing it would be our last days together and his last days of life. If you were to read the story of my life it would say that I am an only child, but it would be wrong. In life, I had a brother and his name was Bob Miller. I love you, Bob."
Article continues below advertisement
Luke's daughter, Jackie Williams, set up a GoFundMe to first cover Butch's medical bills, although it will now help cover funeral costs.
Butch is survived by his wife, Helen, his daughters, Sharon and Kirsten, and his many grandchildren. Our condolences go out to Butch's friends, family, and loved ones.