The Beef Between WWE's Cody Rhodes and Seth Rollins Explained
Cody Rhodes and Seth "Freakin" Rollins may be one of the best WWE rivalries of all time, but how did it start? We explain the beef for you.
The Packers and the Bears. The Red Sox and the Yankees. Manning and Brady. Frazier and Ali. These are some of the biggest sports rivalries of all time. But that list can't be completed without WWE's Cody Rhodes and Seth "Freakin" Rollins.
While not all of us watch the WWE religiously, we all love to tune in for a good head-to-head. Why else would so many people watch the Super Bowl, right?
The beef between Cody Rhodes and Seth Rollins has been a narrative that has kept the fans enthralled. But what's the deal with the drama? We explain it all below!
Article continues below advertisement
The Cody Rhodes and Seth Rollins beef explained.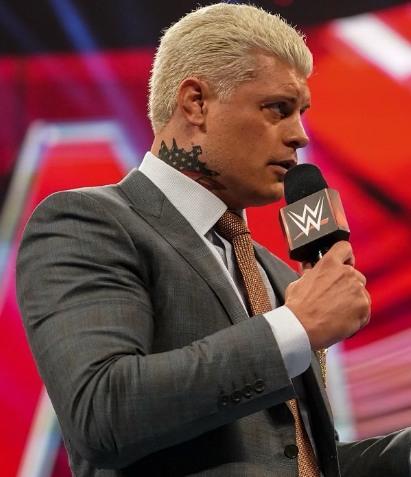 The beef all started with the return of fan-favorite wrestler Cody Rhodes at WrestleMania 38 after six years away. Cody, also known as The American Nightmare, showed up as the surprise opponent to Seth Rollins. After Cody's epic entrance into the arena, he told the audience that he was there to take home the championship that his father, wrestler Dusty Rhodes, was never able to win.
In the intense faceoff, Cody became victorious — thus starting the rivalry.
After Cody beat the Miz in a match, Seth came out to taunt Cody, explaining that he had "every advantage" before their match since Cody knew who he would be facing, while Seth was surprised. Seth challenged Cody to a rematch and Cody accepted.
The rematch finally came at WrestleMania Backlash. And after nearly 20 minutes in the ring, Cody Rhodes once again came out the victor.
Article continues below advertisement
Third time's a charm, right?
This time, the WWE put Cody and Seth together to create hype around their "Hell in a Cell" match that was promoted to bring rivalries together. Seth "Freakin" Rollins came out wearing an outfit that resembled one that Cody's dad wore, which was clearly intended to mock him.
Cody ended up tearing his pectoral before the match, and yet he still came out on top.
Article continues below advertisement
With Seth losing three matches in a row, it's clear that the beef between him and Cody is still very much there. Per Comicbook.com, in an interview with Wrestling Inc., Seth said:
"I never had any disrespect towards Cody Rhodes... The only disrespect I had for Cody Rhodes was that he tried to come in and steal my spotlight. I shouldn't say 'tried to steal it.' He tried to use my spotlight to catapult himself to where he wants to go. So, there's nothing more selfish in the world. Don't let anything fool you. Cody Rhodes is a selfish S.O.B. He's not coming back for anything but himself."
Cody returned to the ring at the end of January, making fans wonder if the beef between Cody and Seth will continue in 2023. On one side, the storyline is left unfinished, but on the other, neither wrestler can really afford a loss. We guess only time will tell.