A Rumor Is Spreading That BYU Is Dealing With an Outbreak of Armpit Crabs
An online rumor suggests that the campus of BYU is dealing with an outbreak of armpit crabs, but is there any truth behind the rumor?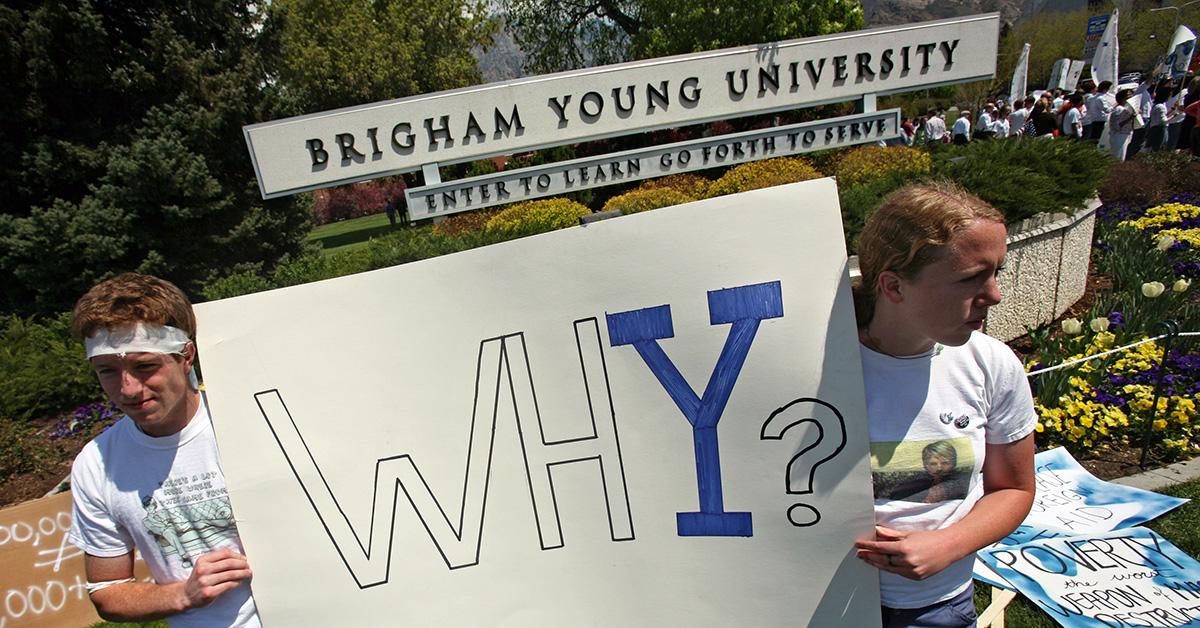 It's important to bring a healthy dose of skepticism to everything you read online, because plenty of outlandish rumors wind up circulating on the internet. Recently, one of those rumors has been that the campus of Bringham Young University, a large Mormon school in Utah, is dealing with a severe outbreak of armpit crabs. The rumor is both alarming and confusing, but is there any truth behind it?
Article continues below advertisement
Is there an outbreak of armpit crabs at BYU?
The rumored armpit crabs epidemic starting circulating online after a user named Gumbo Crab tweeted about it: "There was an outbreak of armpit crabs at BYU. Sit with me for a moment, and think about how that happened. Have a good day y'all."
If you're confused about whether armpit crabs are even real, it appears that it is technically possible to get crabs on any area of your body with hair besides your head.
Article continues below advertisement
BYU hasn't addressed this rumor, so we have no way of knowing for sure whether it's true. At the moment, it's little more than gossip. Even so, that hasn't stopped plenty of people from reacting with various combinations of horror and disgust.
"PLEASE tell me this is a joke? I didn't know this was a thing, and now I hope it's a joke. If it isn't a joke, I'm curious as to how it happened but likely don't want an answer. HOW do you get armpit crabs?!" one person tweeted.
Another joked, assuming that the tweet was false, saying that we shouldn't give kids any new ideas about ways to damage their bodies. If armpit crabs really are spreading on the BYU campus, it raises major questions about what exactly the student body is doing to perpetuate its spread. If the rumor is a total lie, then at least it seems like a largely harmless one.
Article continues below advertisement
Students aren't supposed to engage in physical intimacy at BYU.
Because BYU is sponsored by the LDS church, students are expected to follow a strict honor code that forbids them from any and all sexual relations outside of marriage. The exact wording encourages students to live "a chaste and virtuous life, including abstaining from any sexual relations outside a marriage between a man and a woman."
Article continues below advertisement
Of course, these regulations don't prevent all physical intimacy. Students at BYU have been caught engaging in PDA on campus. In fact, in 2019, Salt Lake City Weekly reported in 2019 that "armpit sex" had become a common workaround for the honor code that BYU students were expected to adhere to.
Certified sex therapist Kristin Hodson added that BYU students were incredibly creative at coming up with uncommon forms of intimacy, largely because of the restrictions that keep them from engaging in the much more common forms. Given the prevalence of armpit sex, it seems possible that armpit crabs really could be spreading around the campus. It may seem a little strange, but it's certainly not impossible.