'The Bachelorette's Cam Ayala Is More Than Just Your Favorite White Freestyle Rapper
Meet 'Bachelorette' hopeful Cam Ayala who's already made quite an impression on Hannah B. Plus, will he win 'The Bachelorette'?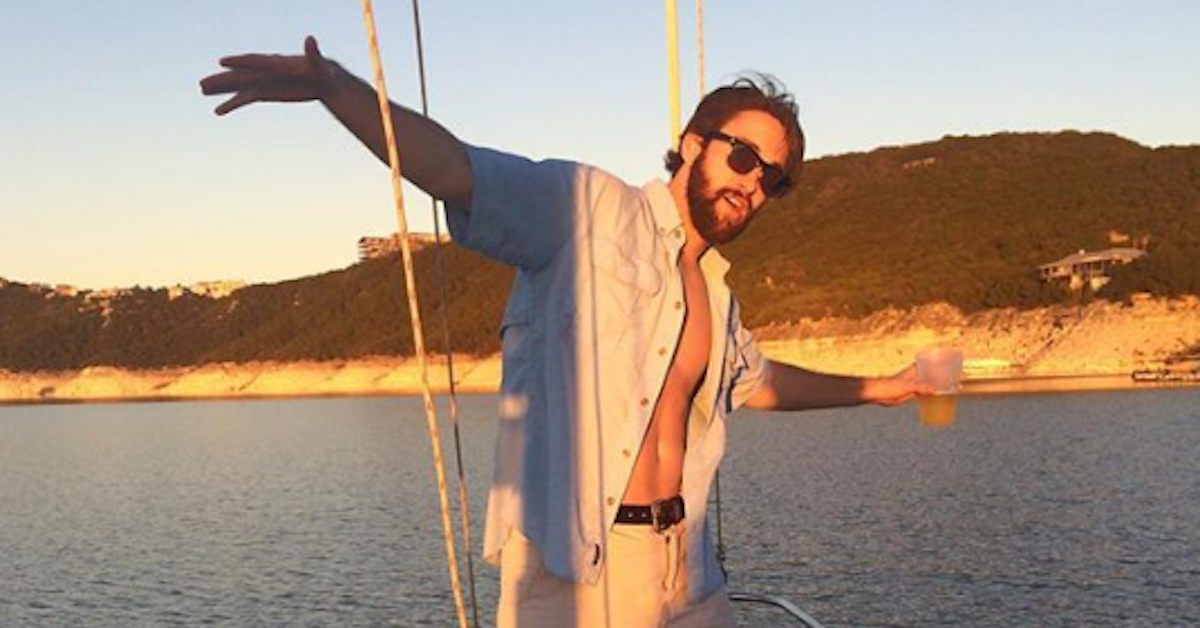 It's early days on The Bachelorette, which means it's hard to get a solid read on most of the 31 contestants vying for Hannah B.'s heart. But one Cam Ayala has gotten plenty of camera time despite the fact that we're only one episode into the reality TV series. We guarantee you know who we're talking about.
Article continues below advertisement
Hint: He's the only contestant so far who's attempted to woo Hannah with his freestyle rapping skills — not once, but twice.
Hannah seemed to dig Cam enough to reward his musical skills with a rose, so let's learn about Cam and find out whether he ultimately will win The Bachelorette.
Article continues below advertisement
Cam's motto is "A.B.C.: Always Be Cam."
According to his official bio, Cam is a sales manager from Austin, Texas with a "competitive personality." As we've seen last week, this 30-year-old loves to be the center of attention and calls himself the "dance floor king."
He also states his all-time favorite movie is The Notebook and that the most important thing he looks for in a woman is "good dental hygiene." Hmmm... He seems like quite the character.
Article continues below advertisement
Cam is going to find himself at the center of a dramatic scandal... Does he break Hannah's trust?
According to a preview of Hannah B.'s season, Cam will find himself in the middle of a lot of drama in the coming weeks. "This is so f---ed up, I would never do that to anybody," we hear him saying in a one-on-one camera interview while Hannah cries.
Article continues below advertisement
He later confronts another contestant: "If you're not here for your wife, get the f--k out of here." "I can only be true to me. I can only be Cam. I always say ABC: Always Be Cam," he tells the camera. Meanwhile, other contestants call him a "sick mind."
Article continues below advertisement
"You cannot reason with a sick mind," someone says, while the camera pans to Cam. As for Hannah, she's catching her breath from crying while the others discuss Cam.
"Honestly my trust has been, like, completely broken," she says teary-eyed. We'll have to keep watching to see what exactly is about to unfold that puts Cam so front and center.
Cam is open about his health struggles.
Article continues below advertisement
When he's not rapping to Hannah or finding himself in the middle of whatever you call the male version of a cat fight, Cam struggles with lymphedema and is quite open about his diagnosis. Last Christmas, he shared a long post on Instagram detailing his condition.
Article continues below advertisement
Cam explains that he was diagnosed as a 12-year-old boy, which "was devastating because all I wanted to do was play with my friends." But after 17 years of living with the uncurable condition, he's come out with some valuable takeaways: "1) stay vigilant in your journey for treatment and answers."
Article continues below advertisement
"2) Empathy and sympathy are great but you ARE NOT entitled to them. 3) 'Pain is temporary, love is necessary' - Lil Wayne 4) There are support groups and resources available IF you seek them out 5) NEVER be ashamed of your story, it's yours, and not everyone will understand nor is it your obligation to make them," he continued.
Will Cam win The Bachelorette? (SPOILERS)
Stop reading right here if you want to experience this season of The Bachelorette fresh. But if you want to know straight away who's staying and who's going, so you can figure out who to watch out for a root for, we can tell you that Cam will not make it to Hannah's final four.
Those slots are reserved for Jed, Luke P., Peter and Tyler C.
Don't miss The Bachelorette to see when Cam gets sent home. A new episode will air tonight at 8 p.m. on ABC (the network, not Cam's personal slogan).