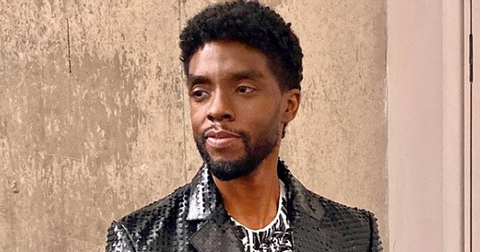 Celebrities Share Touching Tributes to Chadwick Boseman in the Wake of His Death
By Mustafa Gatollari

Updated
So many horrible things have happened in 2020 that every single week, folks are adding yet another calamity, disaster, WTF story, or downright tragedy to the list of why things are absolutely cursed in this abominable year. Now, actor Chadwick Boseman's death due to a four-year-long battle with colon cancer is being added to that list. The world was shocked by the sudden news and a host of celebrities expressed their condolences and paid tribute to the late actor.
Jamie Foxx, LeBron James, Chris Evans, and other celebrities reacted to Chadwick Boseman's death.
Foxx wrote on Instagram, "Please Jesus please... I know you know what's best... but at this moment our hearts are writhing with so much pain... so to lose this beautiful black king renders me weak...please watch over his family and loved ones.... @chadwickboseman you have touched the lives of all of us... u will forever be remembered in the highest regard... REST IN POWER! our black king! Our black panther!"
Disney's executive chairman and one of the most powerful men in Hollywood also shared the sad news on his timeline and in a series of tweets praised Chadwick for the impact he had on people all over the world. He wrote, "We are all heartbroken by the tragic loss of #chadwickboseman -- an extraordinary talent, and one of the most gentle and giving souls I have ever met. He brought enormous strength, dignity and depth to his groundbreaking role of Black Panther; shattering myths and stereotypes..."
Ohio State football fans also remembered Chadwick Boseman's role in the 2014 film, 'Draft Day.'
Most people remember Boseman for his role as T'Challa, the king of Wakanda in Black Panther and other Marvel films, but he had become one of the most respected American actors in Hollywood prior to landing the gig for his consistent string of remarkable performances leading up to his casting as T'Challa. He blew people away with his biopic portrayals of Jackie Robinson in 42, and James Brown in Get on Up.
In the 2014 film, Draft Day he plays Vontae Mack, a football player hoping to get into the NFL. He is ultimately drafted to the Cleveland Browns in the movie, so Ohio sports fans have an extra soft spot for Boseman, who was praised for his "excellent" work in the movie.
After his debut as T'Challa, he was still a top choice for dramatic biopics, as evidenced by 2017's Marshall, where he depicted the first African-American associate supreme court justice, Thurgood Marshall, in the movie.
Chadwick Boseman revealed on Jimmy Fallon that Denzel Washington once paid for his acting classes.
Cinema legend Denzel Washington was Boseman's private benefactor who saw to it that he had access to an Oxford summer acting program that he was encouraged to apply for but couldn't afford to attend. Boseman discussed the story on Jimmy Fallon and says that he held on to the secret for years and wanted to wait before he discussed it with Denzel until he was at a point in his career where he felt comfortable to do so. He details Denzel's hilarious response in the interview below.
A quick look at Boseman's IMDb page also reveals that he didn't exactly have the "easiest" career trajectory and it's clear that constant work and determination paid off. He secured small roles in TV productions and lesser known films since 2003, but it wasn't until 2008 that he secured a recurring role on the short-lived TV series, Lincoln Heights.
He'd get another recurring role on Persons Unknown, and then, again, take one-off roles in TV shows until he secured leading man duties in 2012's The Kill Hole. His breakout role was as Jackie Robinson in 42, and from there, his trajectory only moved up.
The entertainment world was shocked of his passing, as he was a tremendous talent with decades of inspiring work, both on and off camera, left in him.
Our thoughts go out to Chadwick's family, friends, and fans as they cope with the news of his death.