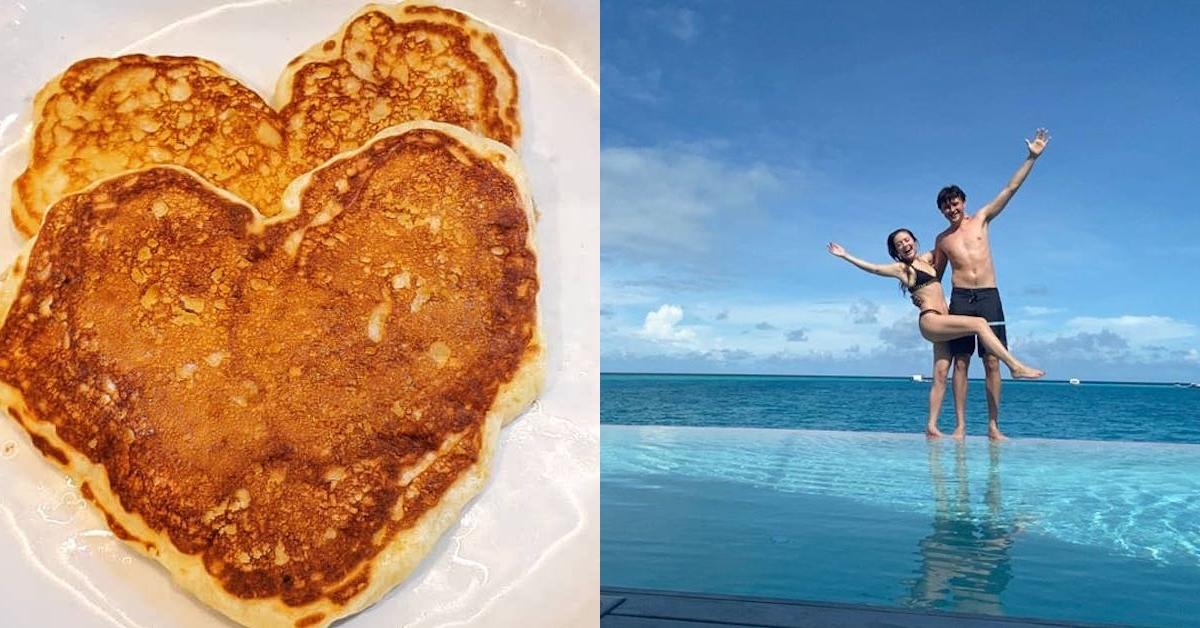 Celebrity Valentine's Day Instagram Posts That Are Too Cute for Words
Real-life romance can be so hard to find these days, but these celebrity Valentine's Day messages are bound to make your heart melt.
Love is one of life's greatest gifts, but let's be honest with ourselves: sometimes, real-life romance can be tricky, messy, and downright chaotic.
Article continues below advertisement
Gigi Hadid
By now, you've probably heard the rumors that Gigi and Zayn might be dating again, and if that doesn't make you believe in true love, I don't know what will. Earlier today, the 24-year-old model posted the photo above to her second Instagram account, @gisposable, with the caption: "HEY VALENTINE Z on the farm ♡ Dec 2019," which many believe was a confirmation that they are officially back together. Cuteee.
Article continues below advertisement
John Legend
The father and husband of everyone's wildest dreams, "All Of Me" singer John Legend, is obviously a hopeless romantic, and made his model and author wife, Chrissy Teigen, a plate of heart-shaped pancakes. Would you expect anything less? The caption reads: "I tried, @chrissyteigen. Happy Valentine's pancakes." Honestly, my heart can't take any more from him today — I've hit my John Legend quota.
Article continues below advertisement
Chance The Rapper
Chance the Rapper posted rare footage of his wife, with the two of them sporting those classic Insta dog ears... you know exactly what I'm talking about.
In a heartfelt caption, the "Acid Rap" singer wrote, "U almost made me cry this morning with your gifts. Idk how you do it all. Thank you for carrying me thru this crazy week and every other day in my life. Happy Valentines Day." Truly nothing cuter.
Article continues below advertisement
Kate Hudson dedicated her much-anticipated V-Day post to "all her Valentines" which include her longtime partner, Danny Fujikawa, as well as her three kids: Ryder, Rami, and Bingham. Look how happy she looks! I'm in love.
Article continues below advertisement
Reese Witherspoon
Social media kween, actress, and designer, Reese Witherspoon, celebrated Valentine's Day by showing off her beloved hubby, Jim Toth, on IG. The caption reads, "Me and My Valentine! Instagram vs. Reality," including a photo of the duo dressed up, followed by one wearing comfy sweatshirts and hats. Aw.
Article continues below advertisement
Barack Obama
LOL, you didn't think Barack would get in on this mushy-gushy action? Think again — our beloved former POTUS professed his love to Michelle with a photo of them dancing, and the caption: "Happy Valentine's Day to my forever dance partner, @MichelleObama." Stop.
Article continues below advertisement
Billie Lourd
To honor her beloved beau, Austen Rydell, American Horror Story's Billie Lourd took to Instagram, posting a series photos that show off their recent travels. The caption reads: "🌎💑🌏All 'round the world you make my world go 'round #toinfinityandbaeyond." Can you say couple goals?
Article continues below advertisement
Simone Biles
Everyone knows that Simone Biles and her boyfriend, Stacey Ervin Jr., are the cutest (and fittest) couple out there. The Olympian dedicated her Insta post to Stacey, with the caption: "happy valentines day 💋 wish you were here! I love you everyday!" And just like that, we melted into a gross puddle.
Article continues below advertisement
Ina Garten
Ina and Jeffrey Garten are — hands down — the cutest couple out there, so it should come as no surprise that the Food Network goddess created the social media post of our wildest dreams. She posted a photo of Jeffrey wearing a Barefoot Contessa apron and a chef's hat, with the caption: "My funny Valentine 🎶 I've loved you for more than 50 years and I'm just getting started! Happy Valentine's Day @jeffrey.garten." I cry.
Article continues below advertisement
Some of us pretend to hate Valentine's Day, but secretly, we all really, really love it... including Hollywood's finest. Happy V-Day!