Center of Gravity TikTok Challenge Shows Clear Difference Between Men and Women
This popular "center of gravity" challenge on TikTok pits men and women against each other. Women stand, while men crash their faces to the ground.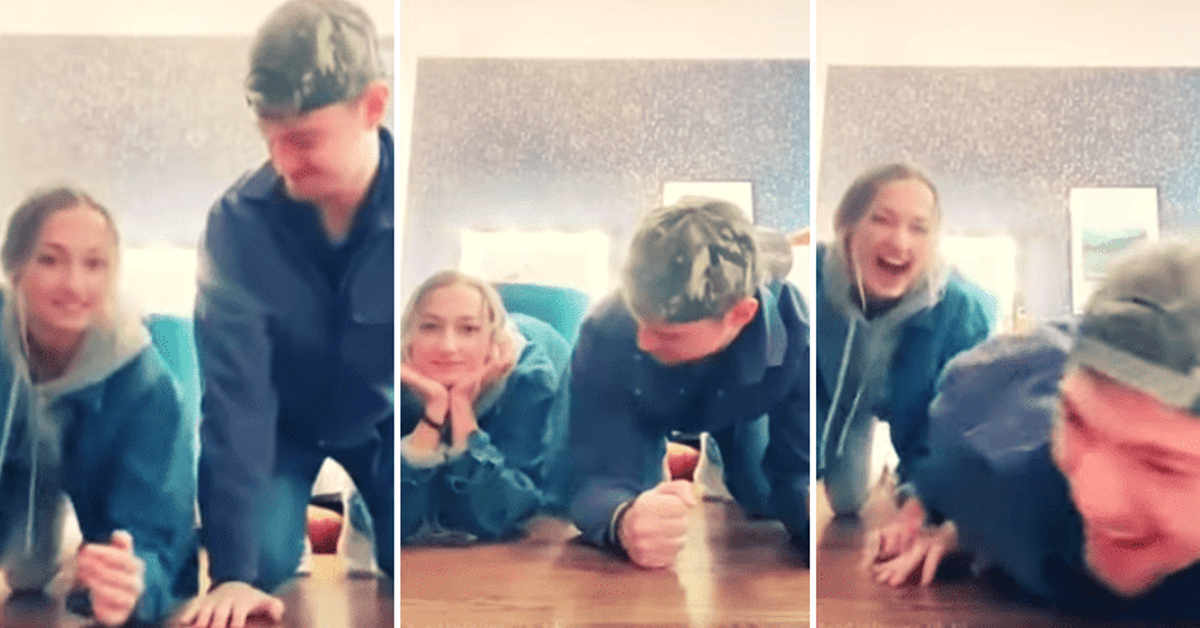 Social media is no stranger to its fair share of challenges, some designed to ridicule people for all of the internet to see. Some of them are just plain harmful, like the "BirdBox Challenge" which dares people to drive their cars while blindfolded, or when people joked about eating Tide pods for so long that some people actually took giant bites out of the forbidden candy for online clout.
The Center of Gravity trend on TikTok is one such challenge.
Article continues below advertisement
The Center of Gravity Challenge proposes a theory about a fundamental difference between men and women.
Many of the clips feature couples recording themselves facing towards the camera. They're both on all fours and quickly move their arms behind their back. It usually results in dudes smacking face first into the ground while their female counterparts are able to hold themselves up without a problem.
Observe for yourself.
Article continues below advertisement
There are plenty of videos all over the internet that show, over and over again, dudes falling flat on their face. But if you notice something about some of the clips, there always seems to be a person who is "in the know." They basically move their knees a bit forward to brace for the shift in weight, something that unsuspecting participants don't catch on to.
Now, does the center of gravity theorem have any weight from just a few videos that may or may not tell the whole story? Or is this just another McDonald's drink size fiasco waiting to be disproved all over again?
I decided to try doing it with my wife — she's a total cheater and I'm not a sore loser at all I swear.
Article continues below advertisement
If you're going to try this challenge out for yourself, it's probably best you do so with some cushioning so you don't hurt your face. If you've got some legit core strength or experience pulling off planks, you should be able to hold yourself up, or you could do what some people pull off in the videos which is move their knees up ever so slightly so you can avoid crashing down to the ground.
Article continues below advertisement
But is there any science behind the men vs women Center of Gravity Challenge on TikTok? Some say there is.
Scientist Jeremy Johnson did point to key biological differences between men and women that could contribute to dudes eating floor with the challenge. In an interview with The Sun he said, "The center of mass for most girls is lower to the hips, while the center of mass in boys is much higher."
Article continues below advertisement
That center of gravity can generally be attributed to the fact that most women have higher natural body fat percentages than men and those deposits are often stored in women's "hips and thighs," according to Scientific American.
Hey, anything to make me feel better about biffing it on camera. I still contend that my wife totally cheated and shifted her knees up, allowing her to lean back. That's my story and I'm sticking to it.