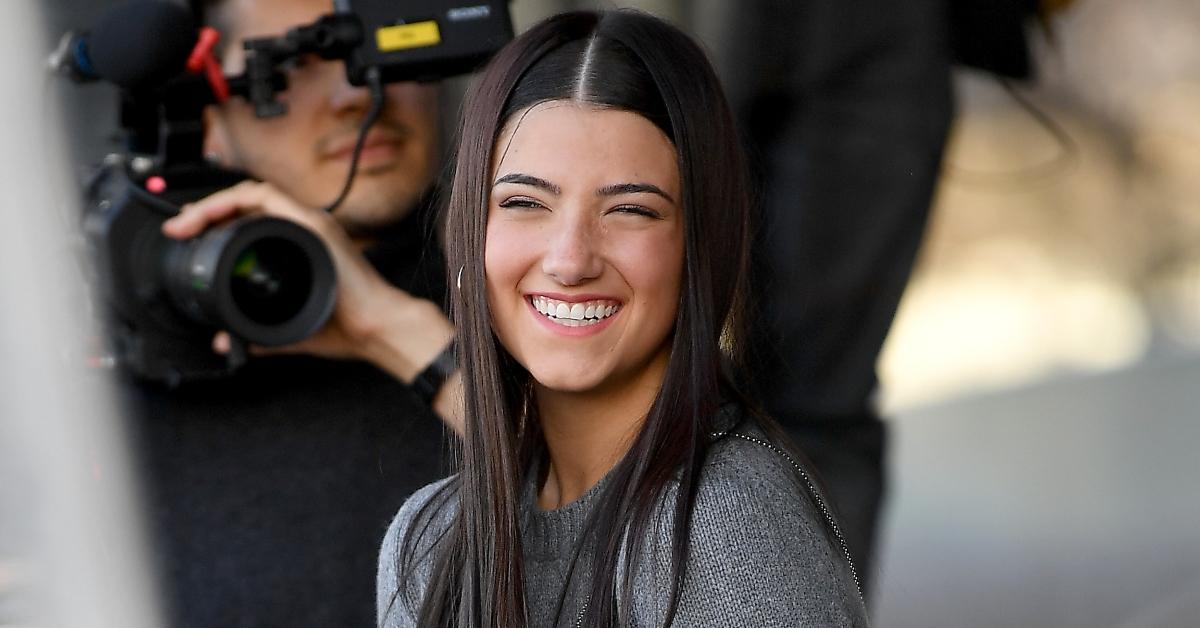 This Is the Exact Type of Coffee Charli D'Amelio Orders at Dunkin' Donuts
As any TikToker will tell you, Charli D'Amelio loves to drink Dunkin' Donuts coffee.
She even created a TikTok about her obsession with their cold brews. Posted on Tuesday, June 30, the short clip begins with Charli trying to disprove the notion that drinking Dunkin' is a personality trait — before admitting that she fits the stereotype perfectly.
The talented dancer regularly totes around a Dunkin' in her TikToks, which made fans all the more curious. What does she usually order?
Article continues below advertisement
Charli D'Amelio's Dunkin' order is a lot simpler than you'd think.
As Charli revealed in a tweet posted on Tuesday, January 7, she usually goes for a cold brew with whole milk and a hefty dash of caramel syrup.
The straightforward, unassuming nature of the drink came as a surprise for many fans, some of whom might have anticipated a more complex, sugar-heavy, extravagant concoction that's perhaps more in alignment with the profile of the chain.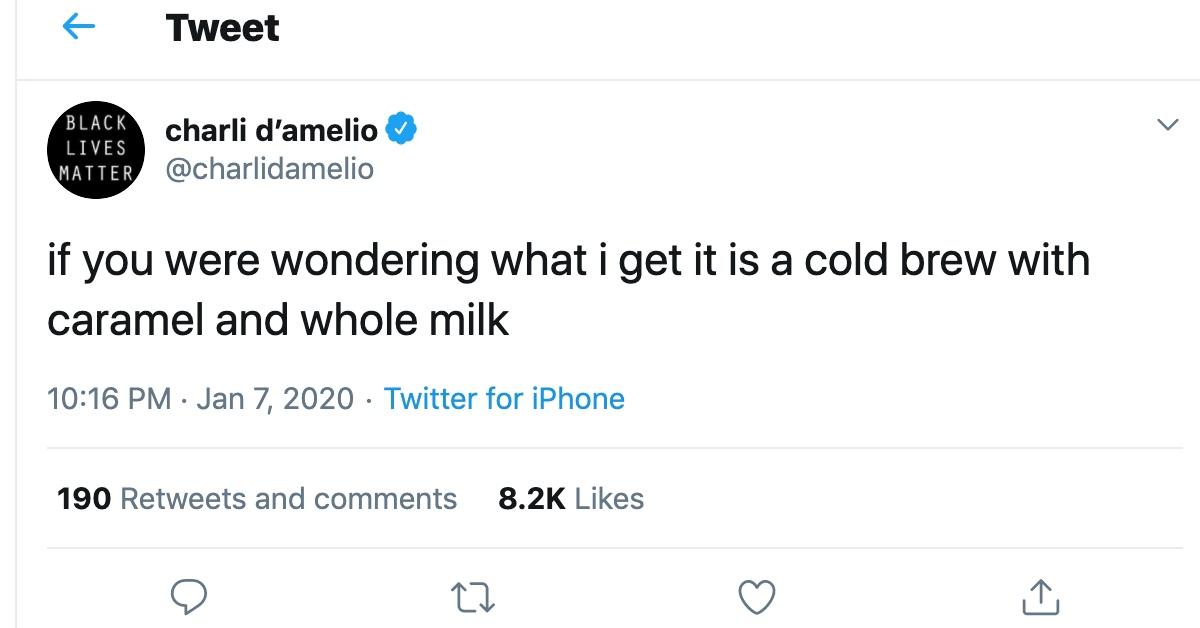 Article continues below advertisement
However, the real shock hit when Charli disclosed how much coffee she drinks. In another tweet, she admitted that she goes through up to three cups on an average day.
"i would really like a dunkin' brand deal i drink 1-3 of their cold brew coffees a day so...," she tweeted on Dec. 18, 2019.
The remark was received with a great deal of bafflement, with many taking to Twitter to poke fun at her.
"Your name should be Dunkin Donuts not Charli D'amelio," jokingly remarked a person.
"All new episode of 'My Strange Addictions' we take a look at Charli D'amelio's Dunkin donut coffee addiction," wrote someone else.
"find someone who loves you as much as charli d'amelio loves dunkin," tweeted another person.
Article continues below advertisement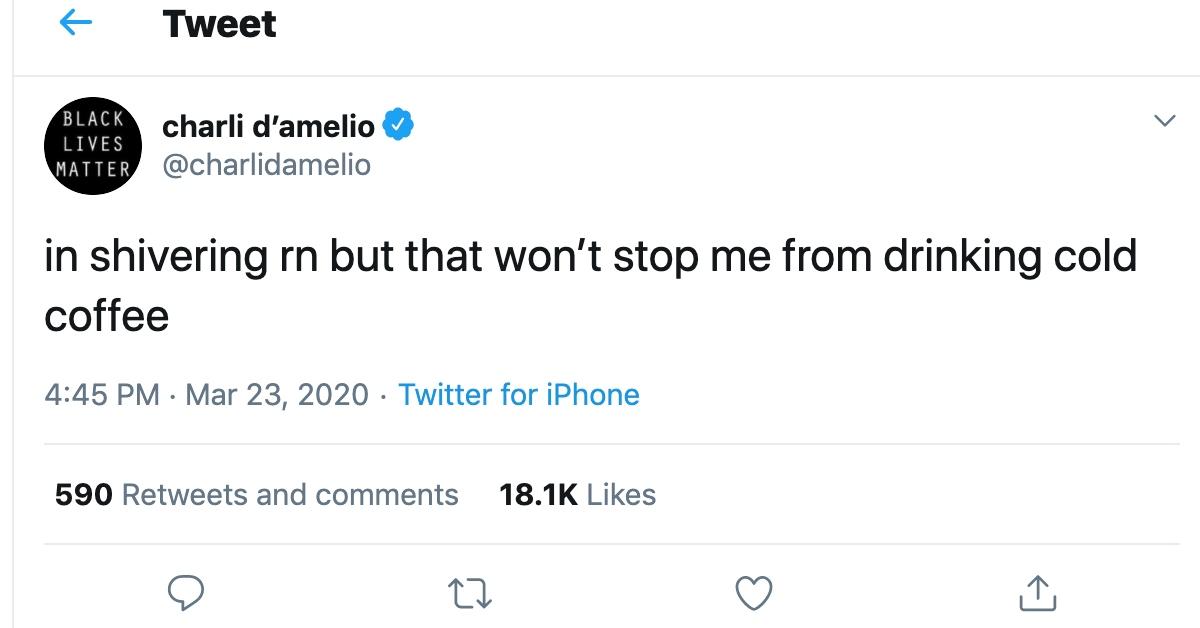 The Dunkin' plastic cups have become a regular fixture in Charli's TikToks, so much so that some regard them as a character trait just as definitive as her love of everything dancing-related.
On Monday, June 22, she posted a clip paying homage to a vital aspect of her daily morning ritual — heading over to a Dunkin' to get her much-needed coffee fix.
On Monday, June 15, she shared footage of herself basking in the bright rays of the morning sun. Of course, she had a half-finished Dunkin' in hand.
Article continues below advertisement
In February 2020, Charli was awarded a cold brew tap by Dunkin'.
According to Business Insider, it didn't take long for the marketing wizards over at Dunkin' to notice a sudden increase in social media traffic — which turned out to be Charli's making.
As the outlet reveals, the TikToker generated approximately 294 million video impressions for the brand in less than two months. To thank her, the chain gave her her very own cold-brew tap.
Article continues below advertisement
But generating video impressions is far from the only means whereby Charli contributed to the success of the brand.
Her simple, yet delicious-sounding order left dozens of YouTubers feeling curious. From Bailey Dedrick to Steph Pappas, there's no shortage of creators who decided to head over to the nearest Dunkin' to shoot a video capturing their first impressions of Charli's go-to beverage.
Is Charli's lasting devotion to Dunkin' about to spark a new social media trend? Only time will tell.