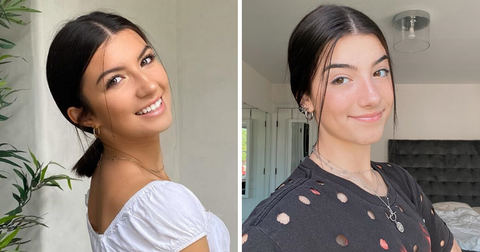 Why Do People Want a Charli D'Amelio vs Ellie Zeiler Feud So Badly?
By Devan McGuinness

Updated
There's a whole new section of famous overtaking the world thanks to social media. It used to be in order to get famous a person had to have a hard-to-get record deal or land a major role in a Hollywood movie. Now, all anyone needs is access to a smart phone and creativity – and stars are born.
Just look at Charli D'Amelio who is the largest star to come out of TikTok. She's the most-followed star on the platform and with popularity comes feuds and rumors—in less than one year on the social platform. People keep trying to make a Charli D'Amelio vs Ellie Zeiler feud happen and we're already over it.
Who is Ellie Zeiler?
With fame comes imitation and that's where Ellie Zeiler is said to get her name from. Ellie has a striking resemblance in looks to Charli, and she knows it, and has made a name of herself because of it. She's gotten a lot of attention because she looks similar to Charli, but that's not all there is to her.
Ellie was born in San Diego and was in middle school before finding fame herself on TikTok. In April 2020, the rising star had 2.5 million fans on the platform and 100,000 on Instagram. However, by June of the same year, her TikTok platform grew to 5 million and her Instagram expanded to 304,000. She's famous in her own right, but people are accusing her of imitating Charli.
Charli D'Amelio vs Ellie Zeiler feud, explained.
Social media accused Ellie of using Charli to grow her social media presence, being accused of "copycatting" and using Charli's famous dance moves to her advantage.
In April 2020, fans of Charli found a fake TikTok account that was named "charidamelio," and it featured videos of Ellie. The fans accused the newcomer of trying to confuse TikTok users who were looking for Charli and coming across her instead.
It didn't take long for Ellie to address this rumor, spamming the account as fake and fans came to the defense saying that fake page was never started, nor run, by Ellie.
Of course, on TikTok, part of the whole fun of the social platform is to take part in the many "trends" that come out of there. Users recreate their own version of the dances or videos that become popular.
It's what the platform is based on, but Ellie is constantly accused of recreating anything Charli does to take over her popularity. However, there have also been instances of Charli being accused of stealing Ellie's work. In one case, when a fan pointed out that Charli did a similar video to Ellie, Ellie hopped on to say that "it's a trend, not that deep."
The Charli D'Amelio vs Ellie Zeiler feud doesn't need to happen and they seem to agree.
There is always so much push by people who want two successful young women to hate on each other. We've seen it play out in so many situations and it doesn't need to happen, so people need to stop pushing so hard for it.
These two can both exist in the same space and both be just as successful as they want to be without needing to step all over the other, which they're not doing.