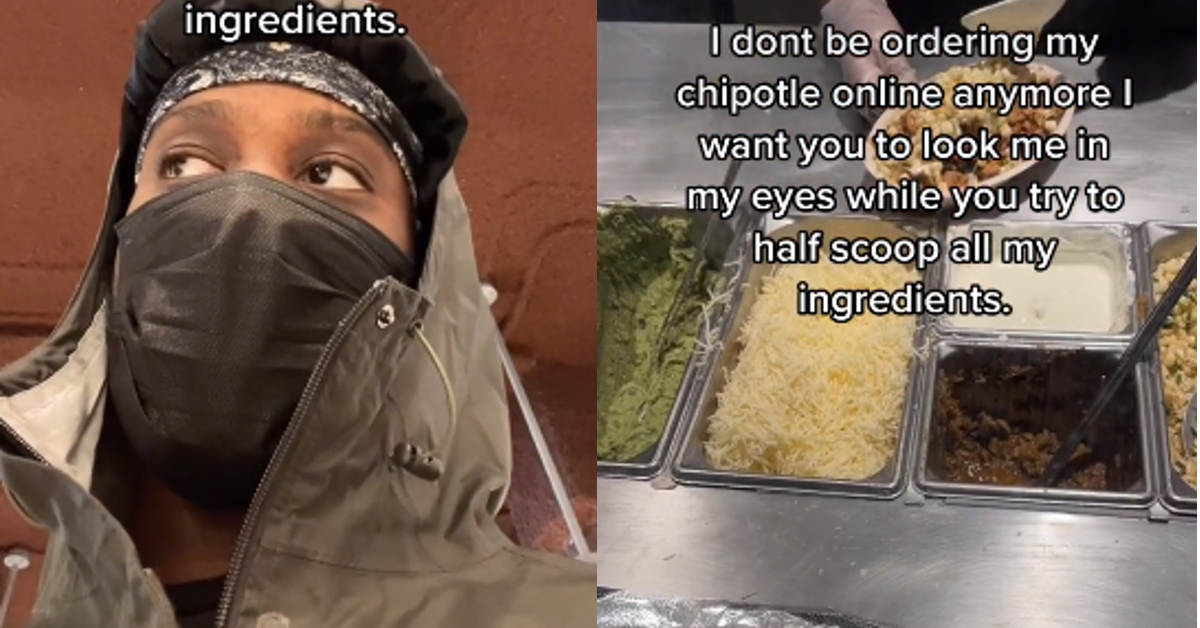 TikToker Accuses Chipotle of Giving Less Food to Online Customers and Employees Chimed In
A TikToker accused the Chiptole they ordered from of only giving "half-scoops" of protein in a viral clip.
If you're as big of a fan of Shane Black action comedies as I am, then the scene with Joe Pesci's Leo Getz going off on getting screwed over by fast-food eateries in the drive-thru probably makes you feel all warm and fuzzy inside.
While it's hilarious and a bit absurd that this man is getting that worked up about getting his order incorrect in the drive-thru, it's hard not to see where he's coming from.
Article continues below advertisement
Sure, it might sound a little bit conspiracy theory-ish, but he does have a point: maybe whoever's working at preparing your meal will put a little more thought and care into your order if they're looking you in the eyes while getting you what you want to eat.
However, if they know that you're going to just drive along on your merry way, they might not put the same amount of effort into ensuring you're getting everything you asked for.
Well, the modern-day version of getting "screwed" at the drive-thru is online ordering, something that this TikToker says a local Chipotle restaurant they ordered from took full advantage of when they were victimized by a pernicious "half-scooping" scheme.
Article continues below advertisement
TikToker Jessey St. Jean's clip explaining the "finesse" went viral and clocked in millions of views. In the video, Jessey writes in a caption: "I dont be ordering my chipotle online anymore. I want you to look me in my eyes while you try to half scoop all my ingredients."
Article continues below advertisement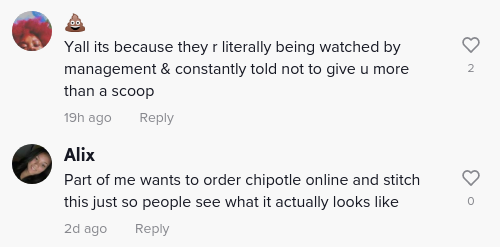 The "looking into the eyes" bit is a reference to the way that Chipotle's serving stations are set up. If you've never been to one of the restaurants, employees give customers a wide variety of options to choose from for their meals. There are several proteins to choose from along with different sides/garnishes.
Article continues below advertisement

The "half-scoop" probably refers to the proteins, the most expensive part of the meal to provide to customers. In person, customers could make a little bit more of a stink if they're noticing that the scoops they're getting are looking a bit slim.
Article continues below advertisement

However Jessey says that because they put their order in through the chain's online system, that there clearly wasn't a fear of customer blowback.
Article continues below advertisement

This could've been a case of an employee not intentionally trying to "screw over" Jessey intentionally, but just that they were waiting on some more of a specific protein to finish cooking, and they simply wanted to get the order out without waiting for more of said protein to be ready to serve.
Article continues below advertisement

Other TikTokers said that they experienced similar shortages from Chiptole in the past as well. There were also many commenters who identified themselves as employees of the restaurant chain and said that upper management had implemented strict portion control initiatives and that policing the amount of food customers received was a huge point of concern from their bosses.
Article continues below advertisement
Other folks who said they were Chipotle workers stated that while the TikToker and others who were frustrated by the amount of food they received usually blame the workers, the onus ultimately falls on corporate, who should bear the brunt of the criticism.
Article continues below advertisement