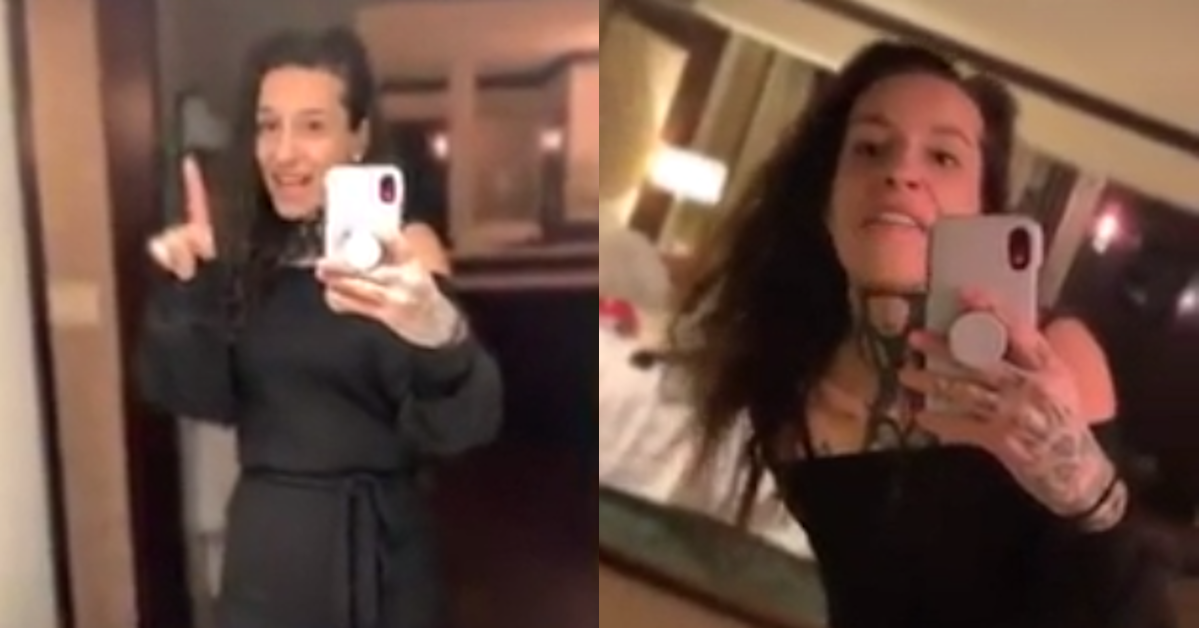 Chloe Sunderland's TikTok Is Currently Deactivated and This Video Might Be Why
Popular TikTok user Chloe Sunderland's main TikTok account seems to be deactivated and this video may be the culprit. Find out what the issue is here.
You ever see that episode of Black Mirror, "Fifteen Million Merits"? If you haven't, well, spoilers: this specific story's protagonist goes throughout the entire episode swallowing gripes about the world he lives in until a final, dramatic, and insane act of desperation where he airs his grievances captures the hearts and minds of everyone around him and he becomes a celebrity for it.
Sometimes, going viral and becoming famous on social media will do that, like Chloe Sunderland's TikTok.
Article continues below advertisement
Chloe mainly posts on the @roma_greek_goddess account, which is currently deactivated, and is not shy when it comes to venting her frustrations and gripes about anything and everything. She does it in a pretty humorous and entertaining manner, but doesn't really go nuts with her production or presentation. She just picks up her cell phone, finds a mirror, and, using interesting cuts and slight wardrobe changes, making for some darn good TikTok content.
Article continues below advertisement
However, what she got really popular for was posting a series of videos that focused on advocating for men's rights, which didn't sit well with a lot of people.
In one clip, she talks about how she went off on a strange woman who accosted a friendly man in a diner who came up to Chloe's daughter and started a conversation. The strange woman approached the man and questioned why he was so "invested" in a toddler's life.
Chloe verbally accosted the woman and asked why she came at the dude like he was some sort of the pedophile. Embarrassed, the man just walked away, but it left a sour taste in Chloe's mouth, so she kicked her bathroom door in and poured out her frustrations on TikTok.
She also started a series of dating Red Flags for men, saying that there are so many threads/guidelines for women, that men should have some to utilize as well.
Article continues below advertisement
Another video she received a ton of backlash for was this one below, where she showed a list of comments from men who were advocating for Chloe, and in some cases, they weren't even responding to videos about men's rights. Chloe pointed out how men are "attacked" online for joining conversations and that they're unable to have an opinion as it's generally acceptable for them to be shat on for simply speaking their minds.
Article continues below advertisement
I suspect this "NO DIQK" series is the one that really got under people's skin, where Chloe encourages men to withhold sex from partners who exhibit abusive and inhumane behavior. I'm thinking it was officially flagged for "language."
Article continues below advertisement
Chloe hits on trending news stories as well, like when it came to light that Amber Heard was the abusive one in her relationship with Johnny Depp as recordings surfaced of her mocking him when he cried and allegedly admitting to physically abusing the Pirates of the Caribbean actor.
Article continues below advertisement
One of her more viral TikTok videos, however, was Chloe's "Men Need Help" video where she listed a bunch of statistics and facts pertaining to suicide rates among those of us with Y chromosomes and a slew of other male-related mental health issues. Chloe, at one point in the video, addressed the widespread criticism she receives for constantly advocating for men, saying she does so because "no one else" does.
Article continues below advertisement
While @roma_greek_goddess is currently deactivated, you can still follow her on her backup TikTok, @roma_army_back_up, or you can check out her YouTube account here.