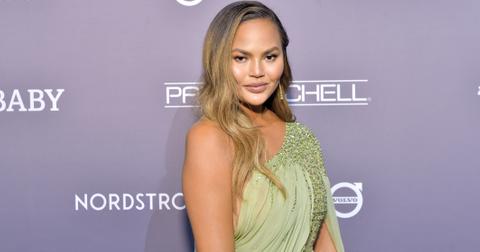 Chrissy Teigen Is a '90 Day Fiancé' Fan and Her Tweets Are Literally What We Are All Saying
By Chrissy Bobic
In most ways, celebrities seem so untouchable, but when it comes to Chrissy Teigen, she gives new meaning to the phrase stars are just like us. Because like so many of us, she too is obsessed with 90 Day Fiancé on TLC. If you didn't love her already, that might just do it for you. And Chrissy Teigen's 90 Day Fiancé tweets show just how far gone she is in the rabbit hole that is the reality show.
Chrissy has a way of tweeting what almost every other 90 Day Fiancé fan is already thinking each week. And when you have a celebrity who loves a sometimes messy reality show, it almost justifies watching it for two hours every Sunday. So if you aren't up to date on Chrissy's tweets about 90 Day Fiancé, you might want to get familiar.
Chrissy Teigen became a 90 Day Fiancé superfan by accident — and her tweets are the best part of it.
Chrissy hasn't been a 90 Day Fiancé fan for long, but in July, she tweeted her interest in the show. Then, in August, she tweeted about watching the show for the first time. She asked her Twitter followers what season she should start with and from there, her love affair with the show began. She caught up quickly and became just as invested in the lives of these reality show participants as all of the other viewers.
Chrissy started off by pointing out essentially everything fans were already thinking while watching 90 Day Fiancé. Now, some fans on Twitter credit Chrissy for inadvertently turning them on to the show. She regularly screenshots the series and she is deep in the thick of it and so unapologetic about her 90 Day Fiancé obsession.
Her 90 Day Fiancé obsession goes beyond the show itself.
Like other dedicated fans, Chrissy has become invested in the stars themselves. Some of the cast members change from season to season, but when you have people like Darcey Silva, who come back time and again with the same or new international love interests, it's easy to continually get sucked back in. When Chrissy sent a follow request to Darcey on Instagram, she proved that more than anyone.
Chrissy bought a 90 Day Fiancé Cameo for herself.
You know you've got it bad when you go on the Cameo website and pay for a personalized video from a cast member for yourself. These are typically easy and inexpensive gifts for other fans rather than yourself, but Chrissy has no shame when it comes to her love for the show and its cast. So much so that she purchased a Cameo from 90 Day Fiancé: Before The 90 Days Season 3 cast member Zied Hakimi.
John Legend is now a 90 Day Fiancé fan too.
Are you even a true fan of a reality show if you haven't gotten your spouse in on the action? It didn't take long after Chrissy began watching 90 Day Fiancé for her to reel husband John Legend in on the series. And, judging by her tweets about John watching the show, he is just as into it as she is. Or, maybe almost as close to her level as he can get without being totally at Chrissy's level when it comes to 90 Day Fiancé.
Chrissy is all of us when she's watching the show.
As much as you may love 90 Day Fiancé, there are also some things you love to hate about the show. It's easy to snark on a reality show that features so many questionable motives and Chrissy is all about commenting on such situations on Twitter. It doesn't mean she loves the show any less — it just means that, like all of the other 90 Day Fiancé fans out there, she is totally invested.
Watch 90 Day Fiancé on Sundays at 8 p.m. ET on TLC.