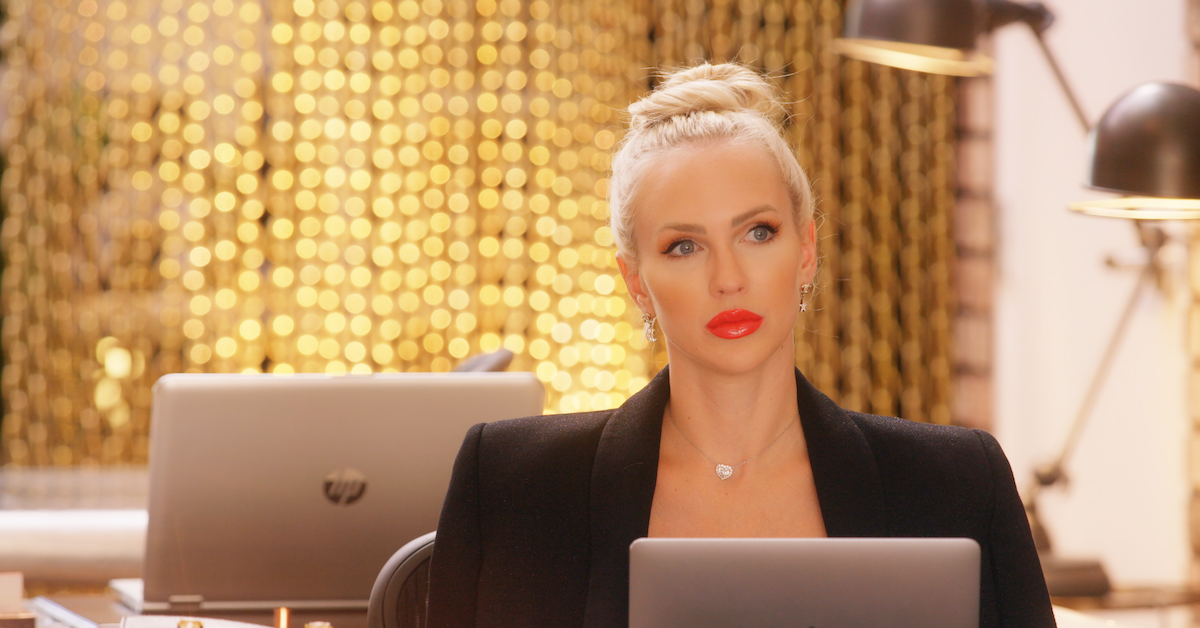 'Selling Sunset's Christine Quinn Wore Black to Her Wedding and We're Living for It
Real estate is a cutthroat business and no one exemplifies that better than the fierce women of The Oppenheim Group on Netflix's Selling Sunset. Combining Los Angeles luxury real estate with a catty group of real estate agents who go to wild lengths in order to become Hollywood's star real estate broker, Selling Sunset is an entertaining watch even if you aren't into gorgeous houses.
Article continues below advertisement
The women of Selling Sunset are technically all on the same team, but they're also a naturally competitive bunch and this spills into their everyday dealings. And with all of them vying for the same property listings and high-net-worth clients, there's plenty of room for conflict and clashes in the middle of brokering deals.
But there's one listing that looks like it's been taken off the market for good. Power-broker Christine Quinn recently tied the knot in a secret wedding ceremony in downtown Los Angeles, and naturally fans (and we!) need details!
Keep scrolling to find out everything you need to know about Christine's secret nuptials and new hubby…
Article continues below advertisement
'Selling Sunset's Christine Quinn wore black to her wedding.
Christine Quinn and her husband Christian Richard got married in a secret ceremony a few months ago. The couple had met through a mutual friend before Christian proposed to Christine last Valentine's Day.
Article continues below advertisement
The theme of their special evening was a gothic winter wonderland. The ceremony took place in a cathedral in Downtown Los Angeles in front of 75 close friends and family, as well as Christine's Selling Sunset co-stars, and, oh yeah, two black swans.
Christine tied the knot in a beautiful custom-designed couture gown by Galia Lahav, which the broker and designer collaborated to create. The luxury real estate broker accompanied the dress with custom ruby red Louboutins, à la Dorothy in Wizard of Oz, a simple red lip, and minimal jewelry, and opted for a pair of Cartier love bracelets on her right hand. Classy!
Article continues below advertisement
"I've always enjoyed being bold, different and trendsetting," the bride told People. "I've always wanted to get married in a black wedding dress, and I'm so happy that my dream came true." Christine walked down the aisle to a gorgeous string quartet.
Article continues below advertisement
After being wed, the couple arrived to the reception hall, which had been designed to look like a dead forest — complete with thunder and lightning —as fog filled the room and the couple ascended to sit on top of golden thrones.
The evening continued in opulence with a four-course dinner, caviar and "his and hers" craft cocktails that were named "The JFK" and "The Marilyn." But perhaps the pièce de résistance of the night was the wedding cake.
Designed by Julie Simon Cakes, Christine and Christian's cake looked like a tree adorned with red flowers, ravens, and a carving of the newlywed's initials on the bark. It was also topped by black sugar gargoyles — and when it was cut, it appeared to bleed.
Christine told People that she and Christian are looking forward to "pushing each other forward into the best versions of ourselves while traveling the world." She added, "we're so similar in all the ways that matter. We are both creative, driven, entrepreneurial, and have always lived by our own rules." We wish the newlyweds all the very best!
Season 2 of Selling Sunset premieres May 27 on Netflix.