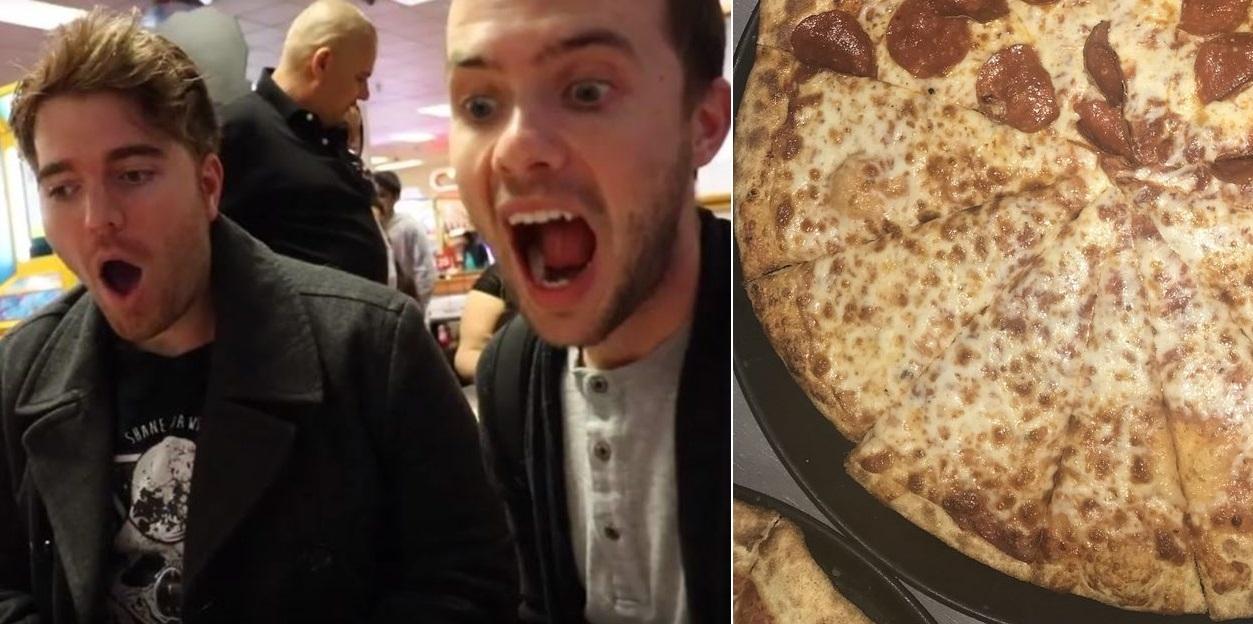 Chuck E. Cheese's Responds to Shane Dawson "Conspiracy" About Splicing Together Old Pizza
In a viral video posted this week, YouTuber Shane Dawson claimed that Chuck E. Cheese's reuses old slices of pizza.
In a viral video posted this week, YouTuber Shane Dawson explored a common claim that many of us have heard over the years – that employees of Chuck E. Cheese collect uneaten pizza slices from the dining area and fit those pieces back together and re-serve them as part of a new pizza.
Article continues below advertisement
The rumor is almost as old as Chuck E. Cheese itself, and has become even more prevalent in the age of social media, with users sharing photos of what appear to be complete pizzas with mismatched slices. In the video, titled "Investigating Conspiracies with Shane Dawson," Shane visits the restaurant chain with a friend and concludes that "there's something going on."
Shane also inspected a few of the restaurant's pizzas at home, trying to move the slices around to see if the pieces fit. "I don't know," Dawson states. "And I hope it's just [an] optical illusion."
Article continues below advertisement
But according to a Chuck E. Cheese spokesman, Frankenpizza is just a rumour.
Article continues below advertisement
"The claims made in this video about Chuck E. Cheese's and our pizza are unequivocally false," a representative told press. "No conspiracies here — our pizzas are made to order and we prepare our dough fresh in restaurant, which means that they're not always perfectly uniform in shape, but always delicious."
The restaurant chain has also been replying to Twitter users asking about the conspiracy on the social media platform with the same statement.
Article continues below advertisement
Article continues below advertisement
"All the slices are from the same pizza, it's just when the pizza comes out of the oven, they place it on a cutting board in order to slice it. The slicer is very large and kind of heavy, so some people have a lot of difficulty trying to cut the pizza perfectly. [That's] why some slices are different sizes [than] others," the ex-employee wrote. "After the pizza is done being cut, the cook slides it onto a tray to carry out to the guests. It's when the pizza is being slid off of the cutting board and onto the tray where it gets kind of wonky looking."
The reddit user went on to claim that they've never seen anyone reusing discarded slices of pizza, but said she could "only speak for my store." She also didn't think "anyone would be able to keep on pulling something like that for years without getting caught/getting too many complaints."