'The Bachelor' Star Clayton Echard's Ex-Fling Pregnant, Demanding Paternity Test
'The Bachelor' star Clayton Echard was taken to court in August 2023 by an unnamed ex-fling who claimed he is the father of her twins.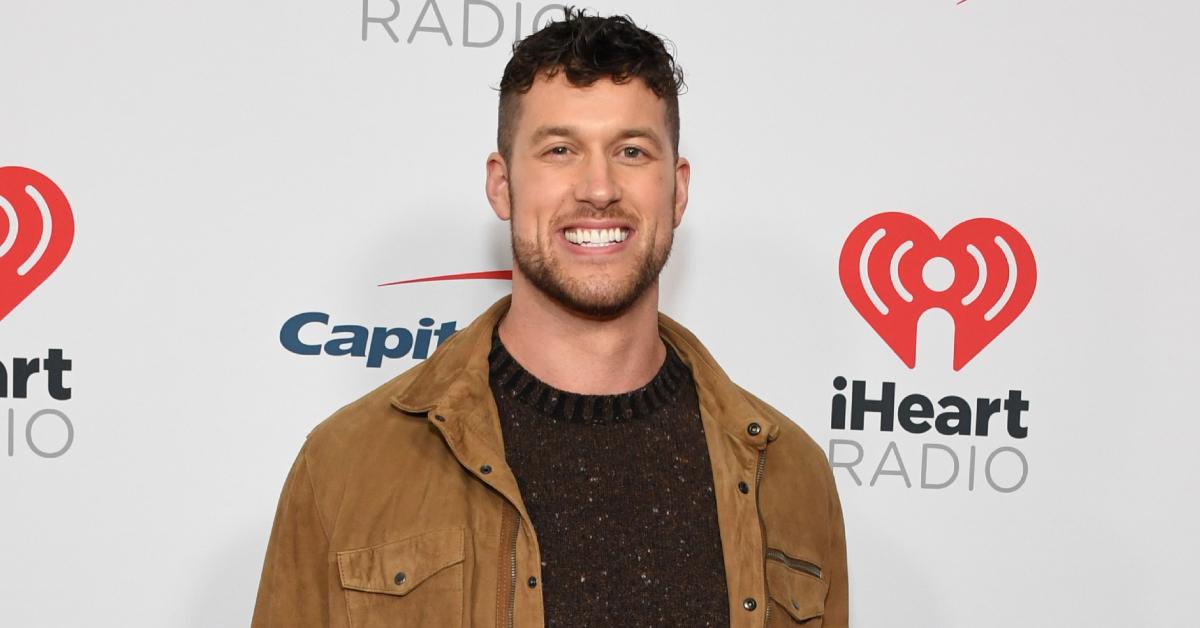 The Gist:
Clayton Echard is best known for his Season 18 of The Bachelorette and Season 26 of The Bachelor.
In August 2023, an anonymous woman filed a lawsuit against the reality star.
The unnamed woman claimed Clayton got her pregnant after they had a one-night stand.
Article continues below advertisement
Since splitting from longtime girlfriend Susie Evans, reality TV personality Clayton Echard has been riding solo — or that's what he wants us to believe. As it turns out, the former Bachelor star had been living it up with other girls, one of whom claimed she had a one-night stand with him that allegedly led to her becoming pregnant with twins.
Read on to learn more, including why Clayton's ex-fling filed a lawsuit against him.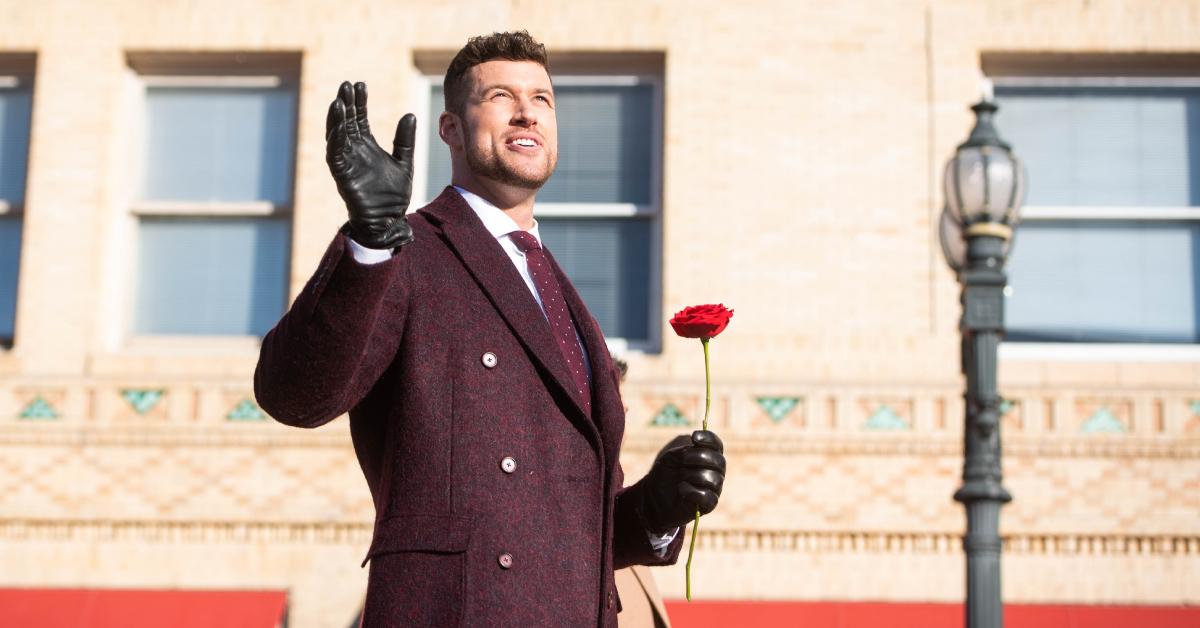 Article continues below advertisement
Who is Clayton Echard's rumored baby mama?
Clayton's ex-fling — a 33-year-old podcast host from Scottsdale, Ariz. — has chosen to remain anonymous.
Despite her anonymity, she isn't holding back on revealing details about her late-night rendezvous with Clayton that reportedly resulted in an unexpected pregnancy. Keep scrolling as we delve into the court documents.
Clayton and his ex-fling are arguing in court documents over a paternity test.
On Aug. 1, 2023, the unnamed woman filed a lawsuit in an Arizona family court. She claimed Clayton got her pregnant after a one-night stand and demanded he take a paternity test ahead of the birth of her twins, who are due in early-to-mid February 2024. The suit also requested a parenting plan be put in place if Clayton is, in fact, the father.
Article continues below advertisement
According to court documents obtained by The Sun, the woman "engaged in sexual activity" with Clayton on May 20, 2023. She also claimed she "hadn't been with anyone since March of 2022," therefore, the Bachelor alum must be the father of her unborn twins.
Article continues below advertisement
On June 1, after taking two at-home pregnancy tests, the woman went to an urgent care facility, where they confirmed her pregnancy. She said she sent a copy of the tests to Clayton, who allegedly didn't believe her. On June 17, he asked her to come over and take a test so he could confirm whether or not she was telling the truth.
She did just that, and the pregnancy test was positive. Clayton allegedly texted her the following day: "I wanted you to come over to confirm what I was doubting. And you did confirm that. So, I don't see you as a liar anymore."
Article continues below advertisement
Then, things took a turn for the worse. The woman hasn't seen Clayton since June 17, the day he demanded she take a pregnancy test in front of him. He then allegedly blocked the woman so she couldn't call or text him; as a result, they mostly communicated via email.
Article continues below advertisement
According to the court documents, Clayton allegedly told the woman, "If it ends up being my child, I have decided that either you'll take 100% custody of the child, or it will be put up for adoption. I will not be raising it in any capacity."
Another message he allegedly sent states, "My hatred will only grow if you decide to put me through all of this. ... My personal hell would be having to have you be a part of my life."
The woman wrote in the documents that Clayton "has been cold and heartless" since the pregnancy test results. She said he came up with "bizarre scenarios," adding that Clayton "said that my anti-epileptic meds made me test positive (which I quickly disproved), or maybe I was taking fertility drugs or weight loss pills that altered the results."
Article continues below advertisement
She also alleged that Clayton previously agreed to take a paternity test in late August, but after she put down a $725 deposit, he never responded. As a result, she was forced to cancel it due to Clayton's "unwillingness to participate."
On the other hand, Clayton is arguing in court documents that the woman "refused a paternity test." Nevertheless, the woman claimed she's "offered more than 50 times in writing" for him to take a paternity test.
Article continues below advertisement
Clayton spoke with The Sun on Sept. 18 and denied having "sexual intercourse" with the unnamed woman, adding that her accusations "baseless" and "lacking in merit." A few days later, Clayton took to Instagram to address the drama.
On Thursday, Sept. 21, Clayton posted a screenshot of a receipt for a paternity test.
"This is the timeline. The truth will always set you free," he wrote alongside the email receipt in a post to his Instagram Story. According to the screenshot, Clayton paid $725 to take a paternity test.
Article continues below advertisement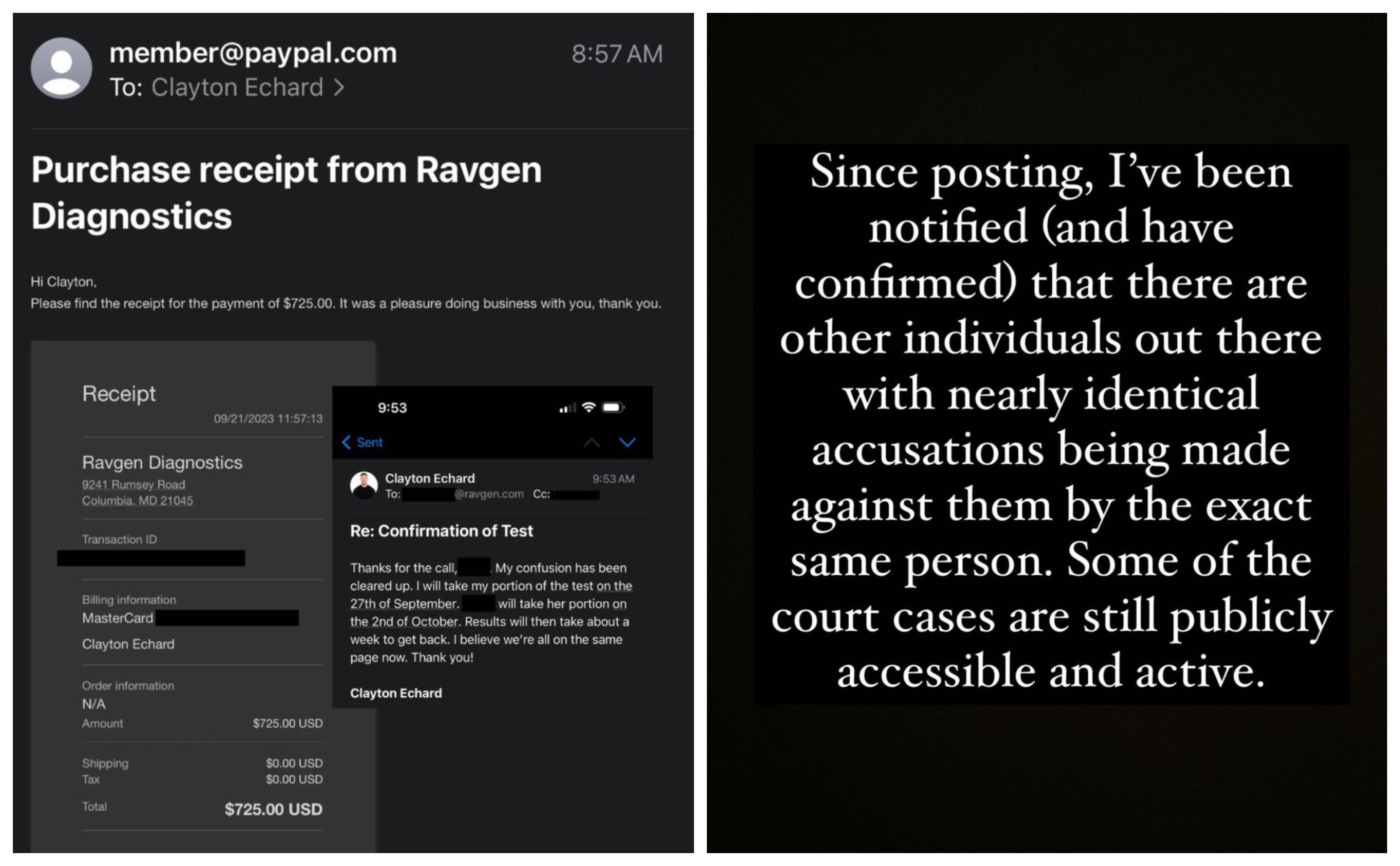 "I will take my portion of the test on the 27th of September," Clayton penned in the email, adding that the woman will contribute on Oct. 2. "Results will then take about a week to get back. I believe we're all on the same page now."
Both parties are due in court on Sept. 28 for an early resolution conference, but the court requires they meet five days before the hearing to resolve as many issues as possible.