Cody and Brandi Rhodes Are Expecting a Baby, but When Is the Due Date?
Cody and Brandi Rhodes have announced that they're expecting a baby, but many wrestling fans want to know the baby's due date.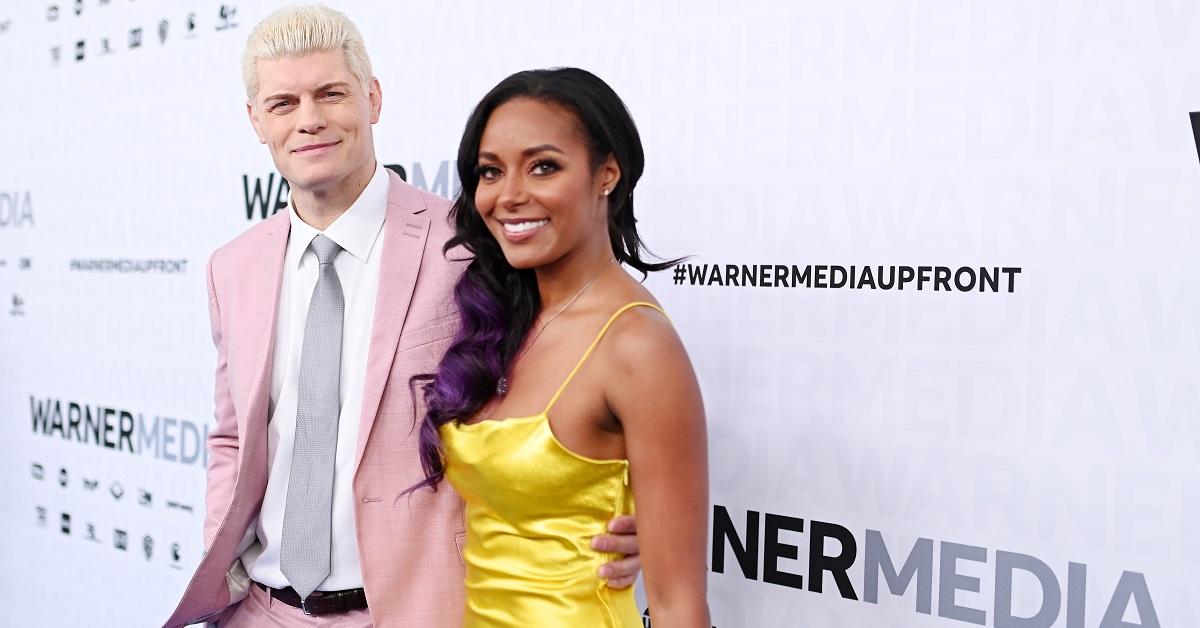 There's good news to celebrate for the All Elite Wrestling family headed into 2021. Cody and Brandi Rhodes, who both wrestle in the league, announced that they're expecting a baby together. The announcement came on this week's AEW Dynamite and was a great way for the AEW crew to wrap up the year. The announcement also spawned plenty of congratulations from fans, as well as a few questions.
Like, for example, when is the baby's due date?
Article continues below advertisement
How did Cody and Brandi announce the pregnancy?
During a video package that aired on AEW Dynamite, Brandi and Cody were seen sitting in their home when the doorbell rings. When they open the door, they find a small wrapped box on the doorstep. Inside the box is a pair of tiny baby shoes as well as an ornament that says "We're expecting a baby in 2021." After the video, the couple entered the ring, and Cody looked particularly pleased as the announcers congratulated them on the news.
Article continues below advertisement
When is the baby's due date?
Although Cody and Brandi did announce that the baby will be born next year, they didn't offer a ton of additional detail on exactly when the baby was expected. Brandi doesn't yet seem to be visibly pregnant, which would suggest that she's still fairly early on in the pregnancy. The couple might provide more detail as we enter 2021, but for now, the actual due date is a mystery.
Some details of the pregnancy may still be under wraps, but there were still plenty who were eager to offer their congratulations to the couple following the announcement.
"Congratulations to Cody & Brandi Rhodes on the Announcement of their 1st Child!" one user wrote on Twitter.
"Congratulations @TheBrandiRhodes and @CodyRhodes!!! Thank you so much for making the wonderful announcement tonight on #AEWDynamite that you're expecting a new baby!" another added.
Article continues below advertisement
Regardless of the baby's exact due date, though, it seems that Cody already has his sights set on a career outside the ring. Now that he and Brandi have announced the beginning of a family, Cody may be looking at ways that he can start spending less time in the ring so that he can spend more time with his family, and on his aspirations outside of wrestling.
Article continues below advertisement
Cody wants to be a politician.
In an interview with Bleacher Report, Cody suggested that he hoped to be done with wrestling around the time he turns 40. After that, it seems his goals lie in the world of politics.
"I would love to run for the Senate in the great state of Georgia. I want to help with the sphere of influence I have created," Cody said during the interview, which was conducted in November of this year.
Regardless of what he chooses to do after he finishes wrestling, it seems that Cody is planning to have a growing family by his side while he does it. Given the substantial following that both he and Brandi already have, the family might be a force to be reckoned with even after they leave the ring.