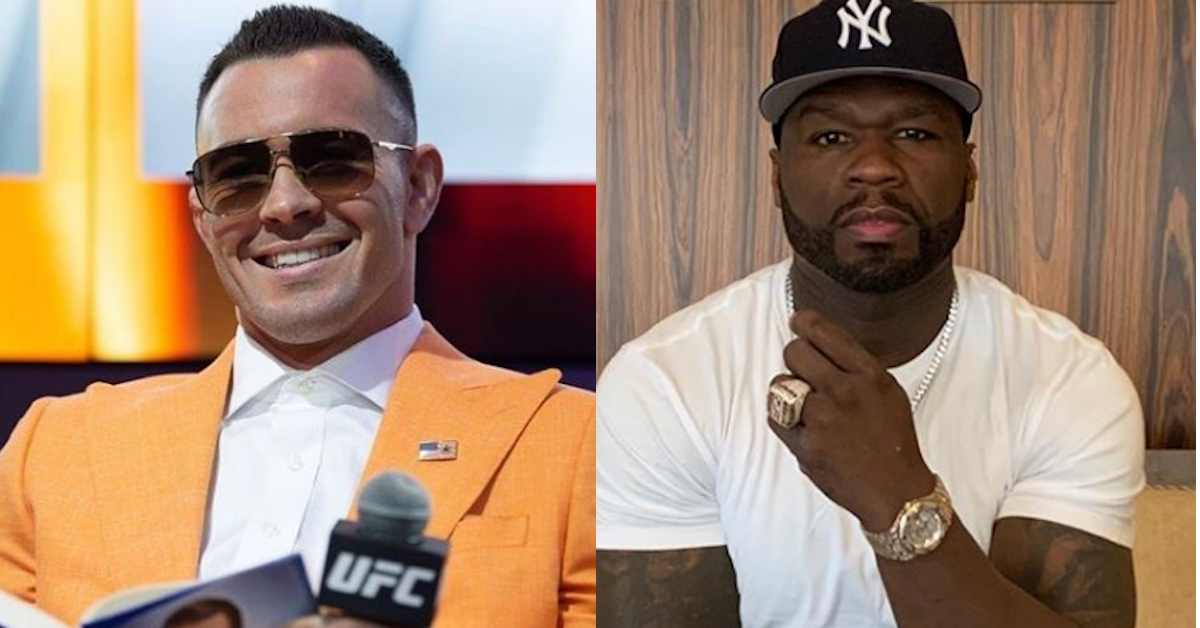 Colby Covington Challenging 50 Cent to a Boxing Match Is an Expert Move in Troll-Promotion
Former UFC Interim Welterweight champion Colby Covington challenged rapper/actor 50 Cent to a boxing match. Here's why it won't happen.
Let's say you're a high-profile fighter who just lost a fight, or are on the sidelines for a while and need to keep your name on people's minds. You can't really call any other pugilists out because you're recovering from an injury and that news won't really make big headlines. Now let's say you built your entire career on trolling others and pissing people off, like Colby Covington. An expert move would be to beef with someone that has name recognition...like 50 Cent.
Article continues below advertisement
50's no stranger to starting online wars with others, just ask French Montana. It's a certifiable, guaranteed tactic to keep one's name in the media cycle just for the sheer, shallow, ridiculousness nature of the squabble. Conor McGregor did the same thing when he vowed to beat down Mark Wahlberg, Ronda Rousey did it when she said she wanted to beat up Floyd Mayweather in a cage match...the list goes on and on.
Here's why Colby Covington needed to call out 50 Cent.
When it comes to "troll promoting", no one has really done it better than Colby, who was a grinding, in your face, wrestle-based fighter who wasn't really known for putting on dazzling spectacles inside the octagon. Sure, he was winning matches and he had a never-say-die mentality that helped serve a lot of MMA grapplers.
The trouble is, he wasn't all that exciting. He wasn't throwing spinning elbows from the clinch like Jon Jones, or pulling off crazy dodge-to-KO punches like A. Silva.
Article continues below advertisement
Colby was viewed as just another fighter. The man knew he needed to market himself, so he began trolling at a high level. He beefed with guys outside of his weight class, getting UFC Heavyweight Fabricio Werdum so pissed off one day that the guy threw a boomerang at him and tried knocking him out on a sidewalk. He's caused divides between his teammates at American Top Team: his former friend Jorge Masvidal doesn't like Colby, and Dustin Poirier would like to punch his face in too.
Article continues below advertisement
The wrestler adopted a full MAGA, Trump-Train tooting persona to boot and won't shy away from any type of irreverent talk, which helped hype his bout against Kamaru Usman, the current welterweight champion who put on a beautiful display of shut-down fighting to take the title from Tyron Woodley. But not many people outside of the MMA world know who Kamaru is. There's a good chance that people who don't watch combat sports know the name and face of Colby Covington.
Article continues below advertisement
Despite all of Colby's braggadocio, the man does back it up. He's got an insane work ethic and mixes up a high-volume output of striking, pressure fighting, and relentless wrestling with slick mix-ups that make him a force to be reckoned with. It's almost a shame that he gets more visibility and press from his appearances with Trump and inflammatory remarks than his actual fighting.
His trash-talking and creation of political/racial divides against Kamaru Usman didn't help his fight.
Colby ended up breaking his jaw against Usman and lost a decision to the champ, but that hasn't stopped Colby from talking trash on everyone, including referee Mark Goddard, who he says made terrible calls during the fight that helped turn the tide in the Nigerian's favor.
So, while Colby heals up from his jaw injury and awaits his next fight, he's taken an interesting approach to keeping his name on people's minds: challenging 50 Cent to a $1 million one-handed boxing match.
Article continues below advertisement
50 was pretty vocal about how happy he was when Colby lost the title fight against Usman, something that the ATT-trained grappler didn't take too kindly. In an interview with ESPN, Colby stated, "[50] came out after the fight and was talking mad crap on me. He was saying all this stuff about me, talking all this smack. 'Oh, that "MAGA" fighter Colby Covington.' He was putting all these Instagram posts up..."
Article continues below advertisement
The fighter continued, "I want to do a celebrity boxing match. I'm going to tie one hand behind my back and I'm going to fight 50 Cent. I'm going to put up $1 million of my dollars. I want to fight 50 Cent in a celebrity boxing match. I'll donate all of my money to the troops because I love the troops so much. They protect our freedom. They put it all on the line for America. I want to fight 50 Cent."
"I'm going to tie my left hand behind my back – or my right one," he claimed. "He can pick. It doesn't really matter because both are lethal."
Article continues below advertisement
So is this fight actually happening?
For anyone who's hoping that this charity match "for the troops" is actually going to go down, please, don't get your hopes up. Colby is clearly doing this to garner buzz around his name since the loss and there's no way the actor's going to actually accept the challenge, because why would he?
Article continues below advertisement
Yes, freakshow fights happen in the sport all the time, even with folks who aren't really fighters, like the Paul brothers' and their big money-making amateur boxing showcases against fellow YouTubers who capitalize on schoolyard bravado.
But everyone is shaking their heads at Colby's comments, like UFC Middleweight and former title challenger Darren Till, who said he'd rather get knocked out by Masvidal again than watch this one-handed facade.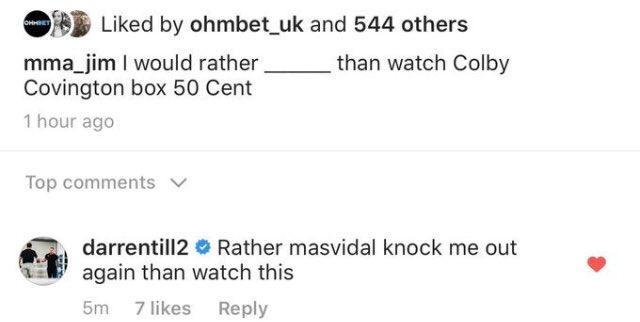 50, who is no stranger to social media call-outs himself, has yet to respond. A look at his Twitter feed shows that it's filled with his usual self-promotion and topical memes and commentary, like the coronavirus, but no mention of Colby.
So what do you think? Will the fight ever come to fruition? Or will 50 just ignore it or find another way to clap back at Trump's favorite fighter?