Woman Who Started Coronavirus Challenge Says She Did It Because Coronavirus Got More Attention Than Her
All Ava Louise wanted to gain from the Coronavirus Challenge video was more attention than the virus itself was getting.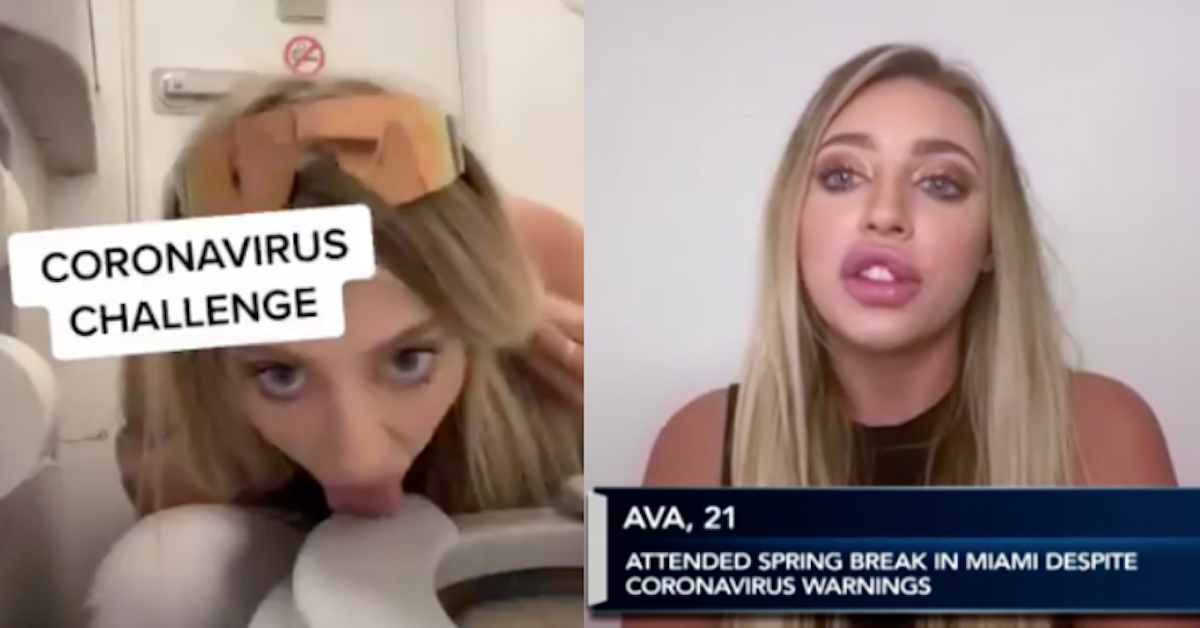 Ava Louise first went viral after saying she'd "rather die than be ugly." She appeared on Dr. Phil in 2017 and 2019 to discuss her social media addiction and obsession with attention.
But most recently, she went viral again (pun intended, this time) for her TikTok touting the "Coronavirus Challenge." In the video, she licks an airplane toilet seat.
Article continues below advertisement
The video went completely viral...but apparently, not as viral as the coronavirus itself. In a brand new appearance on Dr. Phil, Ava comes clean about why she started the Coronavirus Challenge, which she has since described as a PR stunt.
Article continues below advertisement
Although Ava's video seemingly inspired copycats — at least one of whom was diagnosed with the disease after taking part — she feels no remorse or regret for what she did. In fact, her only goal was to get more attention than the virus itself, a goal I feel confident in saying she didn't come close to reaching.
She stands by the idea that she didn't put anyone at risk with her stunt, that she isn't responsible for anyone who ends up sick because of her actions. In her Dr. Phil appearance, she claims that she was on her "sugar daddy's" private plane and that she bleached the seat before licking it.
Article continues below advertisement
Ava calls the video a "social experiment." She tells Dr. Phil, "I wanted the clout off of it, and I was really annoyed that corona was getting more publicity than me."
But it gets worse.
In the interview, Ava, who was recently on spring break in Florida with tons of other people, reveals that she basically believes the coronavirus pandemic is a hoax. The 21-year-old doesn't believe it affects young people, even though the evidence completely contradicts that notion.
Article continues below advertisement
In the interview, Dr. Phil asks her, "Do you have any concern about the fact that, if you just get outside and enjoy life and perpetuate the spread of this virus, that you put more older people at risk? Is that a concern to you at all?"
Article continues below advertisement
Her response? "No. Honestly, just based off what I'm hearing here and this conversation, I wouldn't be surprised if you're part of the Illuminati or whatever government officials are pushing this virus." The Illuminati! Either this woman is truly that ignorant or she is putting on one heck of an act to get attention.
She goes on to say, "I don't have coronavirus. I don't have any symptoms. No one I know has symptoms, and I was with thousands of people down in spring break." She claims that young people aren't getting the virus and cannot die from it, so Dr. Phil very calmly hits her with some facts.
Article continues below advertisement
"Out of 508 cases, 20 percent of those cases were between the ages of 20 and 44 according to the CDC between February 12 and March 16," he says. "Twelve percent of those were in the ICU. Young people are getting this."
Article continues below advertisement
But that didn't seem to faze her. She went on about how she was on Fox News and how she was able to create "fake news" with her stunt. "I was mainstream media for a couple of days," she says, "and it wasn't real. So I just don't know what's true and what's not."
She has to know somewhere deep down that a video of her licking an airplane toilet seat, even if she cleaned it first, is real, right? And she has to know that that's not the same as the news disseminating information about a novel coronavirus as it develops and as we start to know more about it.
This next exchange kind of sums up her entire problematic position. Dr. Phil asks, "If you infect one person that loses their life, is it worth it for you to have this attention?"
Ava hesitates for a split second before answering, "I don't— Yeah."