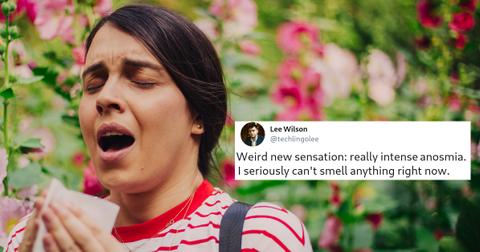 You Can Be a "Secret Carrier" of Coronavirus If You Lose Sense of Taste, Smell
By Mustafa Gatollari

Mar. 22 2020, Published 3:18 p.m. ET
There have been a lot of mixed reactions to the novel coronavirus pandemic. Some of them are perfectly logical: Folks wash their hands, and are careful not to touch their faces or be overly "huggy" with their friends and family. And then there are responses that are, to put it bluntly, idiotic. Like believing drinking Corona beer causes the coronavirus, or that smoking a ton of weed will protect you from contracting the disease.
Article continues below advertisement
While it's understandable to be afraid of a virus that's been officially labelled a "pandemic," it's kind of insane to think that folks are getting so riled up that they'll go and hoard loads of toilet paper and hand sanitizer.
What's even more dangerous, however, are the throngs of individuals who now, during allergy season, are mistaking their clogged sinuses and hazy-headedness for symptoms of COVID-19.
Article continues below advertisement
Very interesting one-pager from an intensivist in Seattle. My Korean MD friends report an interesting initial onservation - 1/3 patients experience anosmia unlike other viral symptoms #COVID19 https://t.co/UykV8exKiY

— Wungki Park (@W_Park_MD) March 16, 2020
Well, rhinologists from the U.K. have noticed a specific pattern of symptoms that around 30 percent of those who tested positive from the coronavirus suffer from. In China, Italy, and South Korea, COVID-19 patients claimed to have a loss of smell and taste. Clare Hopkins, president of the British Rhinological Society, along with Nirmal Kumar, who is president of the British Association of Otorhinolaryngology, released a statement regarding the find.
Article continues below advertisement
"In South Korea, where testing has been more widespread, 30 percent of patients testing positive have had anosmia as their major presenting symptom in otherwise mild cases." 
Where it gets really interesting, however, is that loss of smell and taste are often not accompanied with other COVID-19 symptoms, like a cough and high fever.
At home with confirmed COVID and my main symptoms are complete anosmia (loss of sense of smell) and ageusia (loss of sense of taste). No fever or cough! Symptoms are often mild and you may be spreading it to the vulnerable without knowing it! Important to stay at home if you can!

— Tamara Elliott (@dr_tam_elliott) March 20, 2020
Article continues below advertisement
"There have been a rapidly growing number of reports of a significant increase in the number of patients presenting with anosmia in the absence of other symptoms. Iran has reported a sudden increase in cases of isolated anosmia, and many colleagues from the U.S., France, and Northern Italy have the same experience," their statement continued.
Children are generally unaffected by COVID-19 and either don't experience the symptoms or are able to fight them off naturally. This phenomenon, combined with adults who only experience anosmia, could be a contributing factor to why COVID-19 is spreading so rapidly. Throngs of individuals who "feel fine" could be unknowing carriers of the coronavirus and are spreading it unintentionally.
Article continues below advertisement
Day 4 iso for #Covid_19 symptoms and I've just developed pretty sudden onset complete anosmia/ageusia. Anyone else experienced this/got any advice?

— Zain Chaudhry (@ZChaudhry92) March 20, 2020
"In young patients, they do not have any significant symptoms such as the cough and fever, but they may have just the loss of sense of smell and taste, which suggests that these viruses are lodging in the nose," Dr. Kumar said in an interview with Sky News.
Article continues below advertisement
Both doctors who released the statement encourage individuals who are experiencing anosmia to self-isolate for a minimum of seven days or more until the symptoms pass in an effort to curb the spread of the disease.
There is the potential to reduce COVID-19 transmission by requesting that individuals with new onset of anosmia self-isolate. A lost sense of smell as marker of COVID-19 infection... for full details see below pic.twitter.com/udkBMwwJ1F

— ENT UK (@ENT_UK) March 20, 2020
The best way to prevent contracting or spreading coronavirus is with thorough hand washing and social distancing. If you feel you may be experiencing symptoms of coronavirus, which include persistent cough (usually dry), fever, shortness of breath, and fatigue, please call your doctor before going to get tested. For comprehensive resources and updates, visit the CDC website. If you are experiencing anxiety about the virus, seek out mental health support from your provider or visit NAMI.org.