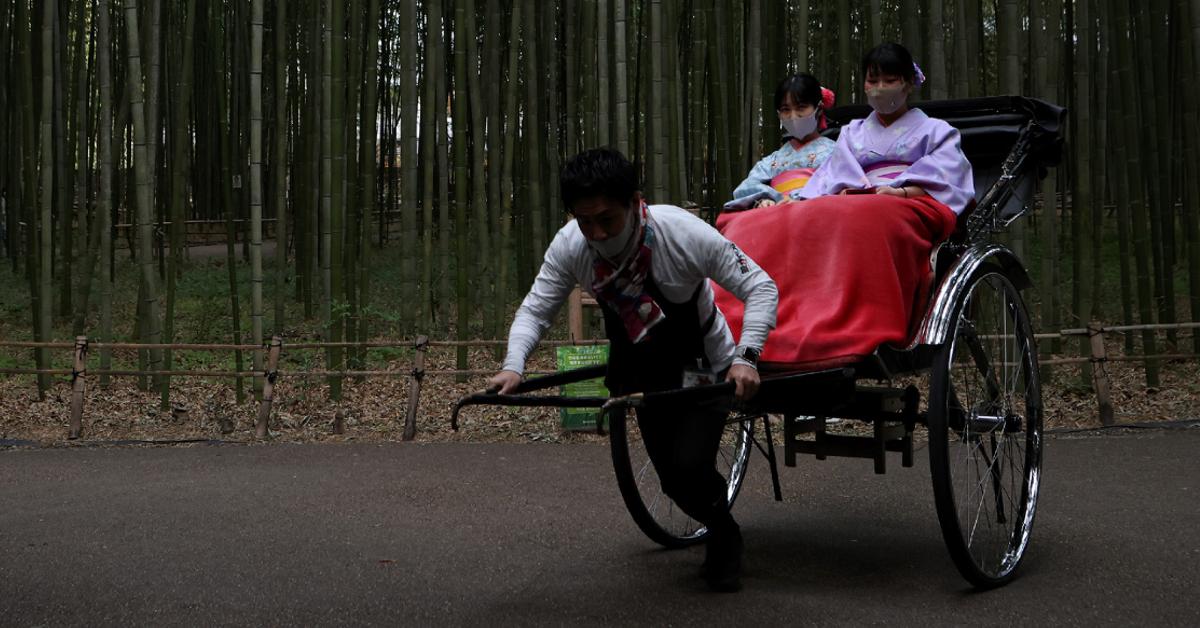 Couple Ordered a Lyft and a Shirtless Guy with a Rickshaw Showed Up Instead in Viral TikTok
TikToker @laylayhurd2 went viral on the popular social media platform after sharing a video of her and a male passenger riding in the back of a rickshaw with a text overlay that reads: "We ordered a Lyft and this is what came to get us."
A shirtless man wearing mustard-colored shorts is running with the rickshaw, and the TikToker can be seen in the backseat, laughing into the camera.
Article continues below advertisement
In a caption for the video, LayLay says that she and her friend were on their way back from the club when they got a ride from the Rickshaw man. She writes that the ride ultimately did take them about an hour to get home, however, they didn't seem to mind: "We didnt even complain but it did take about an hour to get from the club."
Article continues below advertisement
She joked in the comments section, "Surprised nobody asked me why am I coming from the club and I'm pregnant. Good job minding y'all business."
Some TikTokers remarked that it was "cool" of Laylay and her companion to accept the ride from the Rickshaw rider instead of actually ordering an Uber or Lyft.

Article continues below advertisement
It doesn't seem likely that the man was actually affiliated with Lyft, as the rideshare application does have strict guidelines on the types of vehicles that individuals are able to use for passengers who book rides through the service: "All Lyft vehicles are required to have 4 doors. Vehicles are required to have a minimum of 5 seatbelts (including the driver's), with a maximum of 8 seatbelts."
The application also states on its website that: "Taxis and stretch limousines will not be approved for use on the Lyft platform," it doesn't mention anything about rickshaws, but it's hard to imagine that a vehicle with no doors or seatbelts is considered a valid vehicle for passenger transport.
Article continues below advertisement

As for "fudging" the system, those who drive for Lyft must also provide valid vehicle documentation, which includes a VIN number as well as up-to-date insurance information (if a state requires it) and any other pertinent items. While the rickshaw driver could've certainly lied about having a car and used someone else's credentials, or has a vehicle registered in his name that he didn't want to use and would rather run around with the rickshaw instead, it's difficult to imagine that this is the case or someone wouldn't have reported him doing so.
Article continues below advertisement
Judging from Laylay's comments it seems that her text overlay was meant in jest, and after her post went viral, it became evident there were more than a few people who were familiar with the rickshaw man. In a follow-up TikTok, @laylayhurd2 posted a screenshot of a text message from someone who wrote that they had recognized him: "Iv seen him for years walking with no shirt or shows. Same shorts ... that's so cool."

Article continues below advertisement
In the additional video, the TikToker states that she's setting up a GoFundMe and will go and find him to give him the money that folks donate. People seemed a bit dubious as to whether or not they should contribute to the fund, with some even telling her to go and find him first before she collects a bunch of dough on his behalf.
Article continues below advertisement
"Going to find him once you reach the goal? Yea no find him now"
"I ain't falling for this again"
"Once you find him? Why not now…"
"Hm pretty sure I've seen a story like this on the news lmao"
"ehhh nope won't scam me"
Some people wanted to know how they could be so sure that she would actually give the rickshaw runner the money that she's asking for folks to donate on his behalf.
"How do we know you're going to find him…and how do we know you're going to give him the money?"
Article continues below advertisement

In the comments section it was revealed that the rickshaw ride occurred in Bakersfield, Calif. and the "Lyft" that @laylayhurd2 ordered was actually pulled by a man named Neal, who has become somewhat of a local celebrity/legend in the area.
Article continues below advertisement

Apparently, in 2017, Neal's Rickshaw went missing, and a Bakersfield bar, The Silver Fox Starlite Lounge decided to hold an event for him to help him get it back.
Article continues below advertisement

Laylay did post a link to the Gofundme for Neil, which you can view here should you want to learn more about Neil, who the TikToker says told her that he was carting folks around on the rickshaw in order to earn some extra cash so he could pay his rent. The state of California has experienced massive surges in rent all across the state and is project to jump even higher in 2022 going into 2023.