Uncomfortable Truths About Our Society That COVID-19 Has Uncovered
The U.S. and worldwide response to the COVID-19 outbreak has illuminated some uncomfortable truths about our society.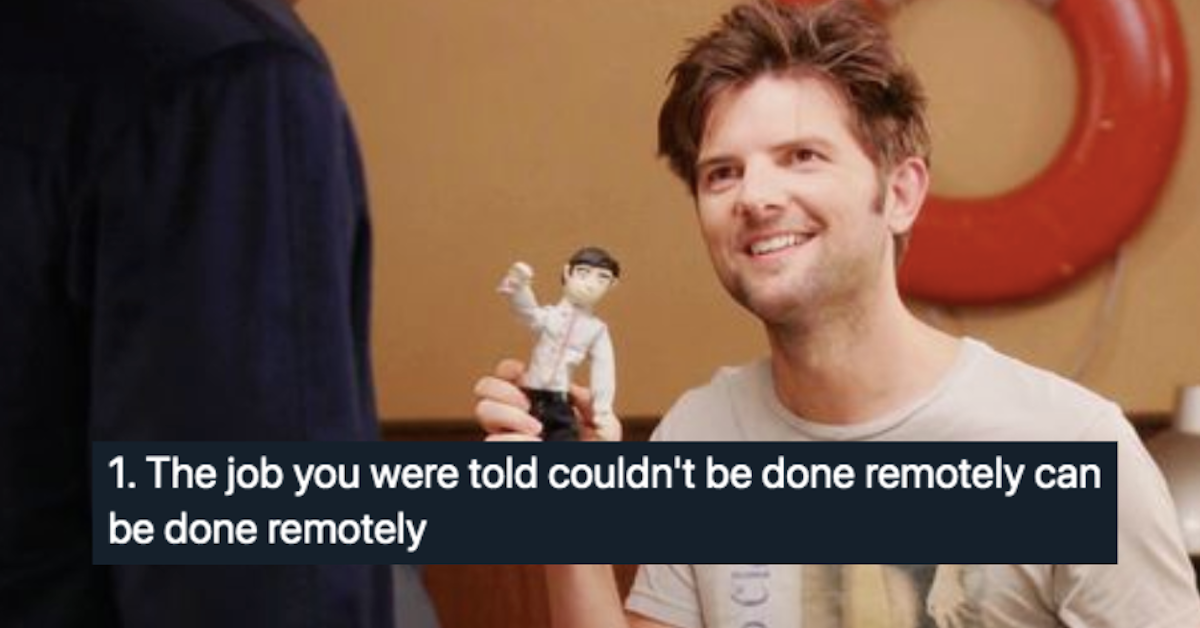 At this point, it's likely that your normal routine has been disrupted in some way because of COVID-19, the novel coronavirus. Maybe you're working from home. Maybe you've lost some work. Perhaps you've tried to stock up at the grocery store in case of quarantine and have been met with long lines and empty shelves.
Article continues below advertisement
One thing is certain: The coronavirus is here. It's real. And before it gets better, it's probably going to get worse. And there are some unexpected things about our society that this outbreak has proven to be true, things we might not have learned if we were never put in this position.
Twitter user Marcus Gray LaPorte pointed out that COVID-19 is proving that many jobs we were told couldn't be done remotely actually can with some slight effort.
This is particularly frustrating news for disabled folks who've been barred from certain jobs because they were told they'd need to be in an office they couldn't get to or work in safely.
Likewise, one of the most infuriating things about the United States is the lack of federal paid leave for new parents. This outbreak response proves that corporations can afford for their employees to take time off and work from home.
How many women have been passed over for jobs because they have familial responsibilities and need to be available to pick their kids up from school or stay home with them when they're sick? COVID-19 proves that working from home is much easier than many companies made it out to be.
Article continues below advertisement
It's hard to imagine companies getting away with discrimination against mothers and those with disabilities after this whole debacle is over. It's abundantly clear at this point that many more jobs than we believed can be done remotely. Even teachers are realizing that you don't necessarily have to be in a classroom to deliver lessons.
Article continues below advertisement
But, as Marcus points out, this need for internet access highlights the point that internet service should be considered a utility that is affordable (or free) and available to everyone, not a luxury limited to the privileged few.
Article continues below advertisement
Access to the internet has a much larger impact on individual success than it should. But that's the world in which we live. A person cannot reasonably expect to live a comfortable life these days without access to the internet.
We'd only be setting each other up for success by making it a regulated utility like water or electricity, as one Twitter user proposes.
Article continues below advertisement
All that being said, there are some jobs that simply cannot be done from home. Retail employees and restaurant servers and chefs, construction workers, and more might be out of work because of the coronavirus.
Article continues below advertisement
While many people can work from home, lots of others can't. And that means they're missing out on important wages. There is currently no government policy that allows for the halting of bills, rent, mortgage payments, and eviction in the case that large swaths of the population find themselves suddenly looking for work.
Article continues below advertisement
But soon, many won't be able to pay their rent. Many won't be able to pay their bills. If the government is banning large gatherings of people, they're putting people out of work. They need to support them when they can't pay their mortgage next month.
One possibility that has emerged out of this whole thing is that maybe universal basic income would be a good idea after all.
Article continues below advertisement
Andrew Yang might have had a point. With a universal basic income, people who are losing their jobs right now wouldn't be as worried about trying to get by.
It is something to think about. However, a universal basic income wouldn't be as necessary if the government was willing to spend money on healthcare and other important social services.
Article continues below advertisement
The Federal Reserve just bolstered the stock markets with $1.5 trillion. Imagine — just imagine — if that money went toward our healthcare system, toward eliminating student loan debt, or toward any number of programs that would benefit anyone other than rich investors.
Article continues below advertisement
COVID-19 has proven that when government officials cry, "Well, how are we going to pay for universal healthcare?" they're lying. They're hemming and hawing about a non-issue.
They know how to pay for it. We just can. We're willing to throw more than a trillion dollars into our stock market. The money is there. They just don't want to use it to help poor and disadvantaged people.
Article continues below advertisement
Twitter user Liz Madsen provided one other very important lesson we've learned from the COVID-19 pandemic: "DON'T FIRE YOUR PANDEMIC RESPONSE TEAM." Indeed, in 2018, Trump fired the pandemic response team on the National Security Council.
We're literally flying by the seat of our uneducated, unprepared pants. It's not great.
Article continues below advertisement
The best way to prevent contracting or spreading coronavirus is with thorough hand washing and social distancing. If you feel you may be experiencing symptoms of coronavirus, which include persistent cough (usually dry), fever, shortness of breath, and fatigue, please call your doctor before going to get tested.
For comprehensive resources and updates, visit the CDC website. If you are experiencing anxiety about the virus, seek out mental health support from your provider or visit NAMI.org.