It looks like Governor Andrew Cuomo has become everyone's favorite Andy. At the very least, he's become Randy Rainbow's favorite. The comedian who is mainly known for his musical parodies, particularly parodies with political takes, has released his latest video and started a new "sexuality": cuomosexual.
Randy has released a number of parody videos in the wake of the new coronavirus pandemic, including "Social Distance" to the tune of Hercules' "Go the Distance" and "The Coronavirus Lament" to the tune of Guys and Dolls' "Adelaide's Lament". And, to be honest, his parodies are both more comforting and more informative than most things we're watching on the news.
While his latest video isn't exactly informative, it certainly is comforting. Because, as "The Coronavirus Lament" says, "From a lack of intelligent leadership and a headline that's getting real old, a person can develop a bad, bad cold." And regardless of how you feel about Gov. Cuomo, it's hard to deny that he's been a symbol of intelligent leadership in the face of...well, not so intelligent leadership.
Randy Rainbow declared his "cuomosexuality" and many others are hopping on board.
Like Randy's other videos, his latest video "ANDY!" is a musical parody. This one parodies "Sandy" from Grease (with a little "I Won't Say I'm in Love" from Hercules sprinkled in). The video starts with Randy watching a black and white White House press conference. But color returns when the TV changes to Gov. Cuomo speaking instead.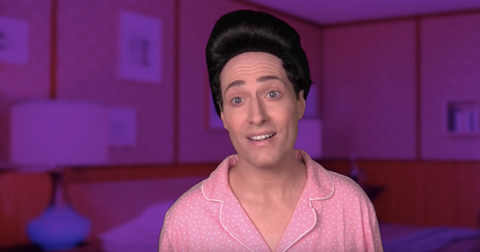 He sings about his fear in the wake of the COVID-19 pandemic, but praises "Andy" for keeping us calm and managing "to lead and inform without scaring the living sh*t out of" all of us. But it's not just Andy that's got Randy feeling cuomosexual. He's also praying for Chris Cuomo's speedy recovery from the novel coronavirus. And he's a pretty big fan of Chris's tight t-shirts and Instagram workout videos.
It didn't take long for "ANDY!" to go viral and for others to change their own Tinder and Grindr profiles to cuomosexual as well.
Others are just supporting Chris...but for non-political reasons.
While Randy isn't actually cuomosexual, he is openly gay and that's making some people a little upset.
Unfortunately for Gov. Cuomo, this video might have unearthed some things he'd rather have left in the past. Many viewers noted that, while Randy made up cuomosexual, he is actually openly gay. And Gov. Cuomo is suspected as having done a rather gross thing to the LGBTQA+ community.
Back in 1977, Andrew and Chris's father, Mario Cuomo made an unsuccessful run for mayor against Ed Koch. Although Mayor Koch was never openly gay, it was rumored that he was. Cuomo and Koch's battle for mayor was a bloodthirsty one. Throughout the fight, homophobic posters appeared on city streets telling New Yorkers to "Vote for Cuomo, not the homo."
It became a bit of an unofficial campaign slogan for Cuomo, although no one in his camp took credit for the posters. However, Andrew was heavily involved in his father's campaign and many believe he is responsible for the signs.
Andrew Cuomo ran a homophobic slogan for his dad's gubernatorial campaign in the 80s "vote Cuomo, not the homo" so fantastic work to everyone tweeting #cuomosexual for finding a way to make your new crush on the guy cutting Medicaid during a pandemic somehow even more disgusting

— Matt Binder (@MattBinder) April 7, 2020
As far as who actually made the posters, that remains unknown, but shortly before his death, Koch told Esquire that he believes Andrew when he says he didn't do it. But he also simply noted, "I'm eighty-five now, and grudges take your energy away. I've forgiven them all."
The best way to prevent contracting or spreading coronavirus is with thorough hand washing and social distancing. If you feel you may be experiencing symptoms of coronavirus, which include persistent cough (usually dry), fever, shortness of breath, and fatigue, please call your doctor before going to get tested. For comprehensive resources and updates, visit the CDC website. If you are experiencing anxiety about the virus, seek out mental health support from your provider or visit NAMI.org.