Customer Claims Restaurant Service So Bad They Had Call Front Desk to Get a Server to Table
A customer waited so long for their server that they decided to call the restaurant, while still seated at their table.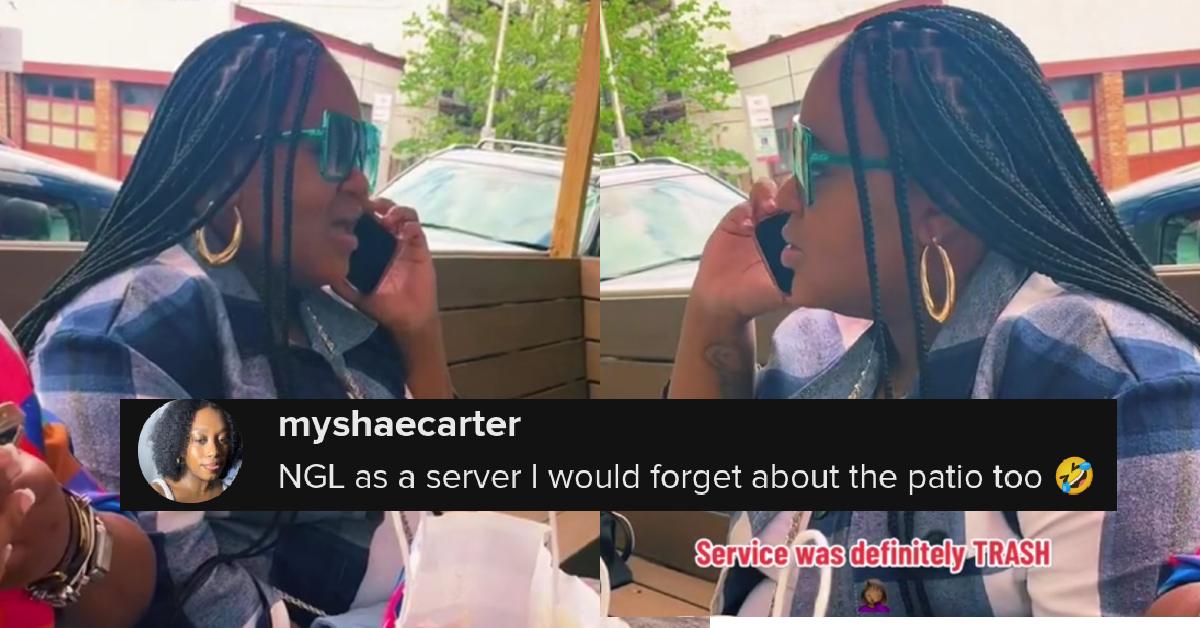 Working in the food service industry can often be an unforgiving place. From low-base pays, to customers who don't tip, to rush hours that tear you every which way every second of your shift, it can be a truly high-stress situation.
Article continues below advertisement
So it doesn't come as a surprise that there are a number of servers who hop onto social media to air out their grievances with their vocation and don't shy away from calling out customers who make their jobs more difficult than they need to be.
And while there are tons of examples of some pretty lame and downright rude customers floating around the internet, sometimes servers drop the ball, leaving paying diners left to twiddle their thumbs at their tables for longer than they would like.
Article continues below advertisement
This is what TikToker @daeslb said happened to them while dining out at an establishment in Baltimore, Md. The wait was so long, that they even phoned the restaurant from their table in order to get a waiter or waitress send their way.
In a clip that was uploaded to the popular social media platform, a woman can be seen seated at a table in the restaurant, talking on the phone.
Article continues below advertisement
A text overlay in the video says that the service was so "trash" at the place that the customer resorted to calling the front desk while seated at the eatery in order to get a server sent to their table.
"They forgot we was sitting outside. We sitting at the table we have our server we've been sitting here for thirty minutes," she can be heard saying on the phone.
Article continues below advertisement

Someone else can be heard off camera saying, "And brunch over at five and we paid for bottomless Mimosa. They wiped it down and all of that." as the woman on the phone continues to speak.
Article continues below advertisement
A caption for the clip provides further context on the incident, and it seems like even though the TikToker didn't really have the best time there, she says that she would be back: "wasn't too much relaxing service was trash but i'll back, not with a large party though"

Article continues below advertisement
One commenter who saw the clip couldn't understand why the party would continue to stay there if they weren't being served: "Nah, I would have left. They must not want my money lol," they wrote.
Someone else said that they visited the same restaurant in the area and that they too had a negative experience: "mannnnn i went on sunday..they didn't have bottomless mimosas, ran out of pancakes, my eggs was hard and we was tryna pay for 45 minutes. HORRIBLE!"
Article continues below advertisement

Another viewer just couldn't believe the diners had to resort to calling the restaurant after they had been seated just to be acknowledged by the wait staff after 30 minutes: "Damn the fact that she had to call is crazy smh"
Article continues below advertisement

Someone else also confirmed that they too had to wait an inordinate amount of time to receive their food when dining at the restaurant: "Went for my birthday last year. Food was delicious but we had to wait over an hour for food."
Article continues below advertisement

Have you ever visited a restaurant where you had to call up the main line in order to get a server at your table? Would you continue to stay if it got to that point? Or do you think that dining and dashing at that point would be justified?