Server Accused of Filling in Own $100 Tip Says Restaurant Sided With Customer, Sparks Debate
A server says that the restaurant she used to work at immediately believed a customer who said that they put in the wrong tip, and fired her.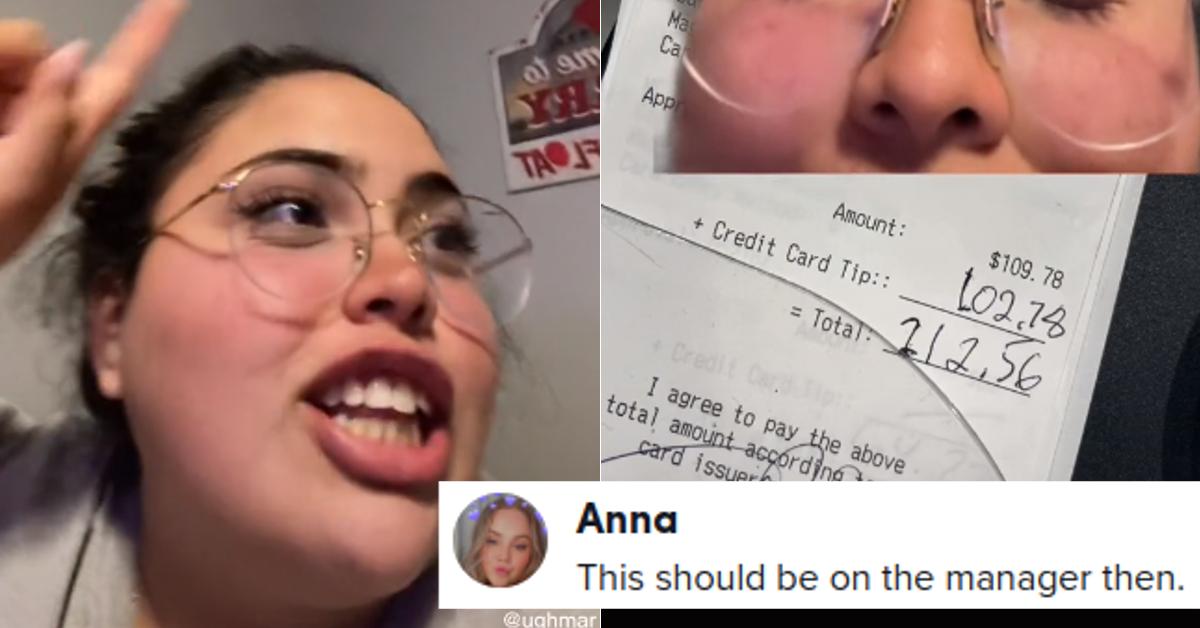 If you look at social media posts about the restaurant service industry, whether it's from customers or employees, you're bound to find more than a few uploads that have to do with gratuities. Whether it's patrons complaining about the "iPads" that cashiers swivel around which puts pressure on you to tip for something you've probably never tipped before, or servers highlighting cheap customers who will do anything and everything to get out of leaving a tip.
Article continues below advertisement
Sometimes, diners will intentionally complain about a restaurant's food service in order to queue up attempts to get menu items or their entire meal comped, or, at the very least, set up some type of moral high ground for not leaving a little extra for their server.
In the case of this TikToker, however, a customer decided to accuse her of "forging" the tip on their receipt.
Mar, who posts on the popular social media platform under the username @ughmar says in the now-viral clip that she was shocked after receiving such a large gratuity from the customer, which she says was over $100.
After the fact, however, the customer had called the restaurant and said that they wanted to leave $20, not $100.
Article continues below advertisement
Mar was then accused of changing the tip herself in order to slide some more money into her pocket and even though she said that she would cover the difference of the tip to make up for the mistake, the restaurant fired her anyway, the TikToker claims.
She seemed mortified by the entire experience and commented on the injustice of the situation. "I didn't do anything, and that's the crazy part. Had I done something, I'm like, 'Alright, I guess I deserved it.' But I literally did nothing wrong."
Article continues below advertisement
Mar went on to say that management elected to fire her before even sitting her down and discussing the matter. She posted screenshots of the receipt along with the area where the gratuity was penned in and it's difficult to make out exactly what is written on the receipt. (Take a look yourself and see if you can make it out.)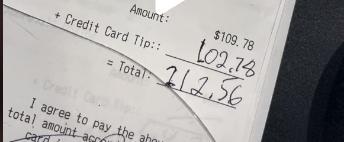 Article continues below advertisement
She showed the gratuity amount as a means of pointing out that the customer didn't do a very good job of indicating that they wanted to leave a $20 tip.
"He called and said that he only left $20 even. Where on the check does it say $20?" Mar asks in the viral TikTok clip.

Article continues below advertisement
Mar added that she had a pleasant conversation with the customer, who was out dining with who she assumed was his granddaughter. She thought that the man was giving her a big tip because she revealed in the course of her conversation with him that she had wanted to attend law school, which was the supposed grandkid's same desired career path as well.
When she learned that she would be fired, Mar said that she had implored management to take a gander at the camera system for any evidence that she wrote anything on any of the checks all night.
"There's cameras everywhere in that f------ restaurant, so they would see if I did something. I didn't touch it. I didn't f------ touch that check."
Article continues below advertisement
Many of the commenters urged Mar to file a suit against her former employer for wrongful termination. If what she is saying is true, many argued that she had a fairly strong case against the restaurant. Others pointed out that because a manager had approved the gratuity amount and that they fired her without discussion and refused to review security camera footage, coupled with the vague writing on the bill, she probably had enough ammunition against her ex-bosses.
Article continues below advertisement
And then there were those who argued about what was actually written on the bill in the first place and where the onus of the blame should be placed.
"Again, to all these people in the comments, whether it looks forged or not the manager approved it! So if anything, the manager should be the one in"
"NOBODY ever writes $02.78. Never! I had a guy do math wrong then called and said I changed his slip. No sir, no I did not. Learn math!"

Article continues below advertisement
But then there were some who mentioned that the bill definitely looks like it was tampered with: "The 1 and 2 look added, and it sounds like he was saying he left a 20 bill. Looking at the check I can see why they didn't believe you."
"Sorry it looks forged! The one on the bottom looks like it was turned to a two. Just my two cents"
"Yes to me that looks like he left a 2.78 tip total of 112.56 idk why he said $20 though maybe he didn't remember"
"the 2 on the total was definitely forged. not saying it was you, but if you look at how he wrote the other 2s, that looks like the 1 was changed to a 2"
Article continues below advertisement

What do you think? Does the ticket look forged? Do you understand where management is coming from? Or do you think that the TikToker should raise some hell about it and this was just a case of a customer who maybe wasn't paying attention to what he was writing?