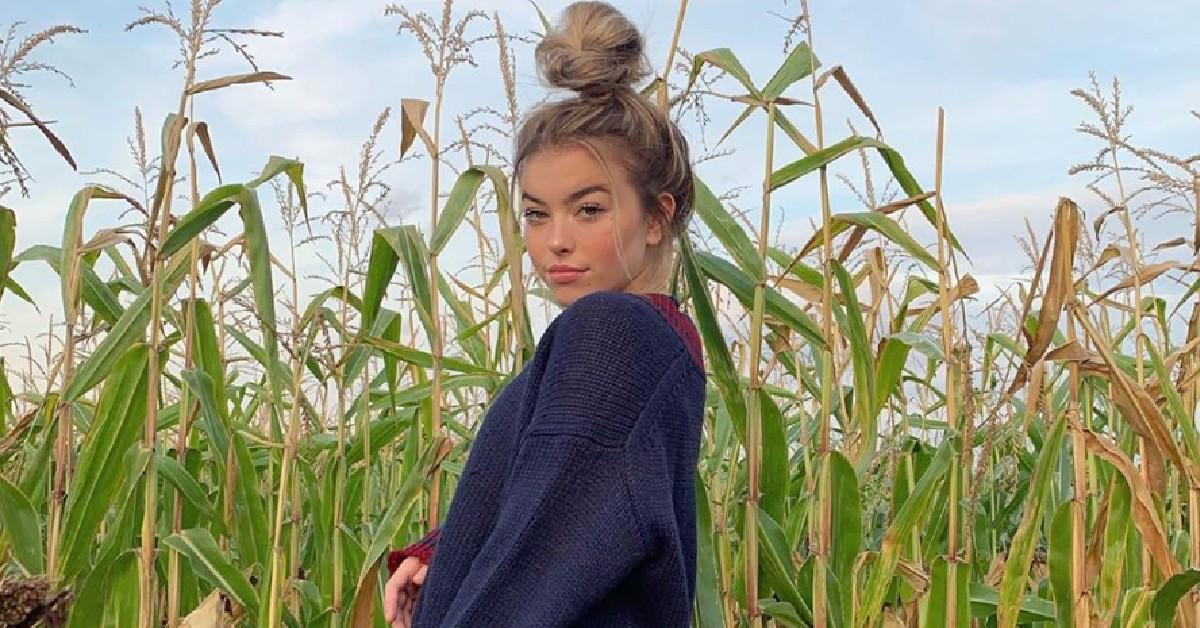 Is Cynthia Parker Dating Mattia Polibio? So Far, the TikTok Star Has Denied the Rumors
Cynthia Parker is one of TikTok's rising stars. She shot to fame with adorkable clips and dance challenges. Find out about her and her love life.
Back in 2019, Cynthia Parker skyrocketed to fame with a string of absolutely adorable TikTok videos capturing her and fellow internet sensation, then-boyfriend Chase Hudson, perform dance challenges and lip-synching.
The Canada-native has been spotted with the crème de la crème of TikTok since, including Zachary Smith, Jordan Beckham, and Zoe Laverne. Despite her young age, Cynthia has already amassed an impressive following on social media. So, what's there know about the content creator?
Article continues below advertisement
Cynthia Parker used to go out with fellow TikTok star Chase Hudson.
Cynthia and Chase earned renown with a wealth of candid videos documenting their sweetest moments together. They produced a vast range of clips in which they exchanged firm hugs; performed perfectly-synched, neatly-choreographed dance challenges; and drove around town while holding hands. However, they refused to call themselves a couple throughout. They refused to comment on their relationship status for months, which piqued fans' interest all the more.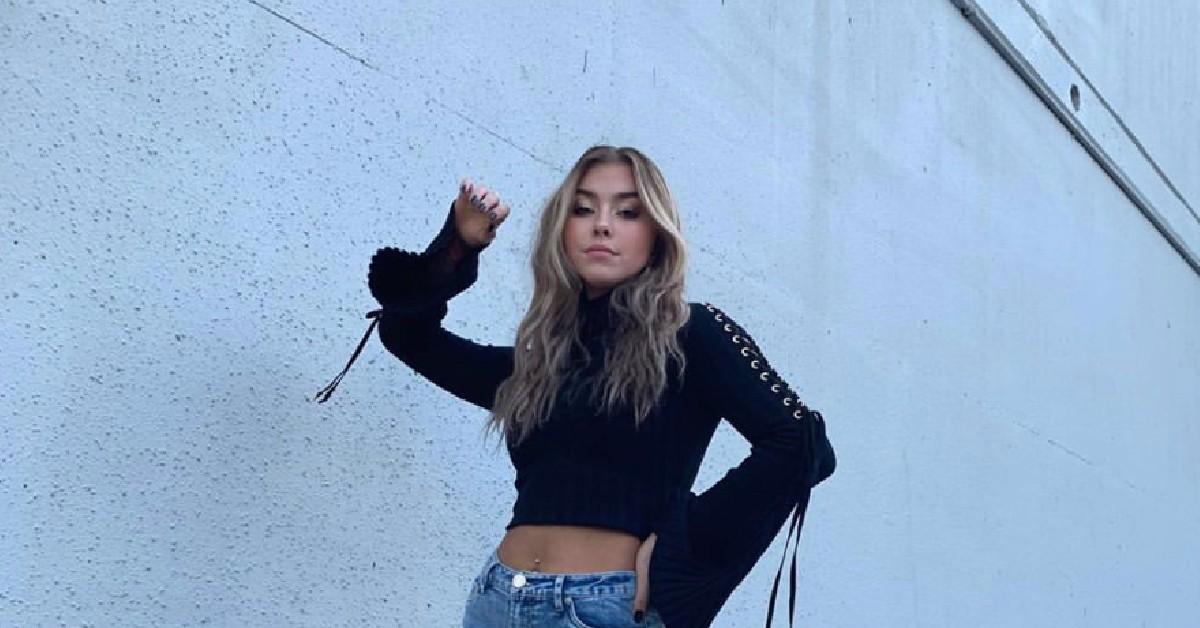 Article continues below advertisement
Eventually, Chase made a Freudian slip in a now-deleted Instagram live-stream. According to a YouTube video, this is what confirmed fans' long-standing suspicions.
"My girlfriend, my girl, person, oh sh–t [...] We're not official but I still call her my girl, you know what I'm saying, you know? Never mind. F–k," Chase says in the clip.
Chase and Cynthia broke up in the summer of 2019.
Their fling didn't last long, and the two parted ways in July 2019.
"me n cynthia are no longer together. love the gal to death but things just haven't been working out. i hope y'all understand," wrote Chase on Twitter.
"puts me in the worst pain not being able to call you mine anymore," went his ex's response.
Article continues below advertisement
Unfortunately, what could have been a relatively peaceful breakup gave way to some unexpected chaos. Shortly after Chase announced their breakup on Twitter, rumors about Cynthia being canceled started making the rounds.
"may i ask why cynthia parker is canceled," asked one Twitter user in Aug. 2019.
"So Is Cynthia Parker cancelled," wrote another.
Article continues below advertisement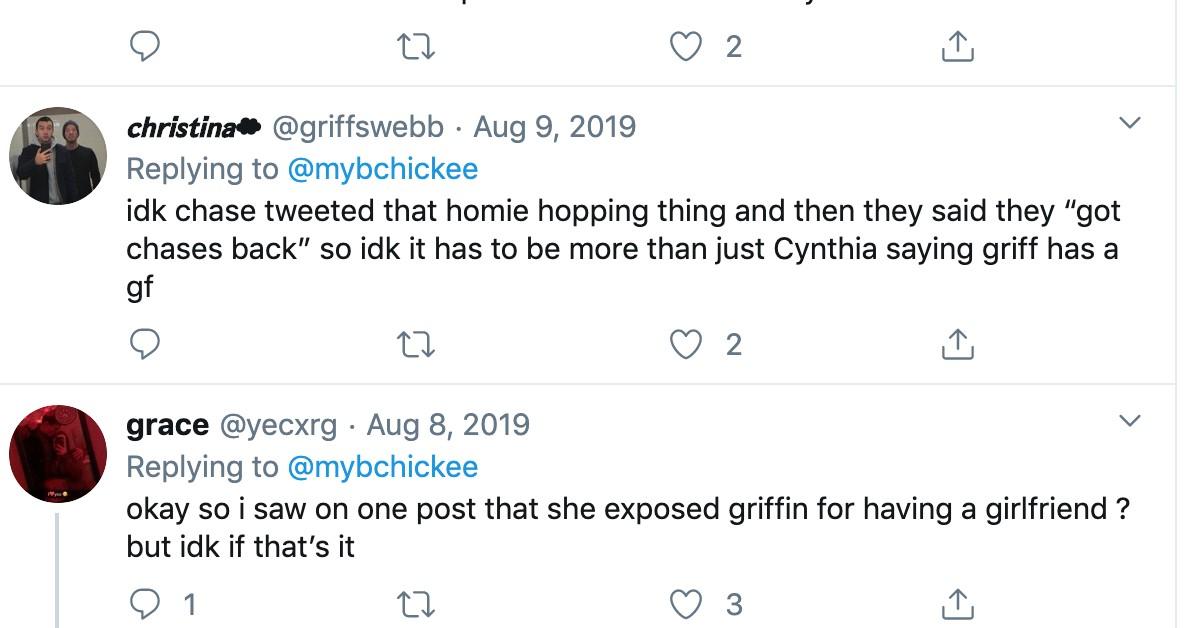 According to a fan theory, the adolescent accidentally ousted one of Chase's close friends, Griffin Johnson. He was reluctant to share any information about his new girlfriend with the public — until Cynthia blurted out the news. This could have contributed to her public renunciation, opined a fan.
"okay so i saw on one post that she exposed griffin for having a girlfriend ? but idk if that's it," wrote a fan on Twitter.
Article continues below advertisement
Cynthia is rumored to be dating Mattia Polibio.
Cynthia and Mattia both attended an event in Chicago in Jan. 2020, which gave way to an endless wave of fan speculations. However, as a YouTube video documenting a fan Q&A with Cynthia confirms, the two are not in a relationship.
"Am I dating Mattia? No," she stated.
"Do you like him though?" asked another fan.
However, the 15-year-old darted off the stage without providing a clear response.
Article continues below advertisement
Cynthia and Mattia are just some of the content creators participating in the Juice Krate tour series. While the former is signed up as a featured creator, the latter is only expected to appear in select cities. Other performers include Jeremy Hutchins, Diego Martir, and Zin Alexus.
Long story short: Cynthia managed to survive the aftermath of a turbulent breakup, and she may or may not have taken up a liking for Mattia since then. Keep an eye on her TikTok account to find out more.