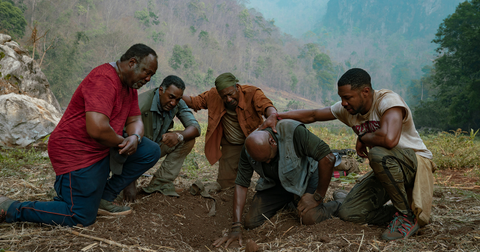 'Da 5 Bloods' on Netflix Is Not Based a True Story, but It Holds Important Conversations
By Devan McGuinness

Updated
Netflix has put their words to action and launched a collection of titles that highlight "powerful and complex narratives about the Black experience." Following the unrest in the United States, Netflix has announced its uplifting Black voices and with that dedication, launched More Than A Moment, a catalog of narratives that discuss and highlight the Black experience.
With it, Spike Lee's new movie, Da 5 Bloods, will be included in the collection. The movie follows four African American Vietnam veterans that return to the country in search of a fallen leader and a promise. As the movie gets set to release, people have been wondering if Da 5 Bloods on Netflix is indeed a true story.
When we say "Black Lives Matter," we also mean "Black storytelling matters."

With an understanding that our commitment to true, systemic change will take time – we're starting by highlighting powerful and complex narratives about the Black experience.

— Netflix (@netflix) June 10, 2020
What is 'Da 5 Bloods' about?
Da 5 Bloods is directed and produced by Spike Lee following his work from the 2018 movie, BlacKkKlansman. In Da 5 Bloods, the story follows four Black Vietnam veterans as they return to Vietnam in search of promised buried treasure. They're also searching for the remains of their squad leader and during the movie, they face the truths of the results of the Vietnam War.
Is 'Da 5 Bloods' on Netflix a true story?
Da 5 Bloods is not a true story and it's derived from an earlier script that was produced in 2013. At the time, it was titled The Last Tour, and was set to have Oliver Stone direct the film. Oliver dropped out of the project a few years later and Spike Lee and Kevin Willmott did a re-write, changing the originally white veterans into the Black perspective.
According to Variety, "The 155-minute film opens strong, addressing the past and present trauma of Black GIs, before devolving into a series of formulaic stand-offs in the back half."
The site continues, "Leave it to Lee to begin a heist movie with Black Panther talking points: a signal that this film views race as central to its critique of both the Vietnam War and American culture."
While the story may not be a true one, the sentiments of the time are historical.
"We have been almost systematically disappeared from those experiences. Vietnam, when you look at Platoon, Apocalypse Now, Black soldiers are on the peripheries-slash-almost nonexistent," says Delroy Lindo, who plays a yet-unknown role in the movie.
What are people saying about 'Da 5 Bloods'?
The movie was set to screen at the 2020 Cannes film festival, out of competition, but due to the novel coronavirus putting a halt on the event, it wasn't able to be viewed. It was also supposed to hit theaters in May or June, after the screening, but as we know, that had to be put on the back burner as well.
"If there is any silver lining" to the lack of competition at Cannes, says Jonathan Majors, who also plays a role in the movie, "it's that we get to bring the story of some actual real-life heroes to everybody's homes."
Da 5 Bloods will premiere on Netflix on June 12, 2020.